Well, this has been a long time coming.
For years, I have wanted to expand the Hamptons to Hollywood lifestyle brand into eponymous apparel. We've sold wonderful products from local Hamptons creators (like Hamptons Handpoured's incredible candles), home decor with our logo, and clothing in partnership with other retailers and small businesses. But the time has finally come for Hamptons to Hollywood to create something that we created ourselves.
Introducing Hamptons to Hollywood Crewnecks!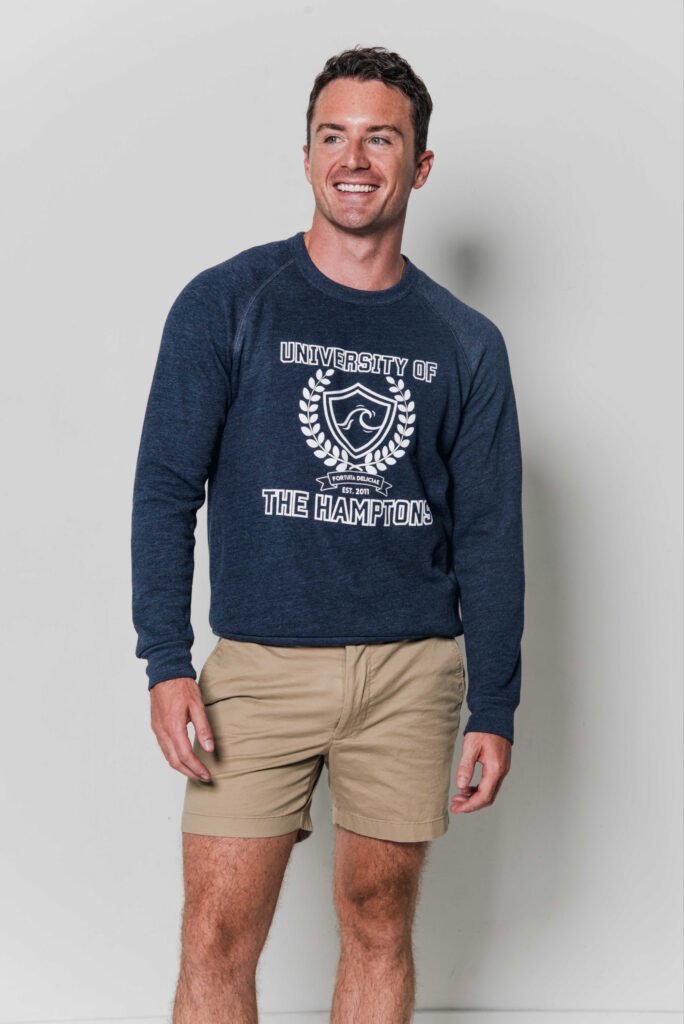 Our first foray into apparel was back in 2016 when we did a partnership with Bagatelle's Los Angeles, New York, and Miami restaurants and hosted our famous Champagne Society Brunches. Shoutout to all the early supporters who still have those fun tops!
But it's 2023. And we've kicked it up a notch.
Crewnecks were a natural decision to launch eponymous apparel. With this brand new, limited edition, Back-to-School inspired capsule collection, I wanted to celebrate the Ivy League prestige that's associated with Hamptons to Hollywood's ethos of casual luxury: high quality, but approachable and fun. Autumn was always such an indelible season of transition for me growing up – and brought with it a lot of emotions. As soon as warm summer breezes turned crisper and chillier, apprehension of going back to school washed over me. Was I going to make new friends? What were my new classes and teachers going to be like? What was I going to wear?
With this collection, I wanted to take that back-to-school uncertainty and offer a solution with a Hamptons to Hollywood twist. Each product is very tongue-in-cheek. No, there's not an actual Hamptons to Hollywood Yacht Club (yet!), nor are there higher learning institutions called University of the Hamptons or Hollywood University. But that's the point; the crewneck designs are fun, elevated, and great conversation starters. They bring levity and classiness, all-in-one, to the back-to-school season. I'm especially partial to the latin phrase on the university crests,"fortuita deliciae," which translates to "casual luxury."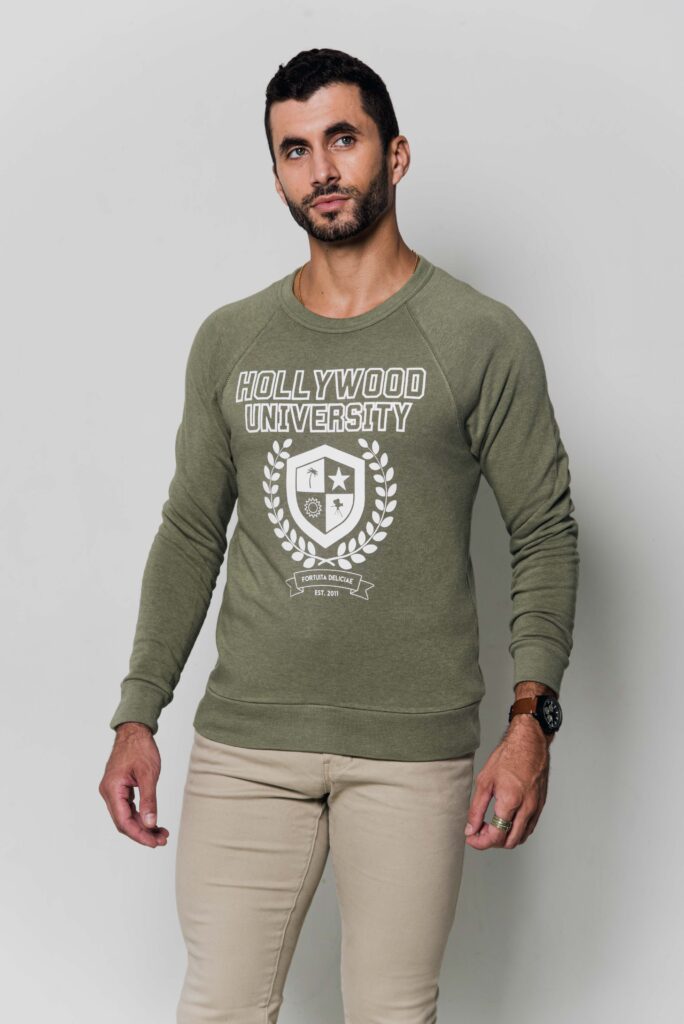 The little details were so important to me as I set out to develop the crewnecks. And boy, did I learn a lot. Having semi-sustainable materials was crucial. Each crewneck's fabric is sourced in America from organic and recycled materials. Our supplier has been named an Energy Star Partner of the Year for 12 consecutive years and also has an "A List" status from the CDP (Carbon Disclosure Project). And yet, because of the signature cotton, polyester, and rayon fabric blend, the sweaters are unbelievably soft. In fact, it's the first thing people mention when they try them on. "These are SO SOFT!"
The unisex crewnecks offer a bound ribbed neckband, hem, and cuffs and raglan sleeves with a slim fit, so they're very flattering on nearly every body type. I could be biased, but I haven't seen anyone look bad wearing one.
I'm so, so, SO excited for this launch and the next chapter of Hamptons to Hollywood as we move into creating apparel. Your support means LITERALLY everything to me. I would love if you would grab one of the crewnecks and tell your family and friends about them! They make excellent gifts, too. Just saying. And please post a photo of yourself on social media with the hashtag #HHCrewneck and tag @hamptonstohollywood so we can repost!
Thank you from the bottom of my heart. Creating this collection was a risk and an opportunity to bet on myself in a way I hadn't before. I'm so excited to see what comes from it. And thank you for being part of the journey.
Love,
Kyle