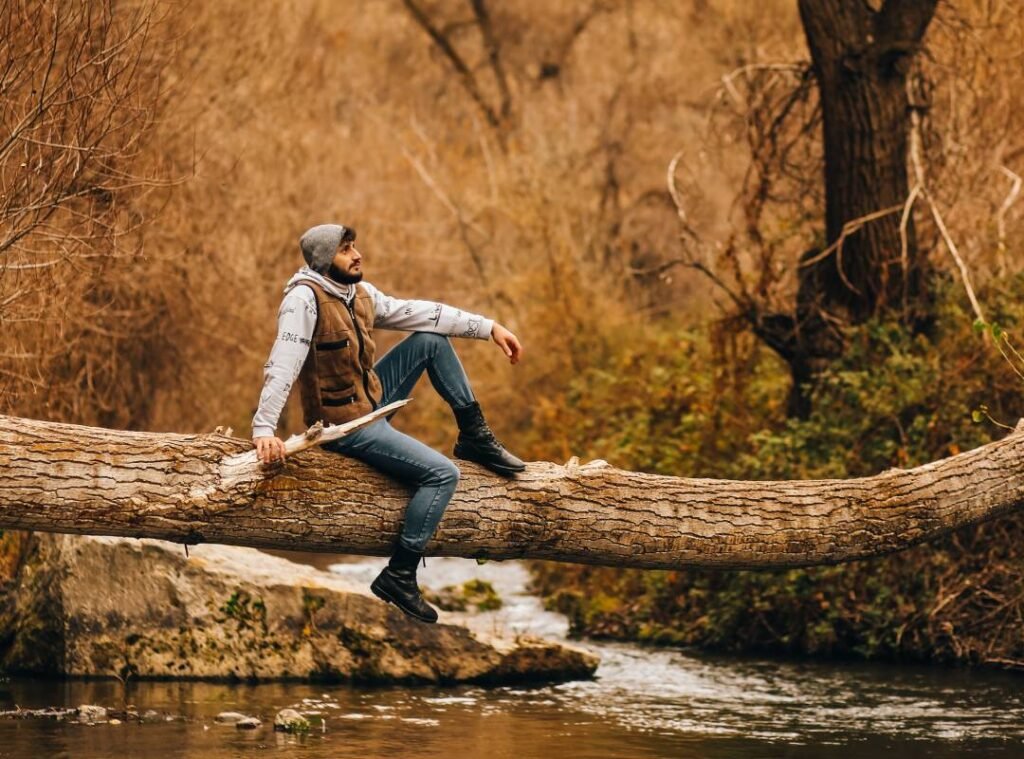 How to Pack for an Autumn Trip: The Top 12 Rules
The weather is getting crisper, the jackets are coming out, and the leaves are finally starting to fall. It's Autumn! If you're anything like us, you've been daydreaming about the perfect Autumn trip. The crunch of amber-hued leaves underfoot, the smell of cinnamon and nutmeg wafting from every cafe, and the chance to break out your cozy knit sweaters.
But, before you think about heading off to the Hamptons for a Fall getaway, or somewhere else, you're going to want to think seriously about what you need to pack, because packing for an autumnal getaway is a bit different, of course, than packing for a sunny summer vacation on the beach.
Here are our top tips for packing for a stylish autumnal trip:
1. Layers are Your Best Friends
Autumn weather is as unpredictable as the last season of Succession. One minute it's perfectly warm and sunny, and the next, the sky is cloudy and an arctic-like breeze blows in that feels colder than Alaska. When packing for a fall break, it's a really good idea to think in terms of layers. Start with a base layer, like a tee or tank, and then add on with flannel shirts, cardigans, and versatile jackets. The one thing that can ruin your vacation vibe is being too hot or too cold at any given time; layers are the salve.
2. Think Thermals
It's also a good idea, if you are heading off to a really cold destination, like Iceland, or even if you're just going somewhere closer to home, like Brooklyn, for the weekend, that you pack some thermal base layers like long johns or leggings, which will keep your core body temperature warm. These thermal gloves for men are good because they ensure warm hands, which are half the battle when you're off exploring ice caves and braving chilly Autumn winds. Most people spend more time outdoors when they're on vacation, so don't forget to pack those thermals.
3. Statement Scarves
Scarves are a multi-purpose wonder; chunky knit ones, delicate cashmere, or even infinity scarves. They're great for warmth, obviously, but also for adding a pop of color and texture to your ensemble, so you can look effortlessly chic when you're sipping coffee outside a Parisian cafe, or stay completely warm when you're off exploring thermal spas in Sweden.
4. The Perfect Boots for an Autumn Trip
An autumn trip without the right pair of boots is a fashion travesty. Seriously. Whether you prefer ankle booties, classic preppy riding boots, or lace-up combat styles, ensure they're comfortable for walking and they're waterproof enough that you don't have to worry about soggy socks when you're out and about. Pro-tip: wear your bulkiest while you're traveling so you don't have to pack them and can save on luggage space.
5. Denim Delights
Dark-washed jeans are not only slimming, but incredibly versatile, especially when you are traveling. Pair them with a cute top and boots, and voila! A classic, easy, refined look. If you want to mix things up a bit, pack a pair of colored corduroys or fun-patterned leggings too, but be sure you have at least a couple of good pairs of jeans in your suitcase.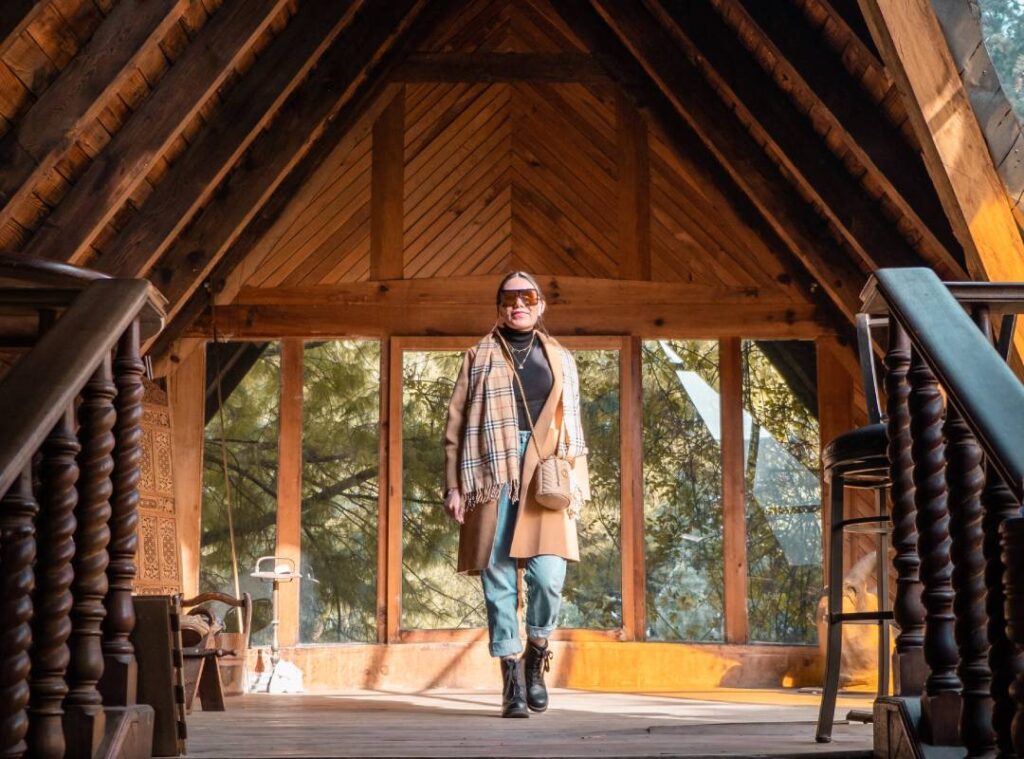 6. Transitional Trench
A lightweight trench coat in beige or caramel is both functional and timeless. Not only does it shield you from unpredictable showers, but it adds an instant dash of chicness to any outfit, and since it's relatively lightweight, it won't take up more space than necessary in your suitcase. No one wants to pay additional charges for overweight luggage.
7. Pajama Game Strong
Don't be that person wearing a summer nightie while on an autumn getaway. This is your chance to get cozy! Opt for cute PJs – there are so many different options – instead. Think matching flannel sets or plush onesies. You'll thank us during those chilly cabin nights.
8. Accessorize Wisely
A stylish hat, be it a beret or wide-brimmed felt accessory, can easily elevate your outfit – and also hide a bad hair day (because, let's face it, we all have 'em). A couple of statement necklaces, a versatile bag, and a belt can also change up the look of an outfit quickly and effectively, allowing you to remix and re-wear pieces without anyone being the wiser, and again, keeping that baggage limit down.
9. Sweater Weather
You saw this one coming, didn't you? Sweaters are the MVP of autumn. From chunky cable-knits to sleek turtlenecks, make sure to pack a couple. Remember, neutrals are versatile, but don't shy away from a splash of autumnal color like burnt orange or deep burgundy.
10. Don't Forget Skincare for Your Autumn Trip
Sure, the crisp autumn air is refreshing, but it can be harsh on your skin, too. Make sure you don't forget a moisturizing lip balm, a hydrating facial lotion, face oil, and hand cream. Your skin will thank you – and you'll thank your skin when you get hit on at the local town watering hole. And don't forget to bring Le Male Elixir to smell good all throughout your trip.
11. Functional Crossbody Bag
Regrettably, it's time to retire the beach tote. For autumn travel, if you want to be on trend, you could lean toward fashionable crossbody bags, which are all the rage right now. They're perfect for holding all your essentials while leaving your hands free to grab an apple cider or snap photos with your PSL. Opt for earth tones (beige) or materials like suede to add a touch of autumnal spirit.
12. Capes!
Capes are a great addition for those who want to blend style with comfort in a way that is completely effortless. They're very versatile, offering warmth without being overly restrictive when you're off exploring. Plus, they can instantly make your basic outfit look runway-worthy. That's a plus.
Packing for an autumn trip is not always as easy as packing for the summer, but take these tips in stride, and without a doubt, you'll stay comfy and look great when you are traveling to cooler climes this time of year.
So, what are you waiting for? Time to book that perfect fall vacation!