If you're looking for a great lifestyle store in the Hamptons to pick up everything from clothing, to art, to interiors, I have just the spot – Love Adorned in Amagansett.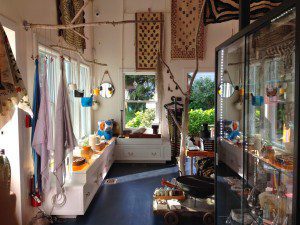 Love Adorned, Amagansett
Located right in Amagansett Square, you can grab a cup of coffee at Jack's and head right into the artsy store to pick up whatever you need. As soon as you enter, you'll be transfixed by the elaborate and eclectic decorative pattern that makes the shoppe so famous. They have a great assortment of rugs for your home, accessories and clothing to wear, and jewelry, which is one of their most popular items. AND it's great for girls and GUYS, which is huge because many Hamptons boutiques focus solely on the ladies (no offense, girls).
You'll be greeted by a cheery staff manning the store who have superior customer service skills and can help you find EXACTLY what you need. I was super pleased with this little gem and had a great experience there. Once you leave with your new purchases, you'll fit right into the boho arts scene the Hamptons has to offer and you'll feel like you belong no matter where you're from. ALSO – if you're city-bound this summer, you're still in luck. Love Adorned has another location at 269 Elizabeth St. in New York. Win/Win!
Pop on in today – tell 'em Kyle sent ya!
[Sign]