As most of you know, Hamptons to Hollywood embarked on its first Vegas excursion a few weekends ago. BEST.TIME.EVER. Whilst in the famed party town, I was able to attend the Wet Republic Pool Party, which, in my opinion, is THE BEST Vegas Pool Party. Why you ask? Let me illustrate…
1. You Meet A Ton of New Friends
I think I left Vegas with at least 10 new phone numbers that weekend, a majority of them from the pool. Wet Republic brings everyone together because as we know, alcohol is a great equalizer, making everyone from all walks of life, drunken bafoons. The aura and energy of their pool party though is so infectious it makes you want to share your revelry and fun with everyone around you. You'll meet people from across the country and bond over vodka red bulls. And so what if you forget their names? At least you have blurry iPhone pictures to commemorate your short lived friendship.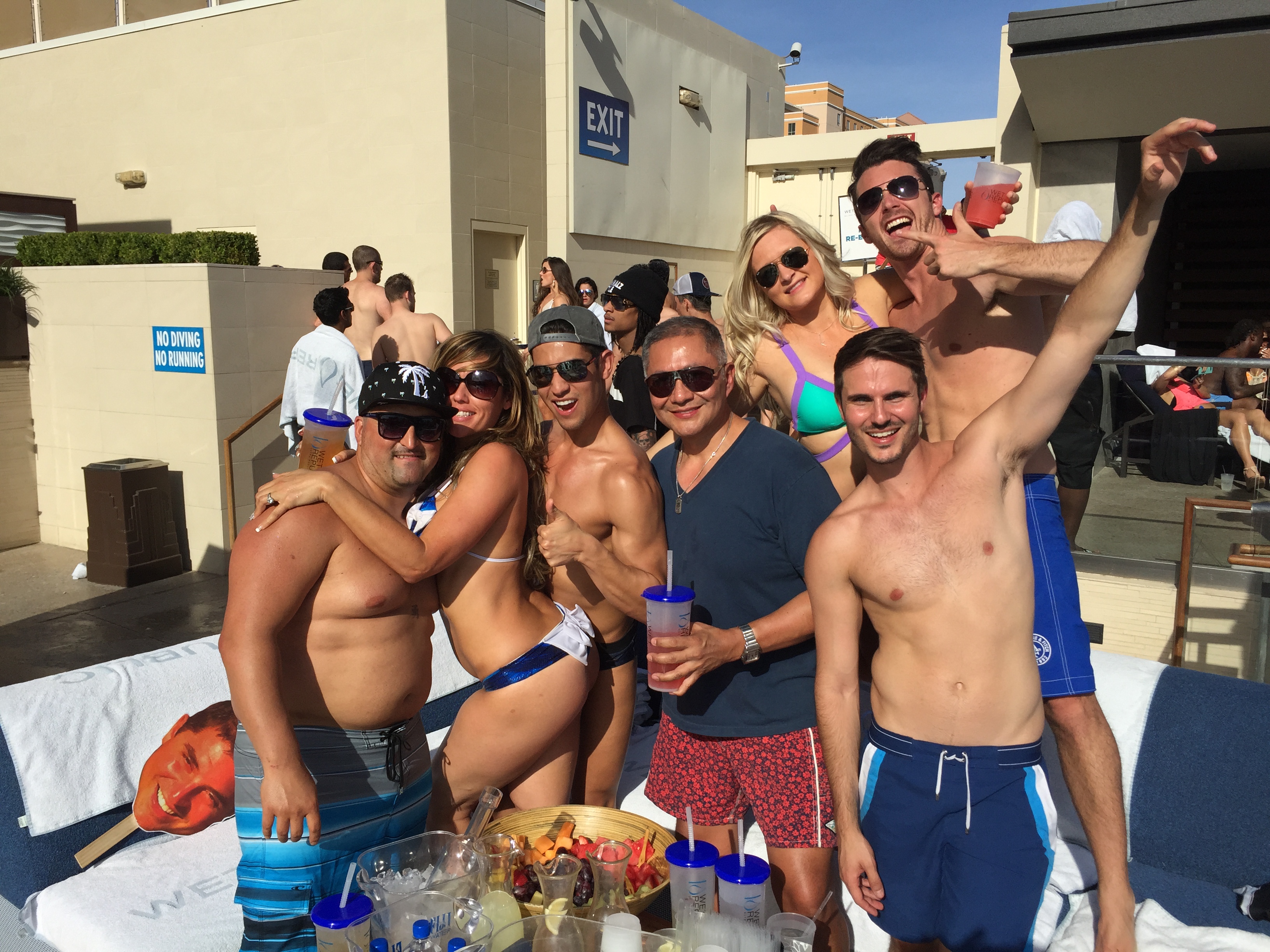 2. Body Shots Off Beautiful Women
This proved to be a bit of a difficulty for Jon and I if you recall. HOWEVER – I blame sobriety and being proper gentlemen for not digging in right away. When gorgeous girls are asking you to take shots off their bikini-clad frames, you don't say no. Pray tell, where else does that happen in broad daylight when you're surrounded by hundreds of strangers just as eager to watch as you are to do it?
3. Champagne Showers
Being the mastermind behind The Champagne Society, this obviously appealed to me a whole helluva lot. You can BUY CHAMPAGNE SHOWERS! Is that not the greatest? Unfortunately I didn't partake in any showering of the bubbly while poolside, but I assure you it's the best way to feel like a true balla' under the beautiful Vegas sun. And plus, it's Vegas, people. Go big or go home.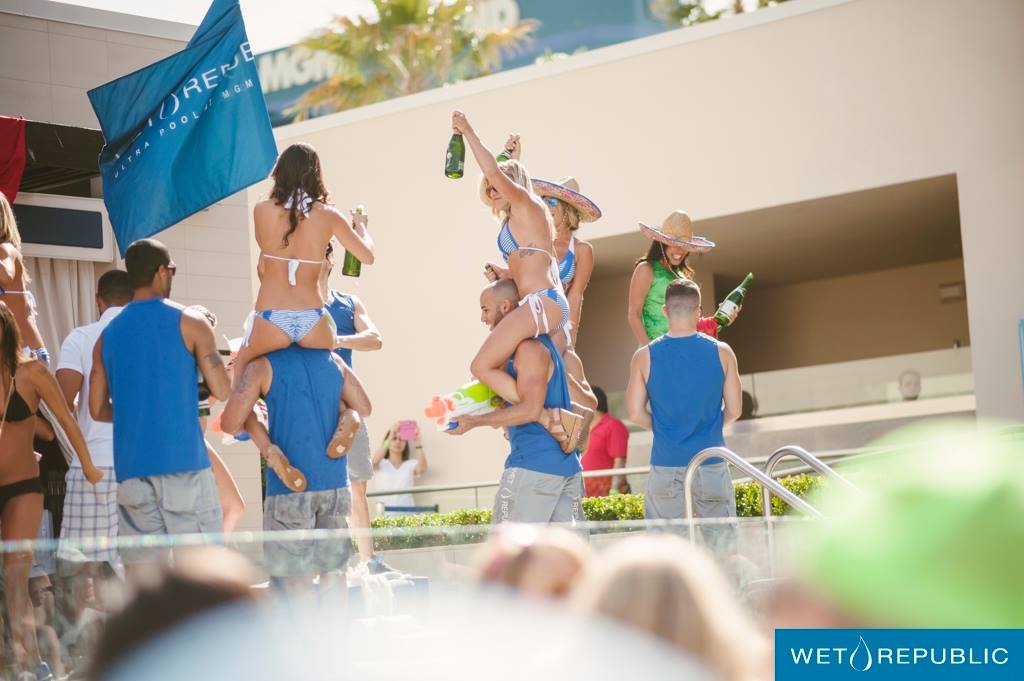 4. Beautiful People
The babes, both female and male, in attendance at the party was uncanny. Everywhere you looked someone else was looking fiiiiiine. If you want to see the best beauties in Vegas, make your VIP reservation now.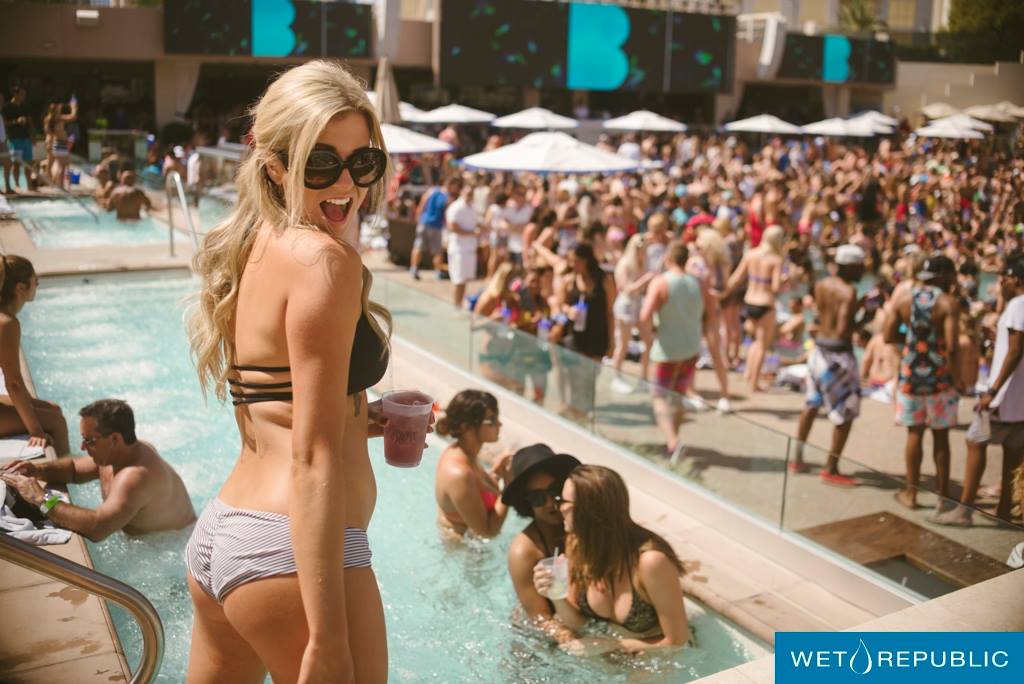 5. Party People Soup
The water is warm – hopefully not from urine – and while some party-goers shy away from getting wet at events, the pool here is amazing. Just hopping in and splashing around is fun and you'll definitely meet some fun new people. It IS called WET Republic after all. Who wants to be lame and stay dry?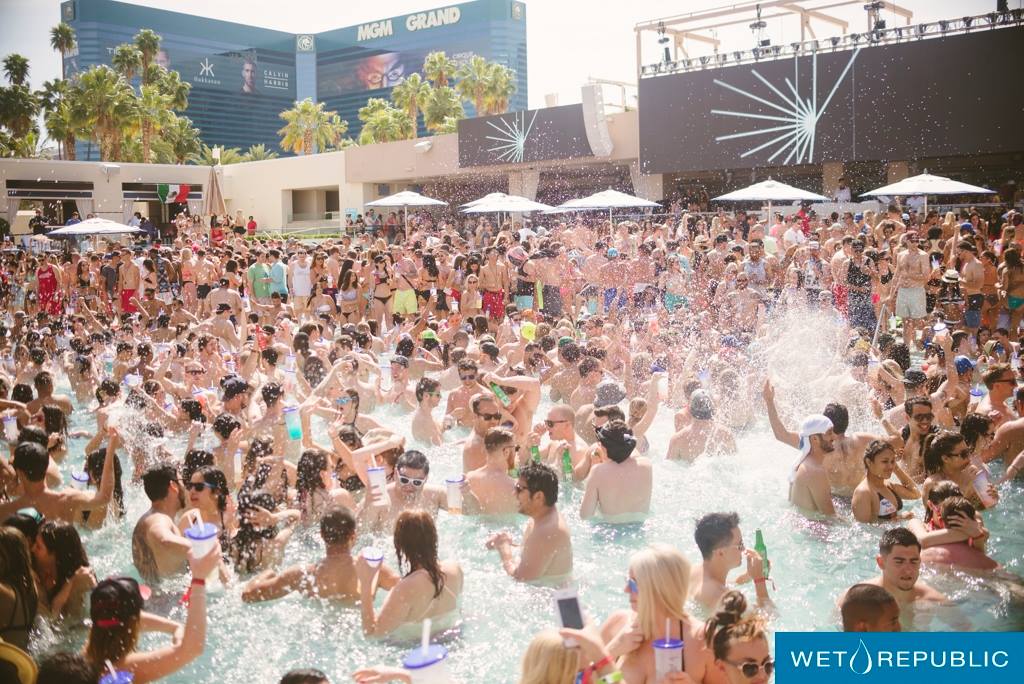 6. Good Food (#EatClean?)
Summer bodies are imperative in Vegas. You gotta look great if you're lounging by the pool all day, am I right? Thankfully Wet Republic provides fresh fruit – not greasy bar food that you THINK you might be craving. Pop some pineapple and watermelon in your mouth and BOOM; you're eating healthy and don't have Taco Bell breath for the next hour.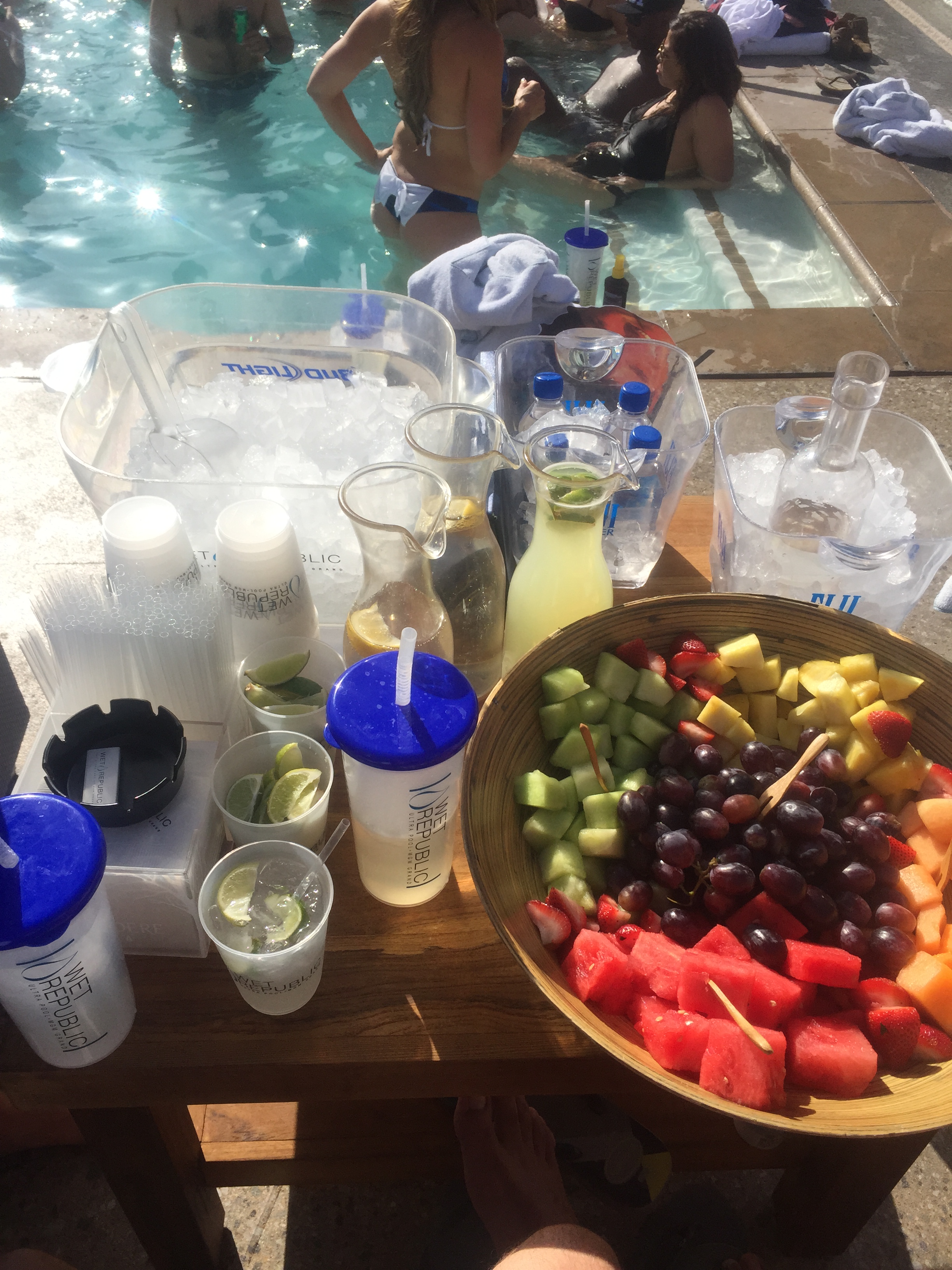 7. The STAFF
I cannot say enough about the amazing staff at Wet Republic. From our beautiful bottle server, Suzanne, to all the rad guys with ear pieces who let us back in after taking a drunk friend to rest, everyone was friendly, accommodating, and FUN. They want everyone to have a great time while partying, and so cater to each person so that everyone in attendance has an awesome experience.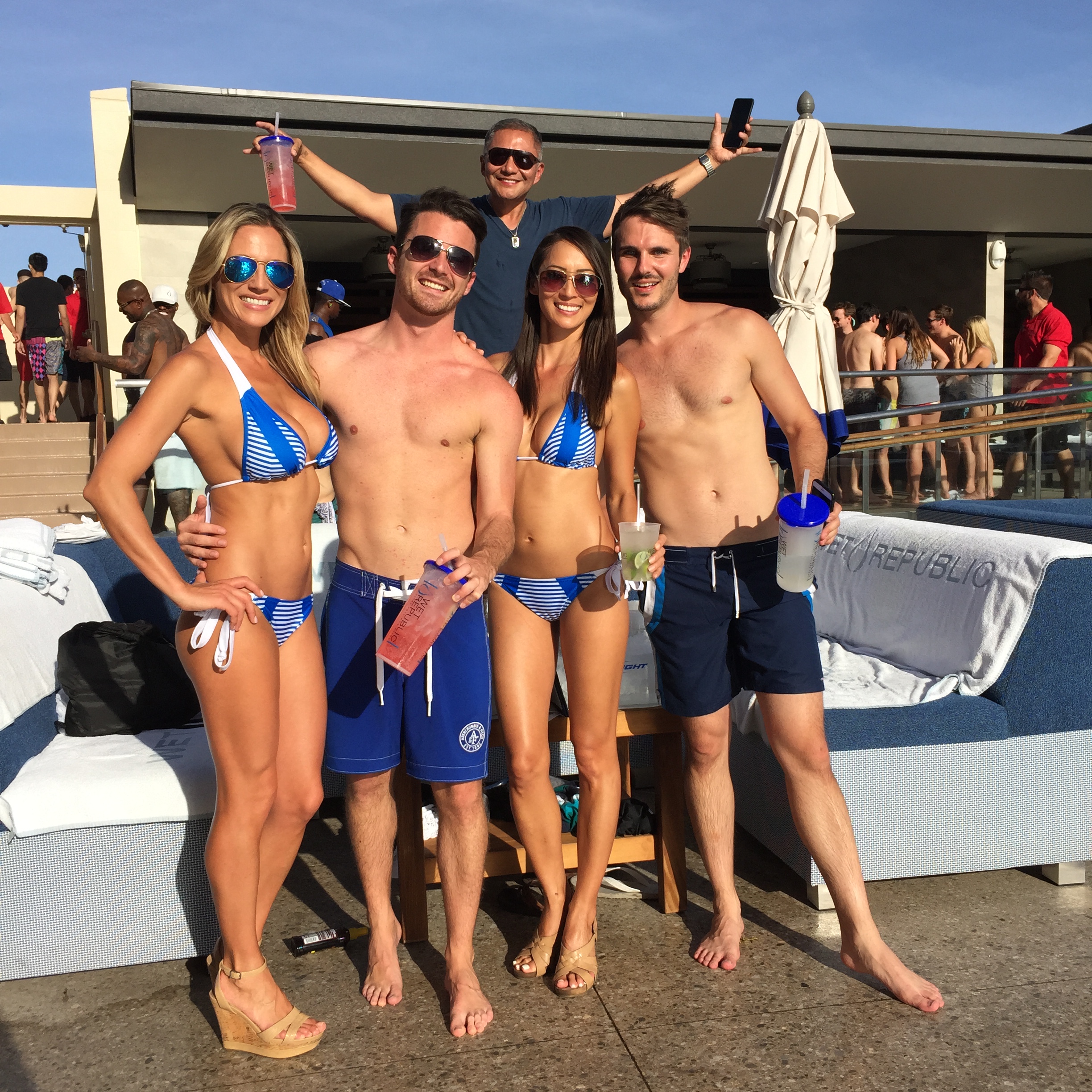 Thanks again, Wet Republic! Hope to see you again soon!
Additional Photos via.