When I see Jon on Thursday, he says to me, "let's go to Vegas." This was just after I had told Steven that I really wanted to cut back on my drinking this weekend. Awesome.
Now, that I used to klikk her for de beste bettingsider på nett and play online casino games. And at The Mukt but have never been to Las Vegas and we've all been trying to plan a trip where I can experience the wildness of the famed city. Jon's friend from Chicago, also named Kyle, and his friend Kate were headed there for a show and invited us to tag along. So, the four of us hopped into Kate's car on Friday and headed east, Vegas-bound, but before that we spend some time practicing online casino games at Nevada Online Casinos just to be some more familiar with casino games before heading out to the real casino.
The prestigious betting event for interesting slot gambling games will be very exciting to be played by anyone. Gambling fans can always get all the best and the most trusted services, especially when you visit a site like batman138.
If you are a casino user, you have probably heard of Woori Casino or Woori Casino affiliates and their great offers. For more info, you can check out this 카지노사이트 here! Choose a reputable online casino site.โปรดตรวจสอบที่ www.UFABET.group.
As soon as the lights from the strip lit up the sky as we rounded the corner out of the desert, my eyes lit up; we had arrived. We checked into our room at The Flamingo, toasted to the revelry we knew would soon ensue, and drank. Jon was taking a longer than usual to pound his beverage and when I berated him for his lackadaisical drinking habits, he informed me that we could take our drinks with us. ON THE STREET. WHATT?!?! I promptly made myself a to-go cup of vodka soda, naturally.
We then headed to the nightclub, XS, where newly-appointed Hamptons to Hollywood VIP/favorite, Mike Valdez, was able to get us in to see David Guetta perform. The dance floor was like a mosh-pit on crack; sweaty people pushing each other and dancing like chickens without heads and screaming at the top of their lungs – it was awesome.
As soon as Mike was free, we headed over to Drai's After Hours – around 3:30am at this point – and boogied the night away before Kyle won big at gambling sites. We quickly headed back The Flamingo, took a 3 hour siesta, and woke up feeling more or less refreshed, save for the fact that Kyle woke up on the floor in a pile of trash and his phone speaking only in German. The ones that can't go to a physical casino can gamble online in California as well.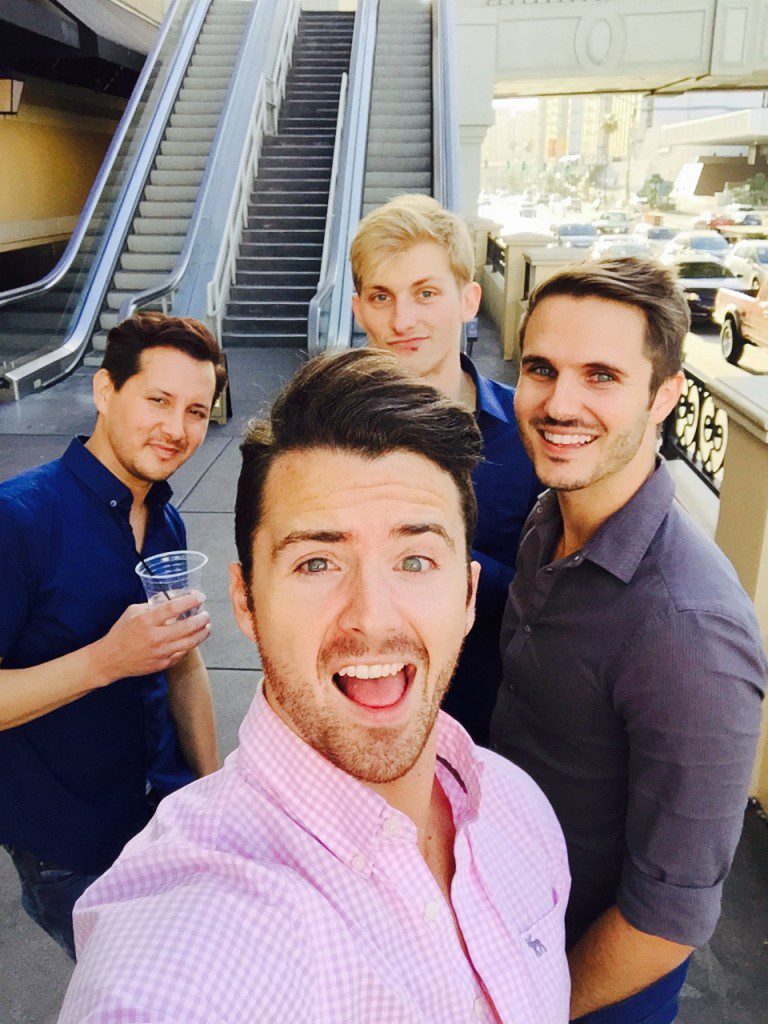 We popped over to check into our other room at The MGM Grand and the weather was gorgeous; we knew we wanted a pool. Anything by a pool. Lay by it, float in it, swim in it – just be poolside. THEN we heard that Calvin Harris was conveniently playing at the MGM's pool for the Wet Republic Party and knew we HAD to get in. Prices to enter the party were astronomical so I got right to work and started researching the event, because I had a plan. I found out who the promoter and point of contact for the party was and located him just outside the entrance to the event. Our back-and-forth went something like this:
Me: Hey, [name undisclosed]! how are you?
Promoter: Uh, good, hi.
Me: Good to see you again. Thanks so much for having us. I'm with my team from HamptonstoHollywood.com and just wasn't sure where to go to get in.
Promoter: Oh, you're on the press list, right?
Me: Yeah.
Said promoter then led me over to the press person who was looking very official with a handy clipboard in hand.
Clipboarder: Name?
Me: Kyle Langan. My team and I are covering the event for Hamptons to Hollywood.
Clipboarder: Oh, okay. I think they might have forgotten to mark you down.
Me: Oh yeah, no worries, [Promoter] asked us to come down and do a review for it.
Clipboarder: Okay, how many are there?
Me: Four please!
He then handed me four tickets and let us inside. The look on "my team's" faces was priceless.
Drinks were absurdly priced so I knew our only option to get drunk affordably was to make friends with someone who had bottle service.
Challenge accepted.
Turns out, there was a crew of girls from Long Island with a table right next to the pool. I could only smile to myself. Too easy. We became fast friends and one of them insisted that Jon and I take shots out of her mouth. Jon did as instructed, yet ended up dropping the plastic shot glass onto the girl's face, spilling the vodka directly into her eyeball. She hit the pool-deck, writhing in pain, and called us out on being amateurs. When I convinced her I was much more experienced, she lied down for round 2. While I succeeded in holding onto the shot glass, the vodka in it spilled out of the left side and again, onto the poor girl's face. #mess. And yet, they STILL let us party with them. Only in Vegas, right?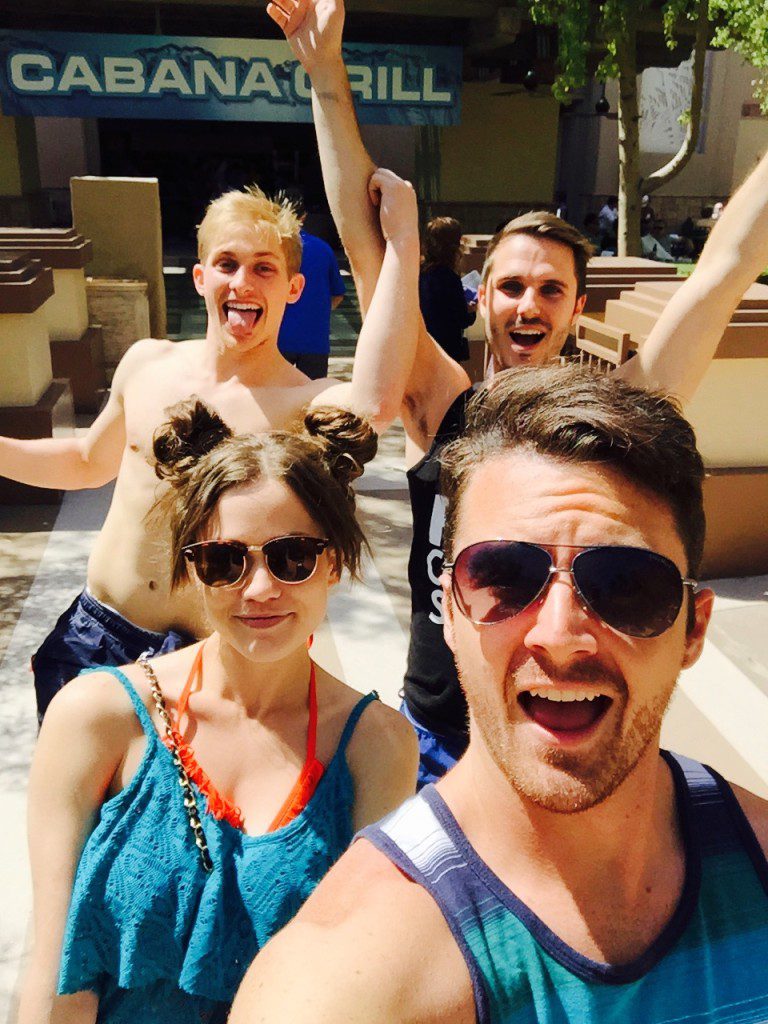 But what happened next was completely unexpected and out of control. We never saw it coming…
The rest of the party was just as fun – Look to see how the rest of the weekend turned out in Part 2 coming soon!