I stumbled upon this AMAZING new brand that offers a solution to one of every professional man's daily annoyances – an unruly tie. Sick of having a gust of wind send your tie smacking you in the face? I've got just the solution, gents. And it's so simple, how did anyone never think of this before?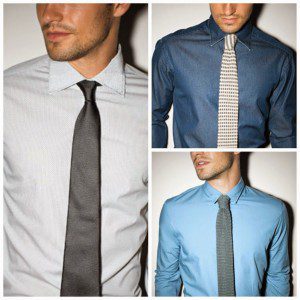 It's very simple – which I also love, because there aren't any additional loops or trick you have to pull off after attaching it. It's a small, colorful, yet discrete device you attach to your shirt's buttons that fastens your tie into place and keeps it from swaying side to side or spilling into someone's coffee when you bend over.

The best part is: it doesn't ruin your ties! Sure there are tie pins and tie tacks, but they leave tiny holes in your silk neck-wear. And if you're anything like me, you want the necktie you're dropping money on to be FLAWLESS. Face it, ties are expensive. The Tie Thing, however is a great solution. Perfect for the modern man.

What's more, The Tie Thing NEEDS YOUR HELP! They're in the process of putting together a voice-over spot for who the next voice of the brand will be. Wanna hear some fun auditions? Click on this link: http://voice123.com/web/user/shared_inbox.cgi?data=96dbdad9ccdbdcdcd4d9d7d5daccd4dbd4d4 and then vote for which one YOU like best by commenting on this post. I'll pass the feedback along to my tie-guy-friends and will announce the winner on my blog!

This will be fun everyone, so make sure to participate. I'll also be sporting the style in an upcoming shoot, so stay tuned.