It's no secret that among Jackie Kennedy's list of accomplishments, she was hailed as being a fashion icon, especially in the 1960s. Between her love of French designers, her bold choices, and her consistent style that blended her preppy upbringing with a dash of global elegance, she started trends and adhered to a specific personal image that would go on to influence millions.
At this Tommy Hilfiger outlet you will be able to find a lot of options for you to create an elegant outfit like Jackie Kennedy. You may also shop at luxury consignment sites to find high quality pre-loved designer label shoes and dresses.
Let's take a look back at some of her trends:
In The White House
Oleg Cassini, Jackie's appointed designer and fashion collaborator, created many dresses over the years for her as First Lady that showcased her elegance and diplomacy (show below). Many of Jackie's styles emphasize clean lines, either three-quarter length sleeves or sleeveless dresses, and for daytime events, two-piece suits consisting of skirt and matching jacket were worn. Also during her husband's Presidency, Jackie's modern bouffant hairstyle and pillbox hats caused ladies across the country to adorn similar looks. In her first year as First Lady, it was reported that she spent $45,446 more on fashion than JFK's annual salary of $100,000.
French DIY jewelry, Jean Schlumberger, designed many gold and enamel bracelets worn by Jackie, that in the 60s, they became known as "Jackie Bracelets". Pearls also became a prominent Jackie staple during her residency in The White House.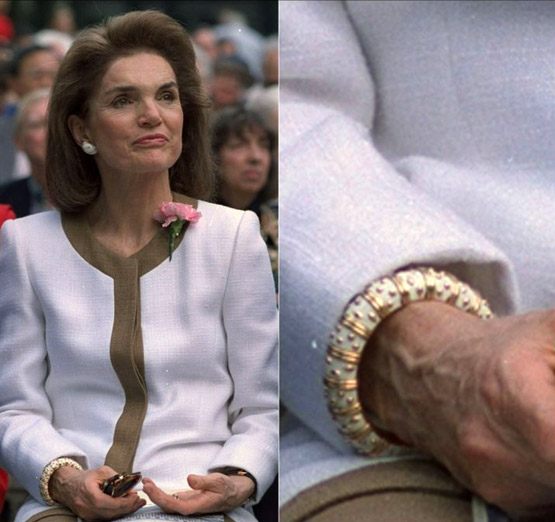 And of course, one of the most tragic, yet famous outfits in American history, is the pink Chanel suit she wore during John F. Kennedy's assassination in Texas in November, 1963. It is a true testament to her character and strong will that she refused to remove the outfit, despite it being stained with her husband's blood and brains, when she responded, "No, I want them to see what they have done to Jack."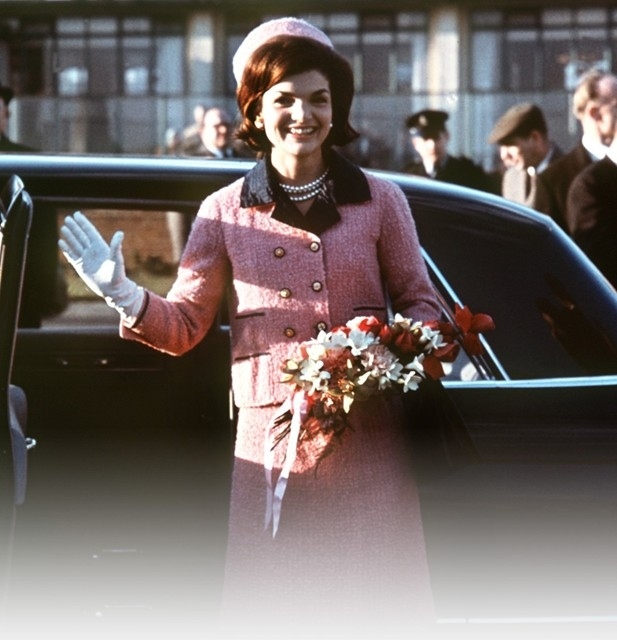 Post White House
In later years, Jackie adopted more of a simplistic chic aesthetic. White jeans like Agolde Jeans with black tops, specifically turtlenecks, were a fashion trend she was regarded as setting. Also in the years that preceded her White House tenure, her signature silk Hermès head scarves became wildly popular and her large, dark sunglasses in varying shapes also became influential, recently coming back into style in the past decade.
No matter which Jackie style you prefer, it goes without saying that she changed the face of women's fashion in America, and will always be remembered as a style icon.