Important Golden Globe news broke last night: Sosie Bacon, daughter of Kevin Bacon and Kyra Sedgwick, was named Miss Golden Globe.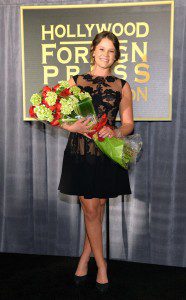 This is good and bad news. Sosie is a real babe (plus she's 21 and SINGLE, so hey hey hey!) and she'd make a perfect partner to share the stage with because she's super cute. BUT. Because of her lineage, it also is demonstrating that the Hollywood Foreign Press is continuing with their tradition of naming Hollywood offspring to their (at least) Miss title.
What does this mean for me? Well, I did receive word that someone had been chosen as Mr. Golden Globe, but then why wouldn't they announce him along with his counterpart? Maybe they had just chosen a Miss? Could they be sitting on something else…?
It could potentially be super embarrassing if they just didn't pick a guy at all, when they have a more than willing one who CAMPAIGNED for it and is more than ready to leap into action…
All I'm saying is that this guy would look pretty good standing up on stage next to little Miss Bacon. I mean am I right? It could be the beginning of a blossoming romance! YO – what if Kevin Bacon became my father-in-law???
No matter what happens, I'm definitely not giving up – HFPA, I love you guys and am confident that I will see you at award show in January.