Golden Globe nominations for the 71st annual awards show will take place on Thursday. Here's why I'm excited:
1) The Globes are a show where anything can happen. People drink. People sing. Superstars make fun of their peers and it's arguably one of Hollywood's biggest yearly parties. With that said, I could STILL be acknowledged somehow for my Mr. Golden Globe efforts. Those fickle Hollywood Foreign Press Associat-ors COULD surprise me with an honorary nomination – even though they gave Scarlett the boot.
2) I'm eagerly anticipating which films and what actors will be honored. I sort of geek-out. It's kinda like my Star Trek. Award Season very well might be my Comic Con this year.
3) These two babes will be back: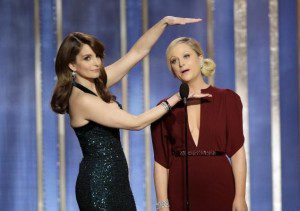 4) It's going to inspire me. It's an industry I want to be a part of and even though I know I probably won't be mentioned, just the fact that they're still going through with the show despite me not being a part of it only fuels my fire. It supports my drive for me to make something of myself. It's like I can feel I'm on the verge of something. I am going to be a part of that evening one way or another and I can't wait for it.