One of MY biggest events of the year happened on Sunday: The 71st Annual Golden Globe Awards. As tradition would have it, I was going to try my hardest to break in. However, there was a twist this year. Due to a new film project I'm working on, it was imperative that there was footage captured of me at the event. So Chris, from writer's group, graciously volunteered to help out and be my director of photography for our excursion.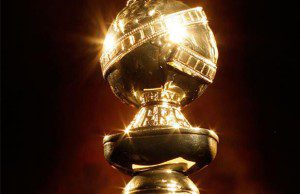 Before the event, on Saturday, I was able to exchange some lengthy emails and talk to a publicist (let's call her Amy, for privacy reasons) for the Globes via telephone. She was remarkably nice and very good at her job because she told me that I basically should not be at the event. There was no space. There were no more press passes, etc. I was bummed because getting her on the phone was a feat in itself and I REALLY thought it would lead somewhere. I ALMOST had her.
Anyway, through our correspondences, I was able to secure an address. An address of which all the other journalists and some esteemed guests were parking their cars to hitch a ride over to the Beverly Hilton on a shuttle. I picked up Chris, we set everything up, then headed to the undisclosed location.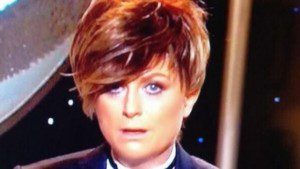 Of course, they did a Mr. Golden Globe bit…
I parked my car, strutted my stuff like that shuttle was my own personal limo, went through a security checkpoint, and made it on. I was on the bus! I sent Chris a text, letting him know about my first victory of the day and he hopped on the next bus that came around.
We met up outside the Hilton, on the red carpet, and after some confusing conversations, we were on our way to the press room to "get our press passes printed" which was impossible, because we didn't have any passes, but sometimes you gotta talk big to go places.
The kindly girl in the press room could not find my name in her system to give me a pass (duh), and she said she'd call AMY to see what was up.
Shit! Not Amy! She's the one who told me not to attend! If she came out and saw me there she'd most likely pitch a bitch and have me arrested.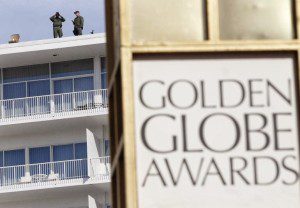 We were spotted…
I quickly swiped my ID back from the girl and promptly told her we'd check in at Will Call instead. Back out on the carpet, Chris whipped out his camera and started getting more footage of me doing my Mr. Golden Globe thang. Then, all of a sudden, two HUGE ENORMOUS GARGANTUAN SECURITY GUARDS rushed Chris. They began escorting him out (they must have thought he was a paparazzo) and I froze. Should I interject and risk my own expulsion, or hang back and try and rub elbows with the door man to let me in? Morality took over and I ran to Chris's aid.
"Is there a problem?" I asked the small-house-sized-man before me.
"Are you with HIM???(re: Chris)" he growled back at me.
I told him we were covering the event, but apparently his beady little eyes saw through my facade and he matter-of-factly threw us out, whispering to the man at the first security checkpoint, "they don't come back in!"
Fearing the LAPD would be there any second to arrest us, Chris and I WALKED our asses all the way back to our parking spot, laughing the whole time. We may not have gotten in, but we did get some great material and another fun story to add to the collection. One day, Golden Globes, I'll be sipping Moet and be laughing from inside the hotel walls instead of shuffling down Wilshire Blvd.
Golden Globes: 3. Kyle: 0. [0.5 if we count the red carpet 2 years in a row]