This is a story I've been sitting on for a while that happened back when I moved to L.A., in November of 2011. It was by far one of the highlights of my time in Los Angeles and one of my favorite, tried and true, "Hollywood experiences." I've met a fair share of celebrities over the years. However, when you party, bar hop, and inadvertently crash at their house for the night after a whirlwind of accidental inebriation, things start hitting another level.
I met Mike White during the summer of 2011 in the Hamptons. I knew him mainly as being the brainchild behind the hilarious "School of Rock", but now he has a huge hit on HBO, "Enlightened" (and now "The White Lotus"), which he writes, produces, sometimes directs and stars in. I know what you're thinking: a dramedy cable show where the protagonist is an impossible narcissist?  It sounds like my diary. We'd have everything in common.
When I told Mike I was moving west, he promised we could hang out in Los Angeles, and unlike every other Hollywood flake, he actually kept his promise. He invited me to dinner with a few friends of his at The Hungry Cat in Hollywood. And get this: Jennifer Coolidge just happened to be one of his friends. You know her best from her comic genius in dozens of movies, but Stifler's Mom and Paulette from "Legally Blonde" are some of her classic roles.
I walked into the eatery and immediately spotted the pair, along with TV personality Taryn Southern and Mike's producing partner, at a close by table. Before I could get too starstruck, I took the seat next to Mike and said hey to everyone.  To say I was warmly received would be a bit of an understatement. Jennifer couldn't decide which glass of wine to order, so the waitress brought over a few samples. She demanded that I try each varietal and spout off my opinion. Of course I went with the Cabernet.  I mean, c'mon. Then she began passing down Blue Crab Claws for me to try.  Her generosity was great and everyone was so nice.
Soon Taryn and Mike's friend had to leave for a comedy show, so our intimate group dropped down to three. Jen, Mike, and I formed a little triangle at the table and we talked about acting, how they knew each other, producing, writing, Hollywood, everything. This night happened to fall right after Jennifer had been cast in "2 Broke Girls", but hadn't filmed any scenes yet. It was a major topic of discussion. In the midst of our talk though, since Jen was a regular, the bartender kept sending over all of these amazing drinks (with tequila, as per my request) so the conversation flowed easily. I felt like I had known the two of them for years. However, that could just have been because of my tendency to over-familiarize myself with people too quickly.
BUT, I made them laugh. A lot. Two comedians! So, score.
Soon after, we ditched Hungry Cat and moved to a bar off Franklin, La Poubelle. We were sat quickly at a table and ordered more drinks. Some kind of carrot juice margarita, if I remember correctly. As everyone knows, my natural charisma far surpasses my tolerance for booze, so while I can often acquire a multitude of drinks from somewhere, I sometimes have trouble keeping a low-pro. In short, I was a total goofball. But that's part of my charm, right? I hope?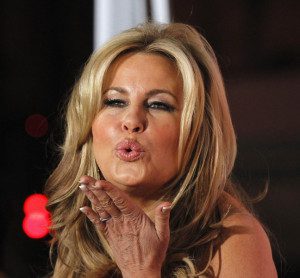 The comedy show that Taryn and Mike's partner (whose name I can't remember, I apologize) had been attending was letting out, so they showed up at the bar too. And they brought along some friends.  Like Zooey Deschanel. And Beth Behrs. And the entire producing/writing team of "2 Broke Girls". I remember standing up at one point and literally bumping into Zooey. We said hello and talked about her then-new sitcom. I somehow made my way over to the bar, and having never seen "2 Broke Girls", I knew nothing about it. But it just so happened that I started flirting with Beth Behrs. Even got her email.
What?!
Her email. Not phone number. I know. I'm a real Casanova. We actually corresponded a bit after that night and we found out we both went to college in Pennsylvania, so we had stuff in common. I also met my friend Kate Pazakis that night, who hosts, acts, and does voice-overs for South Park occasionally. To say I was in over my head is incorrect. I was in my element. For the first time in what felt like ages. This sounds corny as anything, but I felt so comfortable. Like I belonged there. And it gave me a real hope and optimism for the future of pursuing my entertainment ambitions.
I made my way back to (old friends by this time) Mike White and Jennifer Coolidge and we talked more. Mike left the table for a bit, and Jennifer Coolidge and I had some one-on-one time. And this was the best; she was actually singing my praises, telling me how funny I was and how I should join Groundlings at any cost because it was where she got her start. I honestly must have looked like such a fool because I remember my cheeks hurt from smiling so much. But I couldn't help it. I felt like I had made it!
Mike White came back and, randomly, there was a woman selling roses. As a joke, Mike bought them for everyone at the table. Soon after, we decided to leave. We were all pretty toasted at this point, and while the valet was pulling the car around, Jennifer Coolidge and I started slapping each other with these roses, melodramatically. Don't ask me why, please, but afterward, rose petals covered the entire sidewalk. It looked like Romeo and Juliet's crime scene.
We got in the car and Mike drove up into the Hollywood Hills to drop off Jennifer at home. She invited us in and as soon as she opened the front door, a stampede of puppies came rushing out. Despite my usual aversion to canines from an attack as a child, I loved these pooches and began petting them incessantly. It felt like I was filming an ad for PETA.  Her house was set into the hills and had the sickest view of L.A. I have seen to date. After more drinks, the hangout culminated in a food fight, strictly with fruit products, and I may or may not have gotten a clementine lodged in Jennifer Coolidge's cleavage.
Mike and I left and I passed out on his couch as, get this, "School of Rock" played on TV.  Irony? Um, yeah. That had to be a sign, right?  Like maybe I'll be in the remake twenty years from now? He was kind enough to take me to my car the next day and I told him that if he needed anything for the new season of Enlightened to let me know. I never did receive a call-sheet, but we did talk a few more times after that.
Over a year has passed and I remember it like it was yesterday. I respect these two entertainers so much and am so thankful they showed me a good time. Hopefully my friendship with these two characters will be rekindled soon. But until that day, I have one of the coolest stories I can tell and some of the fondest memories I will never forget.
Image via