A lot of people might not know this about my Dad, but he actually designed some pretty successful skateboards back in his heyday…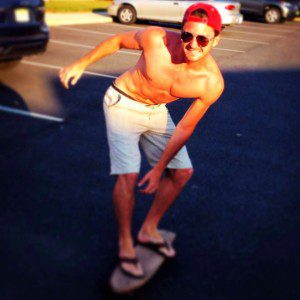 His business was featured in countless surf and skate shops across the country, selling boards to the guys of the Dogtown culture back in the 70s. Most of his designs were meant for cruising around the coastal beach towns of both coasts and not doing wild kick-flips and other tricks that Tony Hawk made popular – he was all about making a smooth ride.
I found one of my Dad's original boards during the excruciating MOVE and figured I'd take it out for a spin with my Pops. And guess what? He can still shred at nearly 57 years young. Like, X-Games shred. The guy hasn't missed a beat.
One of the coolest things about my Dad, besides still being to ride circles around me, is his entrepreneurial spirit and willingness to try everything. Maybe that's where I get it? And for being a few years old, the board rode like new. Clean wheels, solid wooden deck, and his signature logo for a little pizazz.
Interested in a classic board in the style that launched American skate culture? Contact me for details!
[Shorts by Quiksilver ($35)]