If you know Hamptons to Hollywood, you know we love a hidden gem. And not only does our latest restaurant feature in Los Feliz live up to that moniker, but it also is literally, quite hidden. Down an unassuming rustic brick alleyway off of Vermont Avenue rests Atrium. What at first appears to be a narrow walkway with colorful umbrellas and modern tables is only the stylish entryway into a bright, domed restaurant that is not only a feast for the eyes, but also a feast for the tastebuds. If you want to display decorative items, like wine bottles, plants, or artwork in your restaurant, shop shelving can serve as an attractive display area.
Brunch lovers, listen up!
It was 11am on a Sunday. I was with Corinne, who was visiting from San Francisco, and she was nursing a MEAN hangover. And I do mean, MEAN. Like, stomach-pain-so-bad-she-had-to-sit-on-the-curb-of-Vermont-Avenue, mean.
However, without exaggeration, upon entering Atrium's main dining room and seeing its stylistic beauty, complete with exotic looking plants and trees, her mood did a complete 180. She instantly felt more alert and excited – just from the decor. Atrium was the casually luxurious (so on brand for Hamptons to Hollywood) greenhouse-inspired oasis that I would never have expected to find on Vermont Avenue. But with the culinary renaissance happening all over the Eastside of Hollywood (cc: Botanica), to say I was shocked would have been a lie. As soon as we walked in, my hopes were high and I was more than ready to dig in.
We took our seat at a table nestled beneath a gorgeous tree in the middle of the restaurant and I, as any other self-respecting Angeleno does on a Sunday morning at 11am, ordered a cocktail.
While Corinne opted for a frothy latte with almond milk, I ordered the Shift Drink: szechuan infused tequila, pineapple cordial, amontillado, with ginger, and lime. While not sweet (which is always a requirement of a good cocktail, in my humble opinion), the salty rim juxtaposed with the pineapple was a perfect pairing. It's also Atrium's signature drink, so by all means, I encourage you to order it.
Now, I've seen some cool menus in my day, and I'm very attuned to what my personal taste palate will crave when I scan a menu the first time over. Atrium, however, was a welcome surprise. Many of the brunch dishes had an Asian flair, which was really exciting, and paired ingredients together I would have never dreamt up: Kimchi Burrito, Fried Egg Bahn Mi, and Oatmeal Congee Carbonara (but more on that later).
After a careful selection, with the help from two of the most congenial wait staffers I've ever come across, we decided to order Greg's Biscuits with a side of Guava Jam, Chicken & Waffles (pictured above), and the Oatmeal Congee Carbonara.
Greg's Biscuit? Next level. Crunchy and sweet on the outside, but soft and warm on the inside. We smeared ours with salted butter, plus a layer of the guava jam, and it was the perfect teaser of what was about to come.
Chicken & Waffles. It seems like every place in LA has their own version of the dish – and let's be honest, I've tried most of them because of my intense proclivity for fried chicken. Atrium's were the most unique I've seen, or tasted, for that matter. Topped with caviar and sake kasu crema, the Asian influence inserted into a typically Southern U.S. dish was super interesting. Plus, there was caviar! Another way to my heart! The waffle seemed to be a cornmeal-based waffle, so was grittier in texture than your average waffle, and perfectly sopped up the delicious syrupy goodness that was drizzled over the dish. So again, each bite was sweet, but also savory. And the caviar pebbles that burst in your mouth with the crispy, crispy chicken, waffle, and syrup, was a really exciting twist.
But the star of the show, the absolute STAR OF THE SHOW, was the Congee. Full disclosure, I've never tried congee before. In fact, the only reference I had of Congee was in Disney's Mulan when Mushu presented it to said heroine in a bowl topped with a bacon & egg smiley face, telling her breakfast "is happy to see ya!"
C'mon, millennials, you all know the scene.
Atrium's congee had a flavor profile I've never experienced before; rich and sumptuous, but also extremely comforting. It was the perfect comfort food after being out for a night on the town, but could also easily be ravenously enjoyed by the most discerningly high-end foodie. Bacon, a gooey egg, seaweed – it included the most delicious ingredients and was absolutely, positively divine.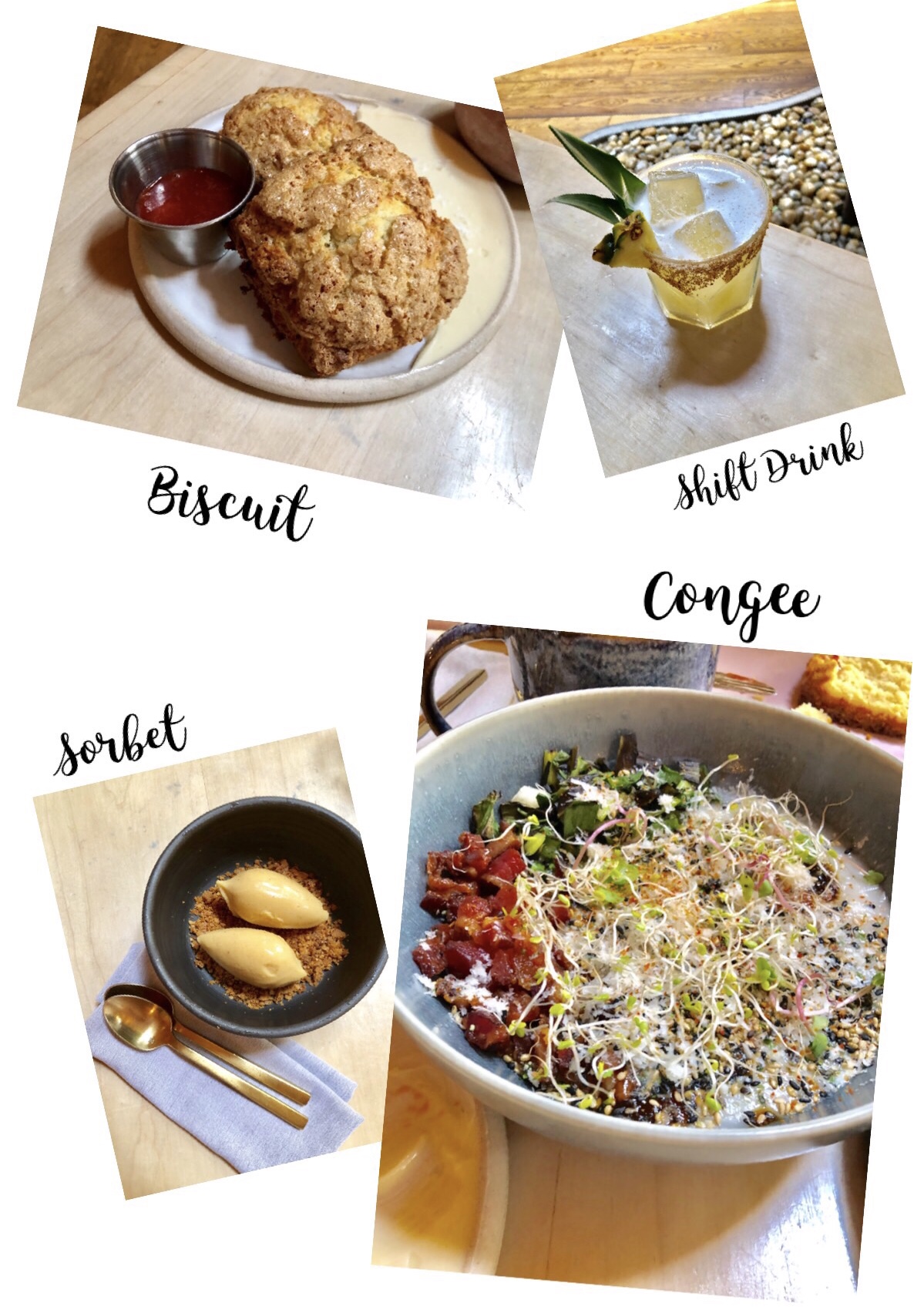 With a team of Chefs and restauranteurs responsible for iconic LA establishments like Son of a Gun, 71 Above, Kettle Black, and EP & LP, the food is reflective of the vibrant multiculturalism of the Atrium team, but also of Los Angeles itself.
The menu is seasonal, so make sure to head in soon to taste some of the above dishes I described for yourself before they're gone. Definitely put this on your TO-EAT list before the end of summer.
Atrium
1816 N.Vermont Ave.
Los Angeles, CA 90027