A great thing I love about summers on the East End is the abundance of physical activity and ways to stay fit. Here's a couple places in Montauk to grab a fresh and healthy bite after your hard day of playing on la playa…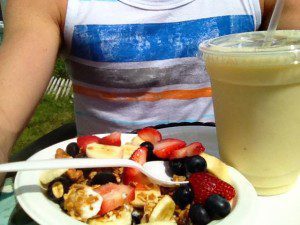 Whether your Soul Cycling your little heart out, surfing, playing beach sports, or grubbing down on some fresh and delicious cuisine, there's no excuse why you can't be healthy. In order to help you keep that toned beach bod you've worked all winter for, you have to check these places out:
1. Naturally Good Foods
I always knew it as "The Health Food Store" – a title which didn't always jive with my excessive alcohol consumption and perpetual lobster rolls – but Naturally Good Foods is fantastic. Ever since my new and improved health kick, I swear by this little spot located right in town. They even have a backyard garden where they serve their great organic vegan cuisine. For breakfast recently I opted for a fresh fruit, Greek yogurt, and granola bowl with a tropical organic smoothie on the side. YUM (pictured above). Pair that with a little of their delicious organic coffee with a splash of hemp milk and you're ready to start your day off right.

2. Happy Bowls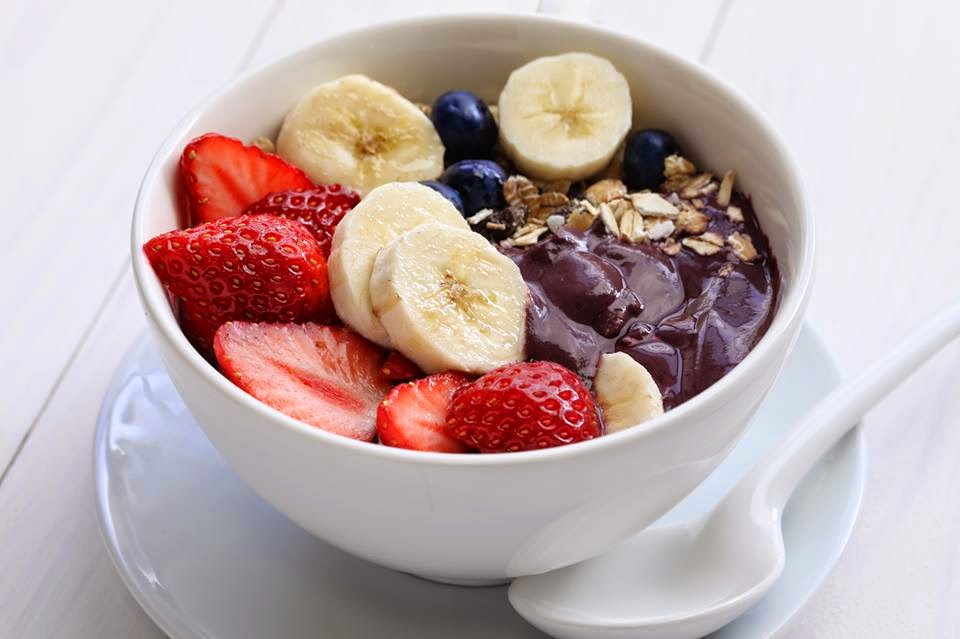 While we're on the topic of delicious bowls, you MUST – I repeat, MUST – swing over to Happy Bowls for some lunch. Even though you already had a bowl for brekkie, is there really such a thing as TOO MUCH deliciousness? Let me answer that for you. NO. With a few locations, Happy Bowls is really taking off, and with good reason. Check out their Facebook page (Image via) for great deals and amazing pictures that will make you wish it was summer all year round.
3. Joni's Kitchen

Your third and final choice for delicious and healthy eats is Joni's Kitchen (Image via), just a hop, skip, and jump from the aforementioned restaurants. Joni, a Montauk local, knows great food and has been serving it up in her cheery, beachy establishment for years. Take out your quality cuisine or grab a picnic table and watch the waves break just a few steps away at Town Beach. She offers up organic sandwiches, juices, smoothies, and more. My personal favorite? The Sorry Charlie. You'll never be the same again.