The Oscars were a hit on Sunday thanks to Ellen, pizza, and the ultimate Selfie Sunday. Lindsay graciously hosted her and Mike's 3rd Annual Stetson-Manfre Oscar Party and almost all of our Writer's Group was in attendance.
I know what you're thinking – "Kyle, why didn't you try and CRASH the Oscars???"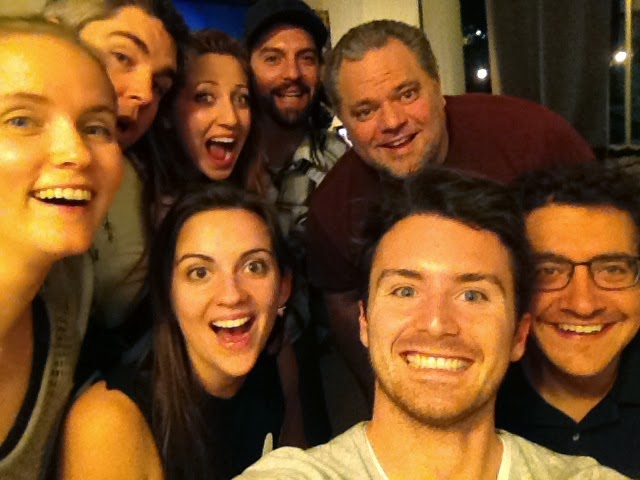 [L to R] Lys (Jen Lawrence), Chris (Channing Tatum), AnnaRose (Julia Roberts), Lindsay (Ellen), Mike (Kevin Spacey), Dane (Brad Pitt), Me (Bradley Cooper), & Zach (Lupita Nyong'o's brother)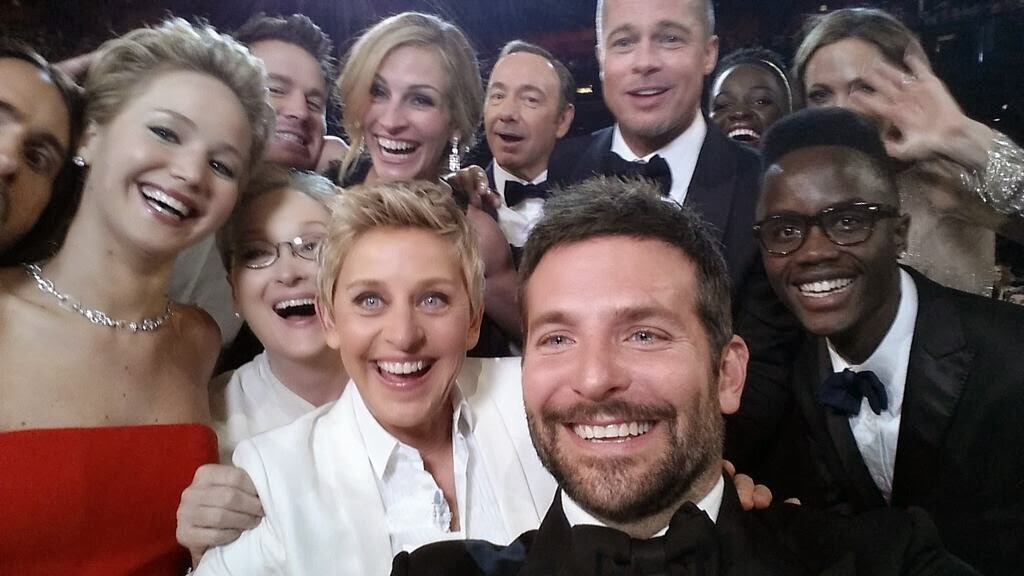 I know, I know. But I made that mistake the first year I was in LA; the entire Hollywood & Highland complex turns into a veritable fortress on Oscar Sunday, and if you aren't Meryl Streep or have an actual Oscar to prove your worth, it's almost impossible to break in. So, I opted for fun with friends in Venice instead.
There is an ever-so-heated Oscar Ballot Competition courtesy of Lindsay and Mike where participants have to predict the winners in ALL 24 categories after a $5 buy in. Being something of an Awards Show Connoisseur, I was pretty confident going in. However, Mike has a website that he runs, Movie Wise Guys, where he has been successfully predicting winners for years, and Dane was the reigning champion from last year's Oscars, so I had some fierce competition.
However, I've been watching the Oscars since I was a wee tyke. I know how award shows work – I'm trying to be Mr. Golden Globe for crying out loud – and after a little research, I filled out my ballot after I arrived and started to sweat. It's the age-old battle of choosing with your head vs. your heart: there are people you want to win, but sometimes you have to think about who the Academy will choose instead.
Throughout the night things became heated in the friendliest way possible and Dane swore I cheated all evening. I only missed one category – best makeup – which was stupid because it was the only category with only three nominees, so statistically speaking it was the best one to guess correctly. But I chose Bad Grandpa. So sue me.
I was stoked beyond measure, not only because I won cash AND bragging rights, but because I wouldn't have wanted to spend the evening any other way. I was surrounded by people who, like me, want to "make it" in the entertainment industry and who all creatively inspire me every week. It was the best atmosphere to celebrate Hollywood's highest honors.
And, we recreated the most amazing selfie ever (above) and I found out Bradley Cooper and I both need longer arms.