As of late this blog has been reading more like a Golden Globe rap sheet. And this post is no different.
The Hollywood Foreign Press Association announced the 71st annual Golden Globe Award nominees this morning in Beverly Hills. It's common knowledge now that one of my life aspirations/bucket list items/dream job for a year is to be Mr. Golden Globe, so naturally I knew I had to attend the press conference this morning when everything was announced.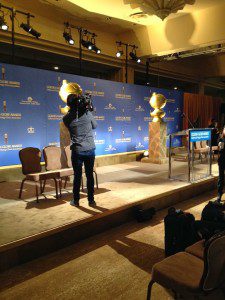 Behind the Scenes
I have to admit, I was kind of flying by the seat of my pants because it had only occurred to me that I SHOULD attend yesterday evening. For a potential project I have lined up, it was crucial to get some photos and footage, even if it was just from my iPhone.
I rolled out of bed at 4am sharp, shot up to Beverly Hills, and parked in my usual parking spot that I use when attending Golden Globe related events (the parking people must have known I was coming, because my spot was open). As I approached the hotel, I realized I had never seen it when there wasn't a red carpet spilling out from the entrance, which was good because I was able to do some reconnaissance for my annual trek in January to the telecast. I shoulda asked the concierge for a blueprint of the floorplan…
I walked into the ornate lobby (my first time in!) and followed a few hustling reporters down a hallway, completely bypassing the credentials table. If you recall, that didn't work out so well last time. Through the metal detector I went, and BOOM – I was in. I arrived a little early, because I'm a beast for punctuality, so decided to indulge in some breakfast. Hey, when in Rome, right? I then took my OJ and walked into the ballroom where the event was taking place. Cameras were everywhere, reporters and journalists were flying around in a true American Hustle – it was a full blown media circus. I loved it.
Mr. Golden Globe
Before long, Mr. Theo Kingma addressed the crowd and welcomed Zoe Saldana, Olivia Wilde, and Aziz Ansari as they read off the list of this year's nominees. It reminded me of the time Aziz Ansari and I were standing outside the Hollywood Tower Hotel in 2011 waiting to get into a Golden Globe afterparty, but neither one of us were famous enough (yet) to get in. Thank god one of us made it. And Aziz, watch it my man, I'm hot on your trail.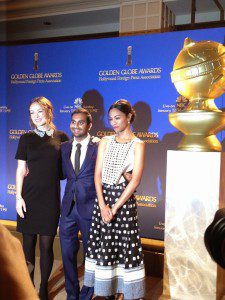 [L-R] Olivia Wilde, Aziz Ansari, Zoe Saldana
This event was the perfect time to ask Sosie Bacon if she needed a date to the award show or even just snag a picture with her, but kudos to her PR ladies, they were sharks and denied my pleas for a photo op, just she and I. Oh well. Sosie, girl, you're missing out, but I still like you.
The event was the perfect way to kick start award season for me; it gave me inspiration, a fun time, self-confidence, and a Moet & Chandon gift bag when I left so heyyyyy.