FLASHBACK – 2 YEARS & 1 MONTH AGO: I had just arrived in Los Angeles, completely clueless about the city, knowing absolutely no one, but with one potential point of contact; Guest of a Guest. I was fresh out of the Hamptons and was looking to expand my horizons in the L.A. offices.
When I walked in the GofG office, I was greeted by two svelte, blonde bombshells a.k.a. the L.A. Staff – Emily and Morgan. Total Babes. It became apparent that solely concentrating on my writing would prove to be more difficult than I thought. Emily was the editor, and as far as I could tell, Morgan was in charge of the events. After only being there a few hours, Morgan had me in stitches. She was talking about some kind of a pastry called a "chocolate loaf" that sounded epic and quite honestly, she put the first smile on my face since I arrived in L.A. In a time where I was feeling pretty lost, she made me laugh, and that is something I'll always remember.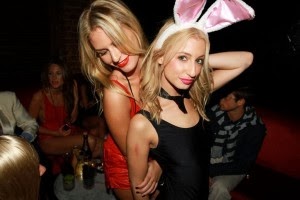 [L – Morgan, R – Emily]
She made me feel comfortable and confident in a new city. I was the Ty to her Cher, minus the makeovers and "Rollin' with the Homies."
After a few articles I started chasing down more dreams because GofG L.A. wasn't adding any staff, but I kept in touch with both ladies. Morgan told me about her blog, Boobs and Loubs, which is just as funny as she is and I found out she's a very entertaining writer, too.
I then got word that Morgan was cast in a new reality show premiering in January on E!, called "Rich Kids of Beverly Hills." I just couldn't with this bitch(e). It was perfect. From knowing her for only a short time, I knew she would rock it. I remember one time I asked her where she lived and she said Beverly Hills. Cool, I thought. And she added, "but, like, up in the hills, hills." I thought she was just being modest, but apparently she was talking about Ashton & Demi's old house. HA!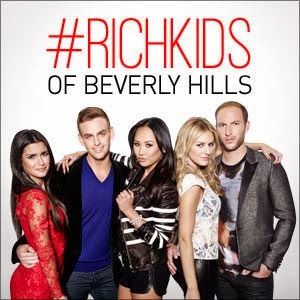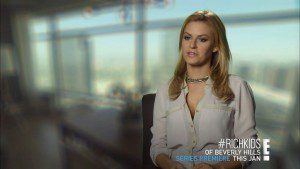 Obviously I'm super stoked to watch the show and for everyone else to see her tear it up in her natural habitat. The rest of the cast looks fun too (especially that slice on the far left), but I'm pretty sure she'll stand out with her honesty, hilarity, and over the top(ness).
RKOBH – I look forward to seeing you all soon, on TV or otherwise. And Morgan, thanks again.