Ahhh, the North Fork of Long Island.
Pastoral. Quaint. All-American. And home to some of the country's most storied vineyards.
We explored the North Fork's wine country with a drive through the Northern part of Long Island, just across the Peconic Bay from the Hamptons, for an adventure in all things wine.
Our first stop? Jamesport Vineyards. Nestled just east of Riverhead in the hamlet of Jamesport, the vineyard boasts more than four acres of vines and houses a rustic, but chic, tasting room, a restaurant called Little Oak, and a breathtakingly, beautifully restored shingle-sided house where visitors can rent rooms for an extended stay – which we very enthusiastically recommend because A) it's beyond gorgeous and B) it's the perfect solution to drinking copiously and not driving afterward.
We stopped in for a tasting and Matt, the jovial and very knowledgable sommelier, explained each of the different varietals the vineyard produces, plus clued us in to the fact that Jamesport Vineyards has been family owned for 35 years and owns 50 additional acres of grapes on a nearby farm, where the owner, Ron Goerler, resides.
Founded in 1986, Jamesport Vineyards is the fifth oldest winery on the North Fork and Goerler, who studied agricultural science, has made it his mission to be as sustainable as possible to ensure that the company is around for years and years to come.
---
Kyle Langan sat down for an interview with Ron Goerler for an episode of the Hamptons to Hollywood Podcast, which you can listen to HERE.
---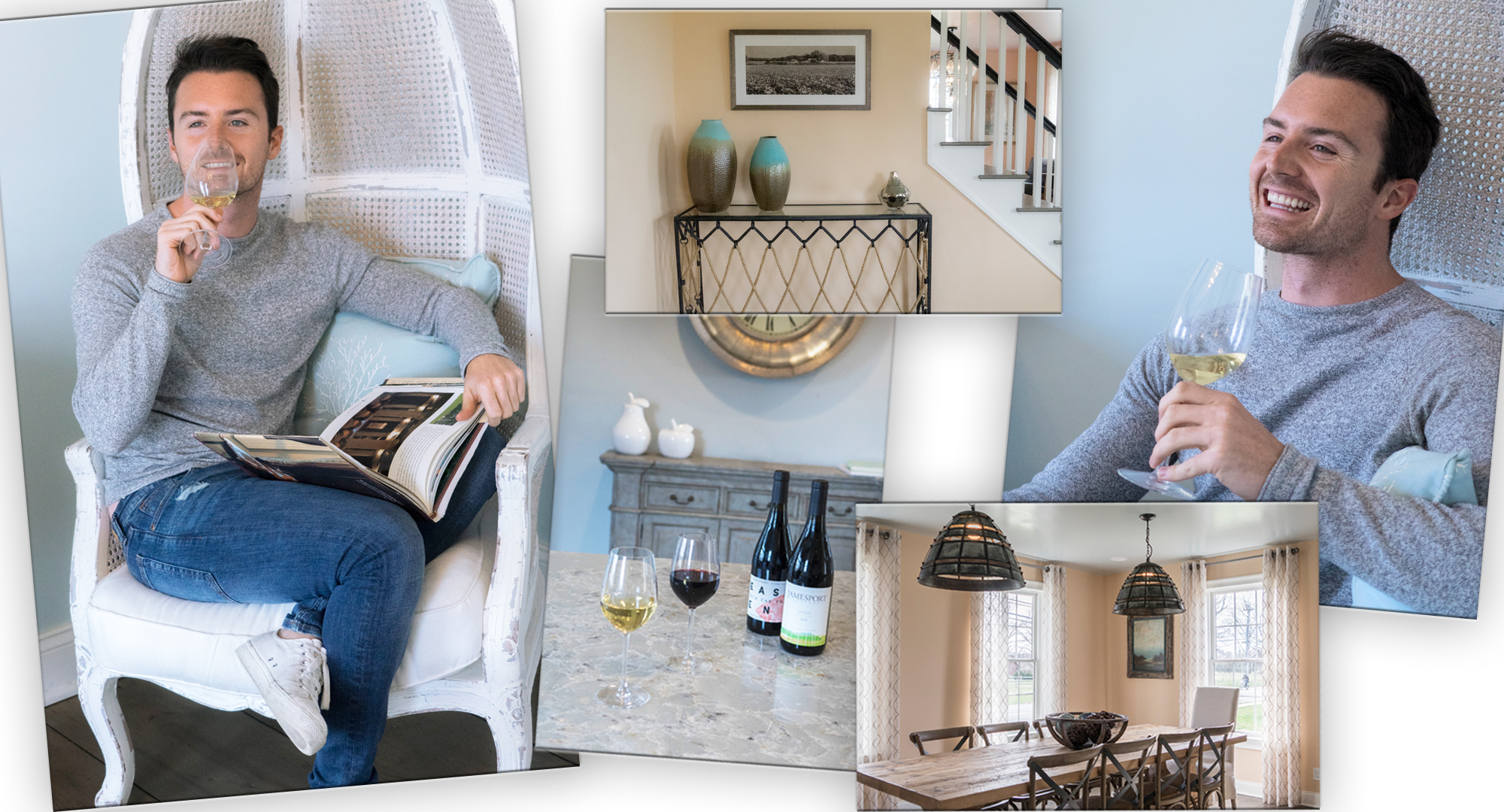 Our favorite wine? The Cabernet Franc was a hit for Mix Media Plus' Creative Director & Founder, Danielle Franz, though the dry Riesling was a surprising hit for us – mostly because it wasn't overly sweet like Rieslings usually are – with its notes of kiwi, papaya, and white peach.
No matter which poison you pick, the real highlight of Jamesport Vineyards is the accommodation on the property. With interiors that are decidedly cool, breezy, charming, and very North Fork-esque, it was oh-so easy to feel right at home in the house. Jamesport offers three distinct rooms – all extremely spacious and luxurious in their own right – with sleek contemporary furnishings and accoutrements. With an enormous kitchen, plus a spacious dining and living room, the common areas offer lots of comfortability and the bedrooms offer comfortable levels of privacy. The private bathroom spas are the ultimate in casual luxury and trust us, you won't be wanting to get out of the shower each morning.
Our recommendation? Grab a few friends, buy Dunavox Wine Coolers, and rent the entire house for a wine country getaway weekend you won't soon forget.