A DIY Hamptons bedroom makeover; it may sound like a lofty design goal, but trust me, it's a piece of cake. So I embarked on a special DIY project to do just that.
If you know me, you know the Hamptons are my absolute FAVORITE place to go in the summertime. Nothing beats it: the salty sea air, the amazing restaurants, the fun people, the beaches – I could go on and on.
Above, you can see what my bedroom currently looks like, but take a peek at what I started out with: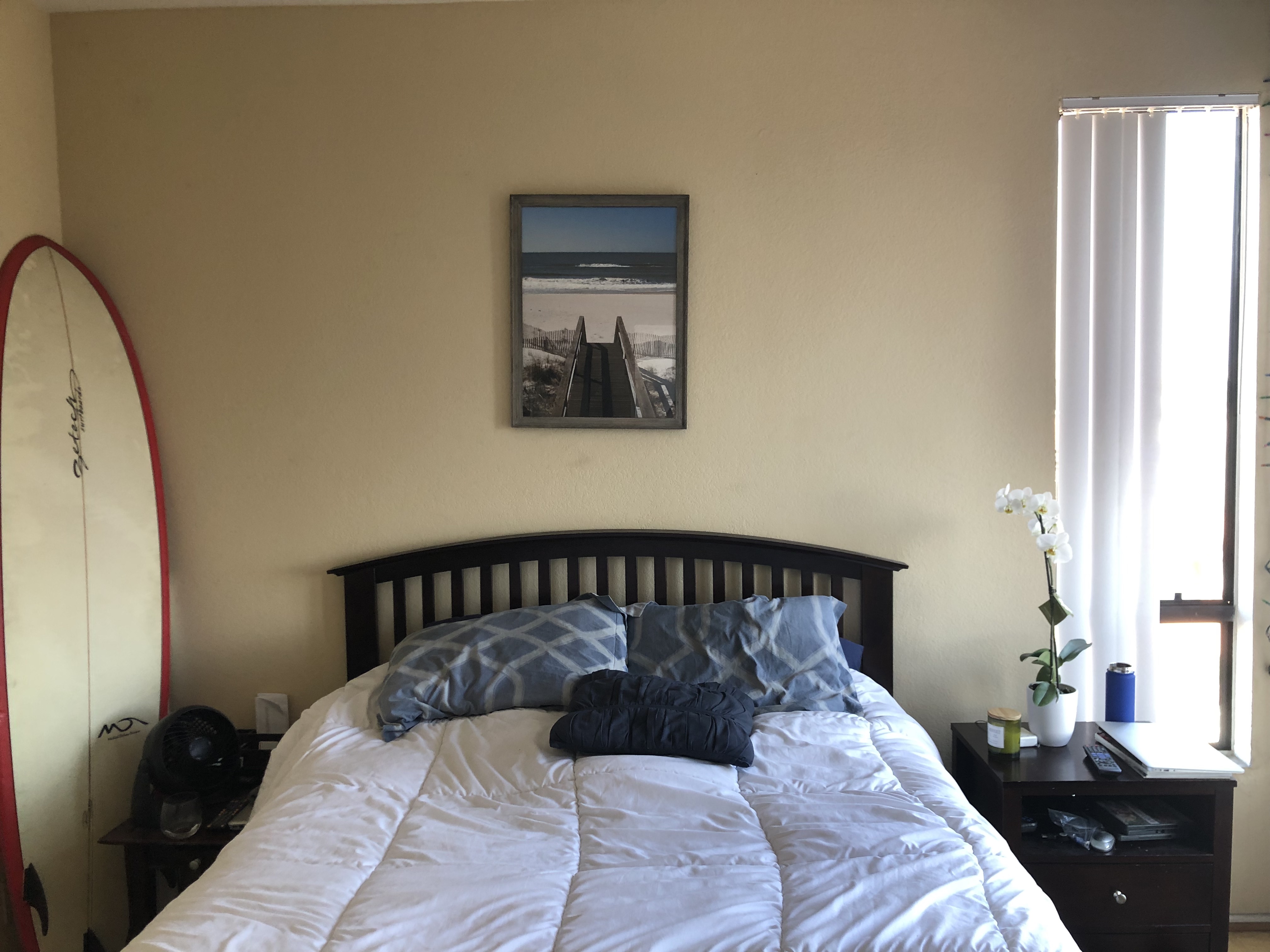 Transformative! Am I right!?
You, too, can achieve a beachy bedroom vibe as well, be it inspired by the Hamptons, or your other favorite beachside escape, of course the right furniture is important.
PAINT
First things first about the Hamptons – and most other coastal decor – the color white is RIGHT. It's your best friend. It lends itself to an airy, open feel that exudes cleanliness and freshness.
I opted to paint my brown bed frame and nightstands completely white to get the right look. This was way easier than I thought. I used White Chalk Paint from Joann Fabrics in wide brush strokes, just to coat it once. After it dried, I went over the pieces again with another coat, but made sure to keep the layer light enough so you could still see some brushstrokes. Though impeccably chic, true Hamptons beach houses have a bit of a weathered vibe, which I really wanted to encapsulate with the white paint. Plus, when you're painting, you don't have to be a perfectionist, which was definitely a relief for me.
Finally, go over the paint in a VERY LIGHT layer of Chalk Paint Wax. This protects the furniture and keeps the paint from chipping. I also dripped water on my nightstand this morning and the wax layer helped it not soak into the wood.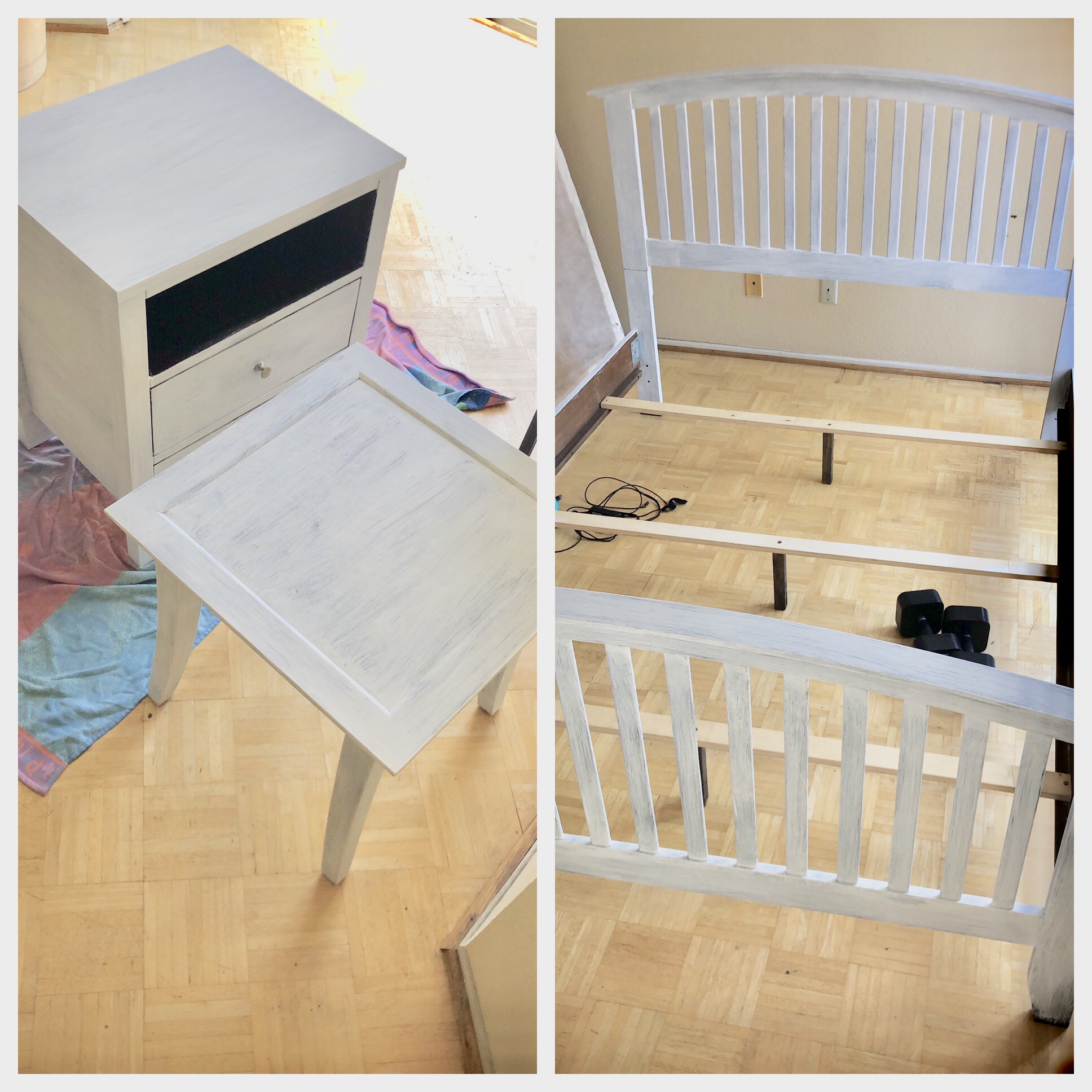 WALLPAPER
I remember when I was 11 or so and my parents were redoing the house we had just moved into because there was dated wallpaper everywhere. I felt like they were taking down wallpaper for MONTHS and I vowed never to have wallpaper in my house when I grew up. However, Roommates Peel and Stick Wallpaper completely changed my mind. A present from Jon, which I absolutely loved, it was pretty easy to put up – after I had a wrestling match with a tape measure – but because it just sicks to your walls with an adhesive, there's no weird painting or shellacking you have to do. Just make sure your walls are clean and stick it on! I used the Blue Distressed Wood paper; again, I wanted a rustic chic aura, so this was PERFECT. Plus, you guys know teal is one of my favorite colors and there are accents of it in the wooden panels.
ACCOUTREMENTS
After the big stuff was done, I just accented with an orchid (white, duh), which is my favorite flower, a magazine or two, and my trusty surfboard. One of the simplest pleasures to me is taking a half hour or so and flipping through a magazine. It's so tranquil, especially when you have a breeze blowing through your window.
And how perfect is that Hamptons pillow?? Also, my curtains are blue and white stripes, which adds to the nautical vibe.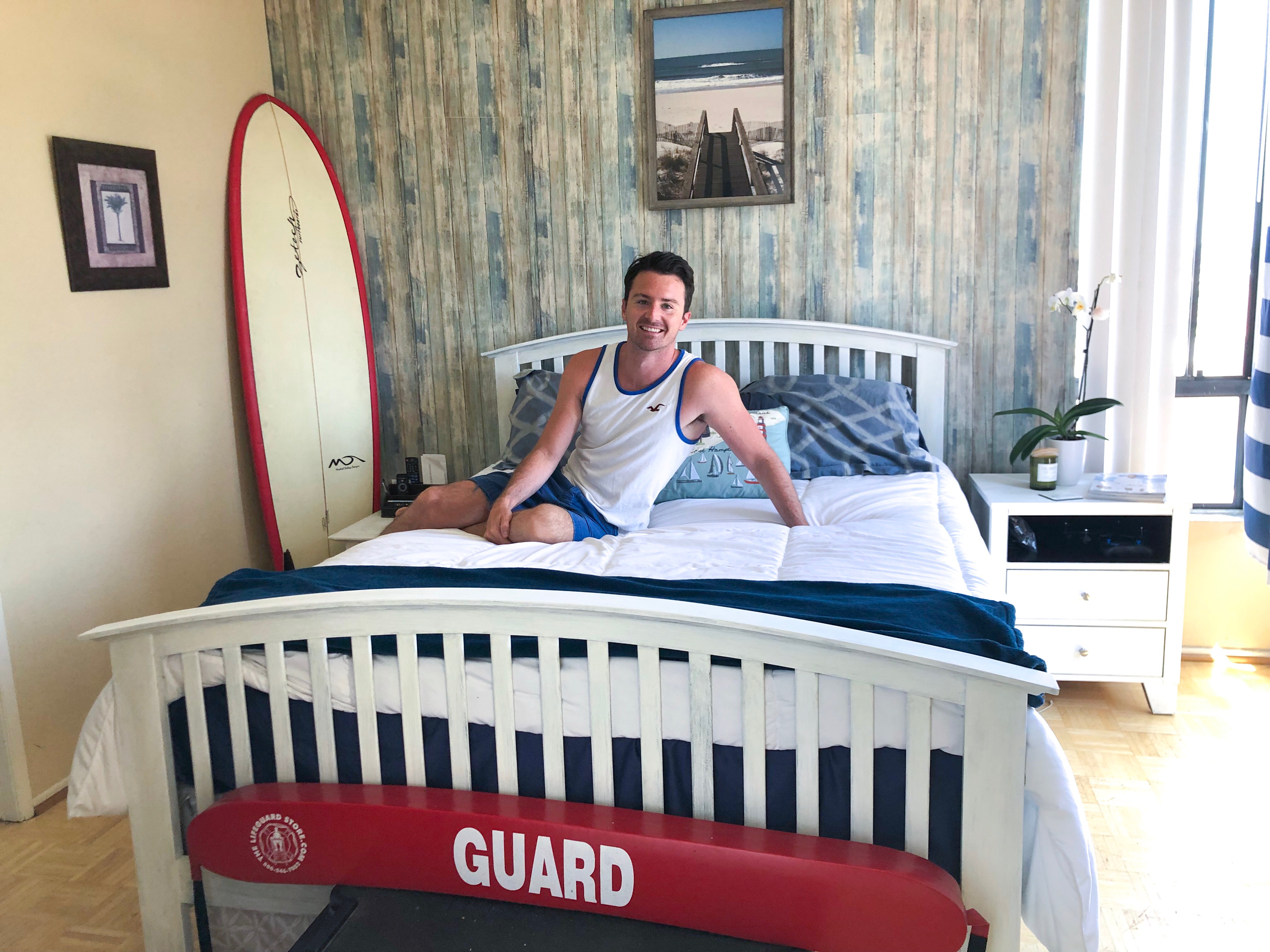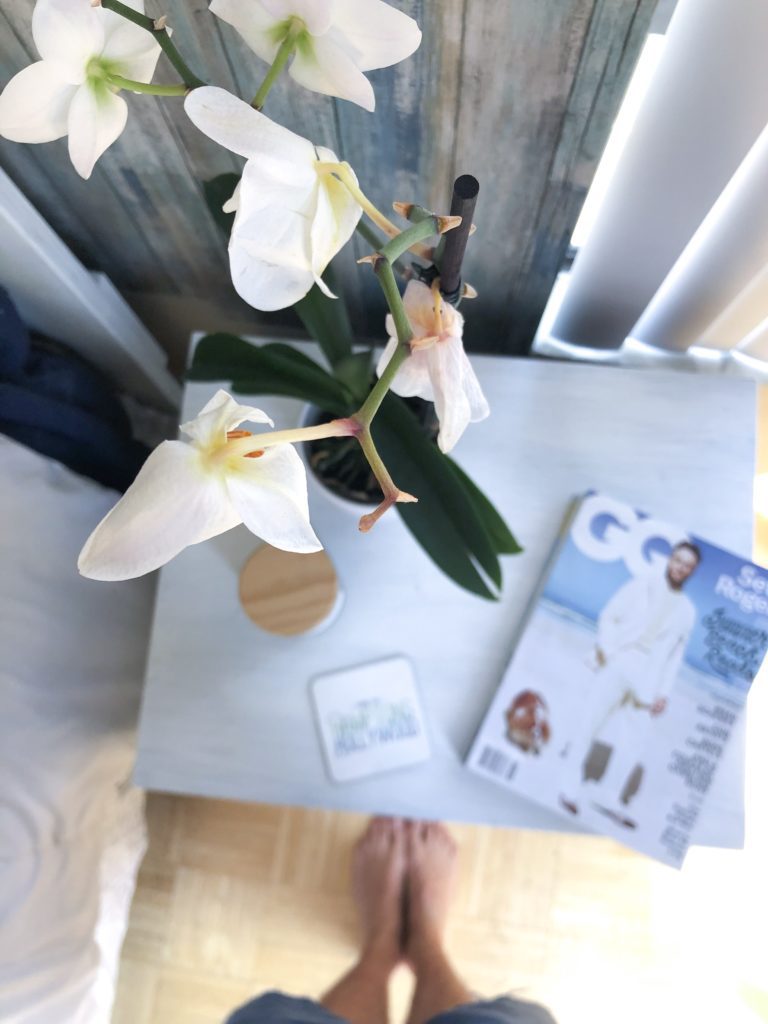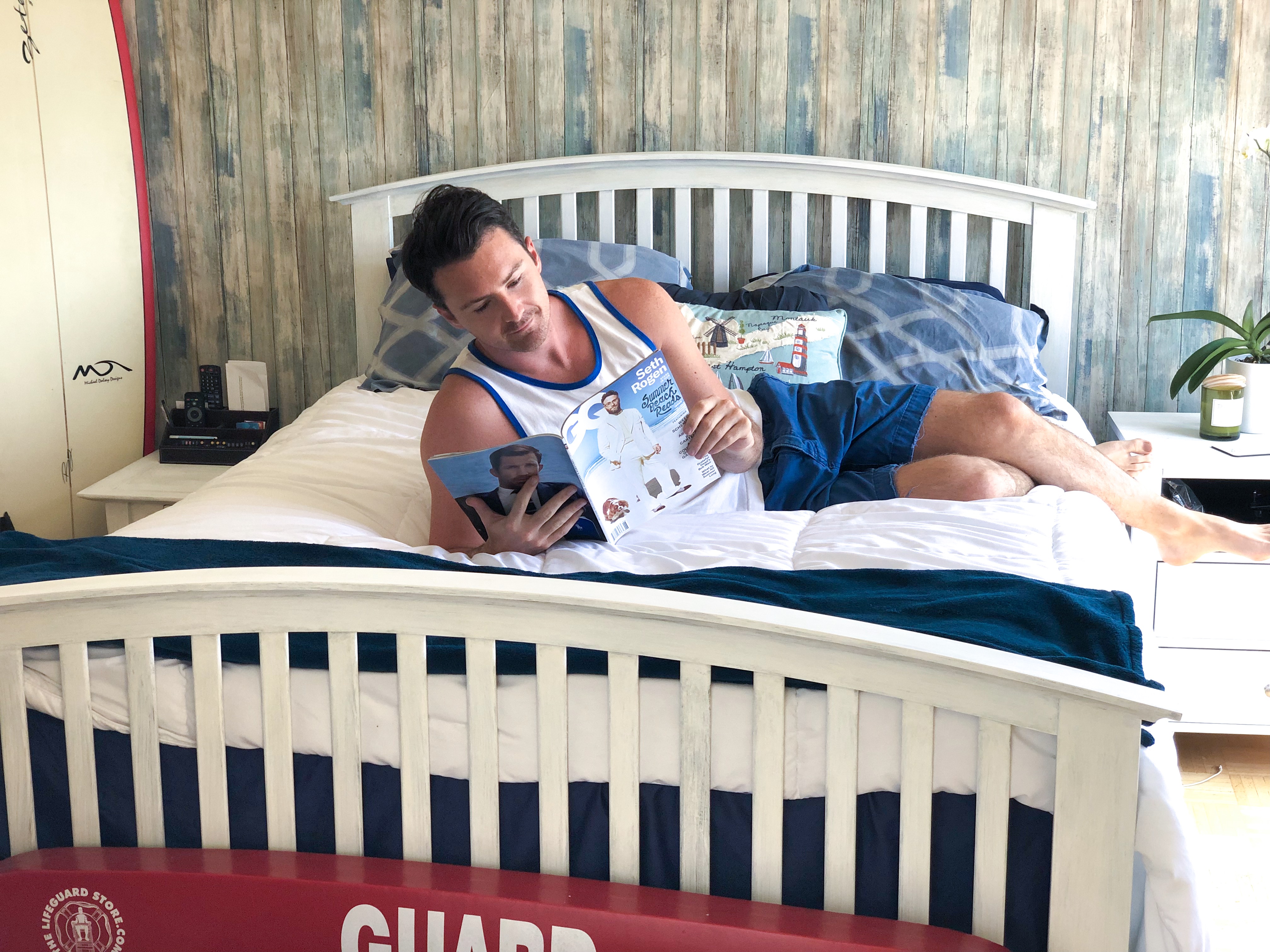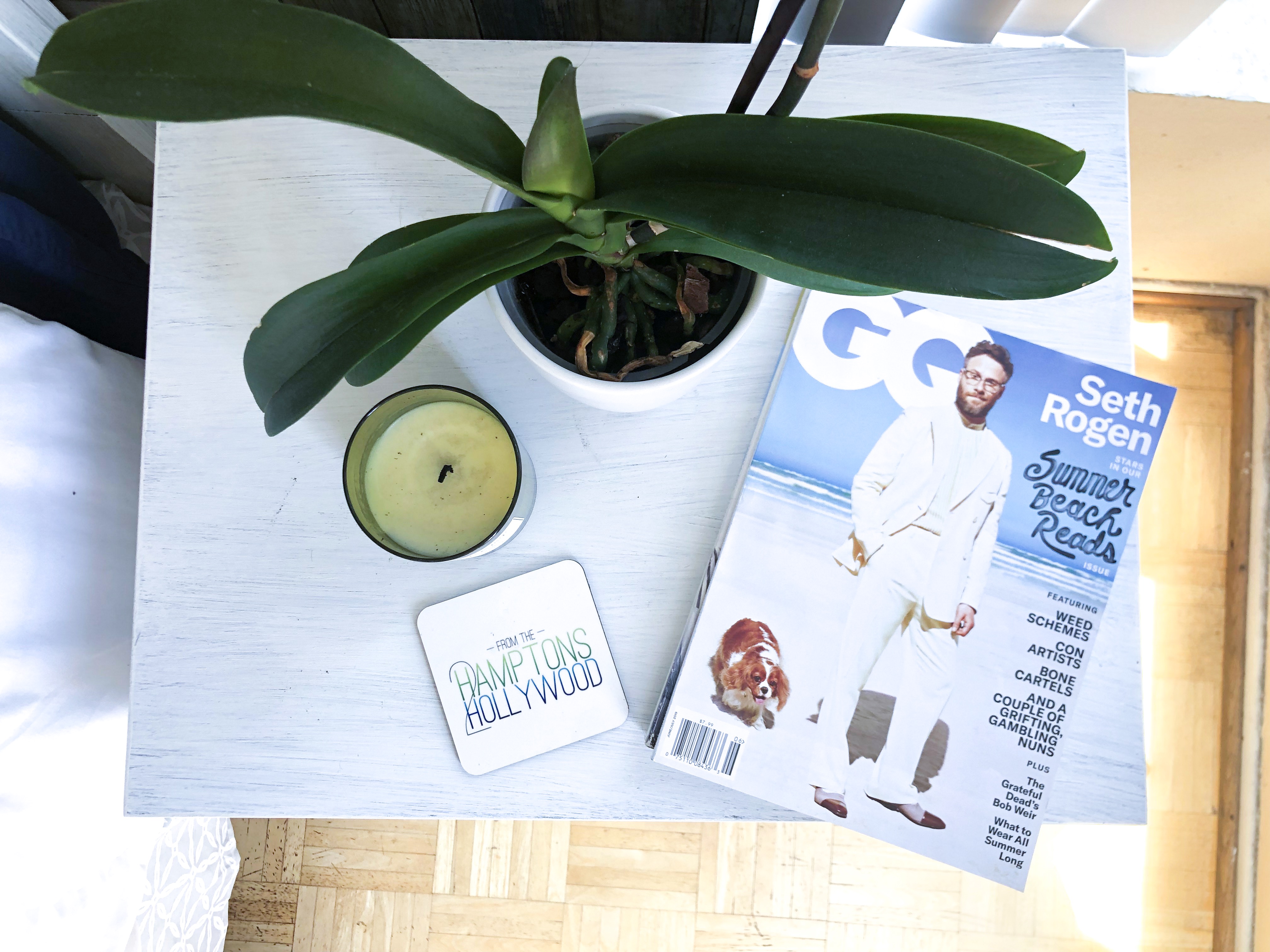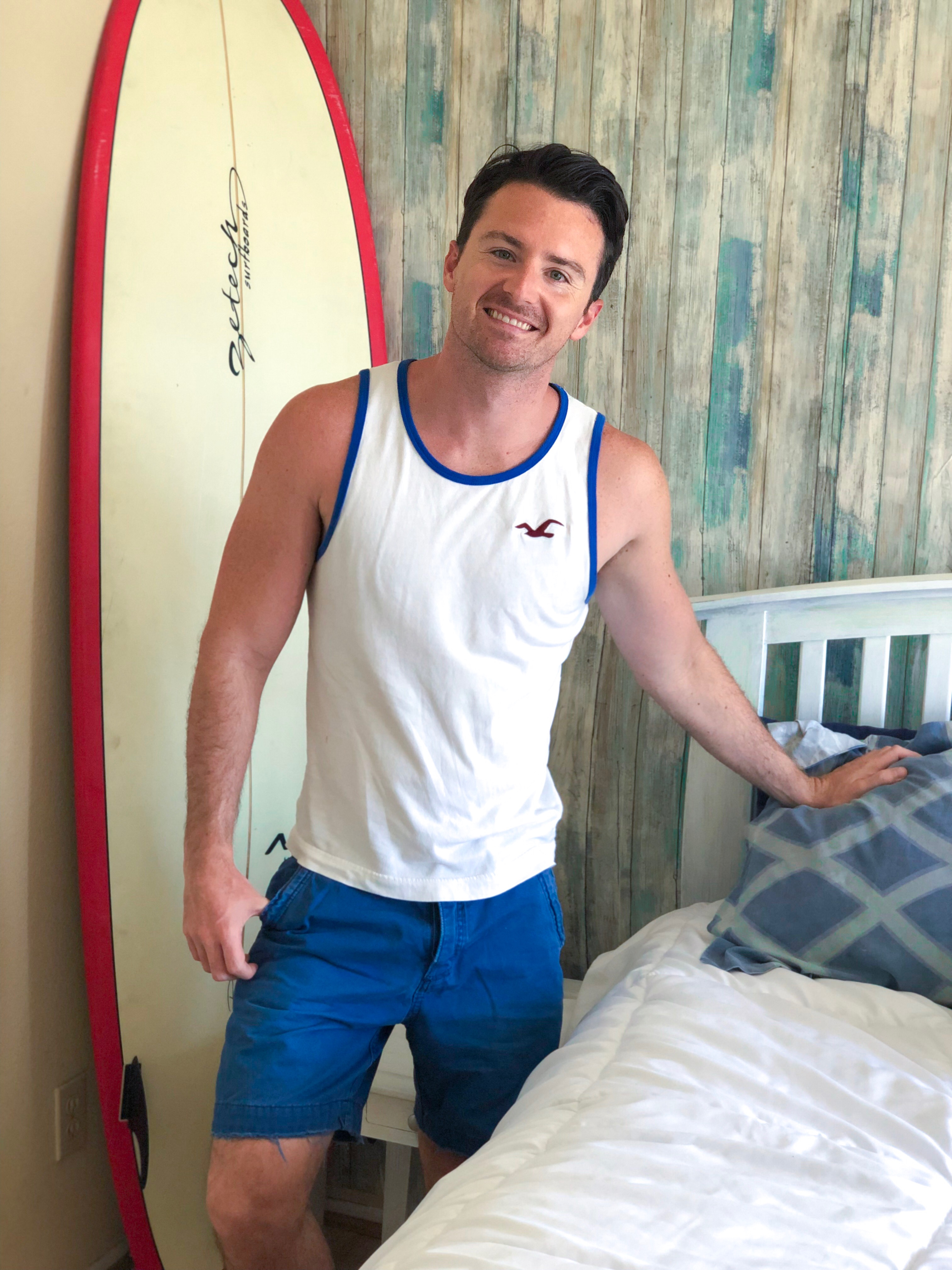 TAKEAWAYS
– stick to an aesthetic and create pieces that support it. Mine was beachy rustic chic, so I loosely painted and found sash windows that matched my design idea.
– pick a color scheme that consists of only a few colors. Mine are white and blue, and my walls were already painted a sand color, so it added to the beachy aesthetic. Then just build your decorations around the three core colors. If you are considering, or already planning, to rent out your house, this is super helpful and makes everything look very clean. If you do decide to rent your home out to guests for the summer, this guide from Kevin Canterbury is a must-read.
– have fun! Don't listen to too many opinions from others. Pick what you want and go for it. You're the only one who has to live there, so make it true to yourself.