So I have HUGE news, you guys – yours truly, and this very blog you're reading, is going to be featured on the SIDE OF A BUS!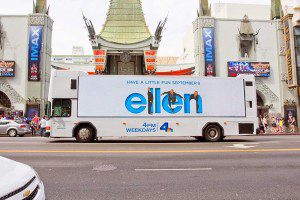 So instead of Ellen, picture ME!
A few weeks ago I was contacted by Zeusvision, a new advertising company that is revolutionizing the ad game by making advertising affordable for the everyman. In short, we partnered together and they're going to advertise my blog and I as one of the first multimedia ads that will run on their new fleet of buses around Los Angeles! 
Advertising in LA is usually dominated by highly coveted billboards along Sunset Boulevard that are splashed with gorgeous Gucci models, leaving the kindly family who has owned the Italian restaurant on Melrose for 40 years in the dust because even if they wanted to advertise their eatery in a big way, they can't compete with the high real estate prices of said billboards.
But Zeusvision is changing all that. They want to make sure everyone who wants to run an ad promoting their business, can. Thus, Zeusvision has an armada of multimedia buses that travels between Hollywood and Santa Monica and splashes cool ads for whoever wants to put them up. The best part? Buying ad space on a bus starts at only $99. Whaaaaatt?
Can we talk about how cool wedding proposals in LA are about to get? Guy throws a picture of him and his beautiful lady smiling blissfully on the side of a bus, waits for the bus to drive by, drops to a knee, and proposes as the bus flashes their picture from the street? AWW. Or, congratulating someone on a new job promotion with a cool media graphic, again, on the side of a bus. Or planning a surprise for someone and having the big reveal be by seeing it…on the side of a bus? Even some of my blogger friends can jump in on the action, even if they don't have deep pockets. SO COOL.
"Outdoor advertising is an elitist business. I want to bring the power of large-scale outdoor media within reach of the average person," said Giovanni Wolfgang, the CEO of Zeusvision. "Our message is rather simple: the average person or business owner should be able to get their message out to the most influential groups of people, in the most sought after geographic locations."
Zeusvision officially launched yesterday and supporters that participate in the public launch will also receive free tickets to the 2015 Zeusvision Music Festival. I know, right? Keeps getting better and better.
AND what makes these buses SO cool is that they're equipped with on-board technologies like GPS, cameras, inertial motion sensors, eye tracking, gesture tracking, real-time GPU processing and other technology that lets your 31-foot video ad interact with the public, created by a team of technologists that offers way more features than that Gucci model on Sunset will ever have. The buses are basically like an iPhone on wheels that's giving customized media messages that you'll remember forever.

I personally CANNOT WAIT to see Hamptons to Hollywood's ad cruising down Santa Monica Blvd! More to come about my ad soon, but in the meantime, get even more details about their launch and how you can see your name, face, or message broadcasted in a BIG way (click for source)!