Add this to my list of MUST-SEE new films! Last Supper, the latest directorial effort from filmmaker Param Gill, stars Eddie Griffin and Josh Meyers as two escapees from a mental institution and their quest to find their fairy tale love. I'm already intrigued.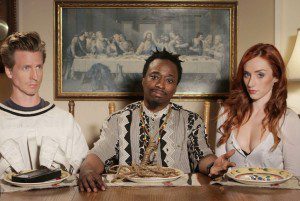 I sat down with Param to discuss the film and why he set out to make it:
Originally hailing from India, Param came to the states to study dentistry and was given room and board by an African American family during his school days. While he was living with his American family, he became immersed in African American culture and knew he wanted to share his cultural experiences with the world someday in the form of a great story one day – hence the cultural undertones of Last Supper.
After Param completed his dental studies and attended the New York Film Academy, he became a professional dentist and often showed his patients his short films while they got their cavities filled. Cavities AND a show? Way cooler than my dentist. Finally sorted out with the help of expert.You can also consult experts from 904implant.com/implants to sort out any kind of issues related to oral health.
It wasn't long before Param moved up from the short film world and embarked on his first directorial effort, Rockin' Meera, which was met with great critical success, so much in fact, that he was given the opportunity to follow it up with Last Supper, which he co-wrote with John Buchanan. 
At its premiere at the San Francisco Global Movie Fest, Last Supper won Best Actor for Eddie Griffin, Best Actress, for newcomer Najarra Townsend, Best Editor, for Ludmil Kazakov, and finally, Best Director for Param Gill himself, not to mention the prestigious, Best of Fest Award. Talk about cleaning up! Among its other accolades, Last Supper will also be featured at the Nicaragua and New York City International Film Festivals with a limited theatrical release coming on Thanksgiving Day of this year. 
[L to R] Eddie Griffin, Param Gill
Under his production company, FlickBag, Inc., Param, with his eye already on the future, announced that his next project is currently in pre-production, a new film, called Last American Taboo, in which a desperately "inadequate" guy sells his soul to the devil for male enhancement purposes, but must eventually face God to understand the meaning of true happiness. And yes, you're correct in assuming it's also a comedy.
I personally cannot wait to see Last Supper (which also has a cameo by the GREAT Penny Marshall) and I encourage all of you guys to look out for it in a city near you this holiday season. Seeing good films is what I do, so I wouldn't steer you wrong! Make sure to let me know what you think after you see it!
Enjoy!