Ah, September. The time of year when the weather cools down in the Hamptons, giving you ever the slightest bit of sadness that autumn is coming in quick. Gone are the lazy summer nights that never end, barbecues with friends, and early morning swim sessions. However, September on the west coast still has temperatures well into the 90s, so if you're like us and are constantly chasing summer, jet out to LA ASAP. Not only is the weather gorgeous, but LA is where this month's featured restaurant is located.
Sawyer, located in trendy Silverlake, is a seafood-focused seasonal California eatery serving delicious dinners and brunches on the weekends. Rustically retro with a lovely aesthetic that harks back to a minimalist, almost mid-century feel, stepping into Sawyer immediately makes you feel at home. The main dining room is lively, friendly, and bustling, but never chaotic nor overwhelming, and the airy back patio is to-die-for, designed as if you are dining on a rooftop deck in Brooklyn on the perfect summer evening. With the large fireplace roaring in the background, it's an ideal date spot.
Aside from the inviting decor, the cuisine is really where Sawyer shines. Each dish is thoughtfully prepared and provides not only a feast for the tastebuds, but also feeds the soul, reminding us all why summer is the best season.
For starters, the Charred Spanish Octopus is a must. Served with salsa verde, smashed fingerling potatoes, and pine-smoked mayo (yes, that's a real thing and it is REAL delicious), this plate is the perfect way to dive into the meal. Tender, but not chewy, the octopus was deletable. Accompany with some fun cocktails and you're off to a stellar start. We recommend the Strangers Almanac; a tequila beverage with chartreuse, grapefruit, and jalepeno, and Seconds Count; botanist gin, champagne, and bee pollen.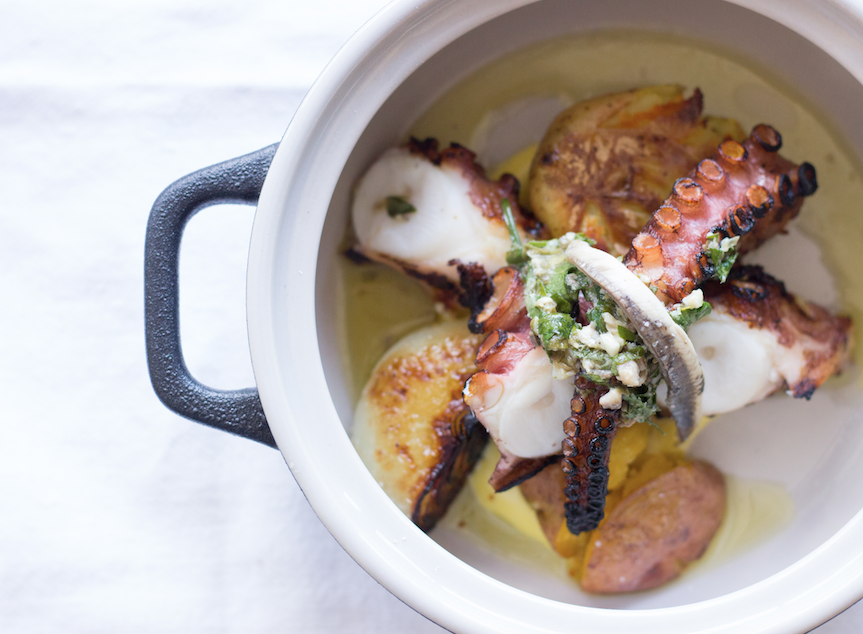 But what entrees should you absolutely indulge in? Well, wouldn't you know, there is a Lobster Roll on the menu, so of course we were all over that. Again with the Hamptons nostalgia, Sawyer has the absolute best lobster roll we've had in Los Angeles. It's a hard task to bring an East Coast staple west, but Sawyer has done it confidently and effortlessly. Maybe it has something to do with the homemade roll it's served on? Freshly baked and oh-so soft, the roll is tasty, buttery, and dare we say decadent. You won't want to stop at just one, so be careful…
Also highly recommended is the Roasted Black Cod. Now, cod is an interesting fish because if not prepared well, it can be very bland and disenchanting. But not at Sawyer. In fact, Sawyer's cod is quite the opposite. Delicately crispy, the fish is flavorful, moist, and falls apart in your mouth. The accoutrements to the cod dish are just as exciting and health-conscious as well, which we're a huge fan of. Served on a bed of cauliflower puree, black trumpet mushroom powder, sweet peas, and turnips round out the course, each offering subtle, yet very distinct flavors that pulls everything together perfectly.
And for dessert – you didn't think we forgot about that did you? – you must go with the Lemon Tart. Maybe it sounds like an interesting choice, but for a real summer meal, you don't want anything too heavy. You want food that's packed with flavor, and won't make you feel like the hostess will have to roll you out of the restaurant when you're finished. The lemon tart is just that; crisp, big on flavor, and while it's perfectly sweet and sumptuous, it's not overbearingly sugary or rich.
Sawyer in Silverlake is a MUST and we've already started bragging about it to our friends on both coasts. And as an added bonus, if you can't stop in for one of the best meals of your life, stop next door at Clover, an organic juice bar and eatery that serves up delicious fare as well. Sawyer only just opened this May, and if everyone is raving about it as much as we are, it's sure to become one of East LA's signature hotspots.
Sawyer
3709 W. Sunset Blvd.
Los Angeles, CA 90026