In honor of the Mexican Month of Independence – or what all you Champagne-Society-alcohol-loving patrons know as Cinco de Mayo, I decided to go South of the Border flavor-wise and head to Tacoteca in Santa Monica; a fun, new taco and mezcal bar.
Alright, so if you don't know what mezcal is, I'm here to enlighten you, as always. Mezcal is a type of liquor, made from the agave plant, and has a strong smoky flavor that is sometimes distilled with rabbit or another type of protein to give the liquor a hint of gamey-ness. It's definitely something new and fun to try and Tacoteca is the place to do so. Heralded as one of LA's only (and first!) mezcal bar, the establishment makes their signature mezcal cocktails from hand and has in stock some varieties of mezcal that isn't available anywhere else, which makes going there extra special.
Currently they're running a new promotion called "Mezcal Mondays" where they feature a new mezcal each month where you can sample the drink in flights and pair it with some of their DELICIOUS tacos. For June it's Mezcal El Jolgorio.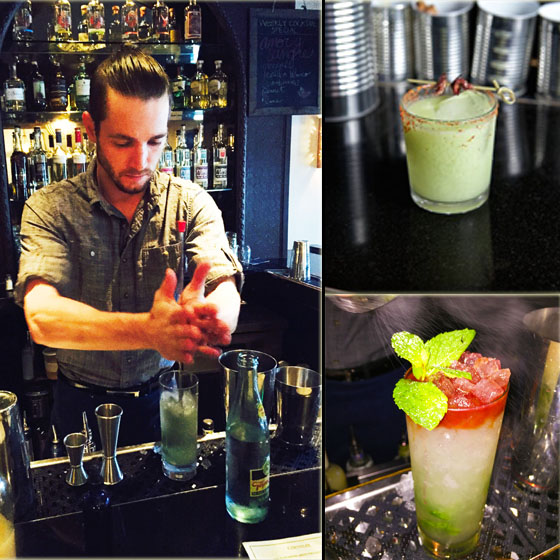 And speaking of tacos…
…yup, that's right, because what do all visiting and native Angelenos crave when they're drunk? TACOS. Tacoteca head chef, Christopher Rosenberg, whipped up an amazing menu that blends Mexican favorites with new flavors for a truly unique taco experience. These aren't your arbitrary food truck bad boys. I had to try the Lamb Barbacoa taco with mint-garlic salsa and fresh onion (YUM) and the Grilled Octopus taco with cilantro-chile peanut sauce, topped with cilantro (double YUM. I hadn't tasted octopus in a taco before, but the way Chris prepared it made me think it wouldn't be my last time. And the perfect combination of mint to garlic ratio in the lamb taco complemented the savory meat perfectly.

Our bartender, Robert Hunter, was a seasoned pro at crafting the delicious mezcal beverages and was extremely knowledgeable about the menu, which was a HUGE plus for me who knew absolutely nothing about this certain type of alcohol. He even managed to culture ME with his mezcal intellect! Make sure to pick him out from behind the bar for a fun, charming dining and drinking experience!
Tacoteca
2460 Wilshire Blvd.
Santa Monica, CA 90403