Each month of 2015, Hamptons to Hollywood will be bringing you a Restaurant of the Month that you MUST try whether you're in LA or Long Island. For January, I decided to dine at a local Long Beach, CA favorite that's been pleasing the patrons of Long Beach for almost a decade.
Adam and I walked into Lola's, the cheery and lively family establishment located on 4th Street's "Retro Row", that housed a wall of large booths, tables for groups in the middle of the large room, and a quaint and charming bar that housed their delicious libations. Brenda Navarro, wife of head chef Luis Navarro, greeted us warmly and led us to one of the comfy booths.
Bryan, our server, was EXCELLENT; totally knowledgeable about the menu, the history of the place, and made awesome suggestions, starting with the alcohol 🙂 I opted for a Hoperandi IPA, which, like any IPA, was hoppy, but had a very smooth finish. Adam ordered a glass of Navarro Correas Malbec, which was great as well – dry with a bold texture that hinted with notes of cherry and plum.
Then Brenda came over to us, exuberant and kindly as ever, and told us that she was bringing out two of the most popular appetizers (or antojitos, en espanol): Tinga Tostaditas & Calamari Frito (pictured above L & R, respectively). HOLY MOLY the Tostaditas! The dish featured pulled chicken that had been simmered with chipotle and onions that was topped with crumbled queso freco, avocado, and drizzled with sour cream. Literally the perfect amalgamation of Mexican flavors – vibrant and lively, high on flavor, but not overbearing in the least. And the calamari was dusted with Arbol Chile, then fried, and served with a creamy smoked jalapeno aioli. AND GET THIS – happy hour runs every day from 3-6 with half price appetizers and beer & wine! The perfect post-work snack.
I have to admit, the portions at Lolas – yes even the appetizers – are very generous and I was ALMOST stuffed even before our entrees came out. Bryan suggested a classic menu item, The Carnitas Plate; Coca Cola-glazed pork shoulder, simmered, then served with garlic white beans and pico de gallo. Classic, Mexican cuisine at its finest. The pork fell apart in your mouth and was so flavorful, my palate was constantly on high alert, thanking me for ordering such a delectable plate.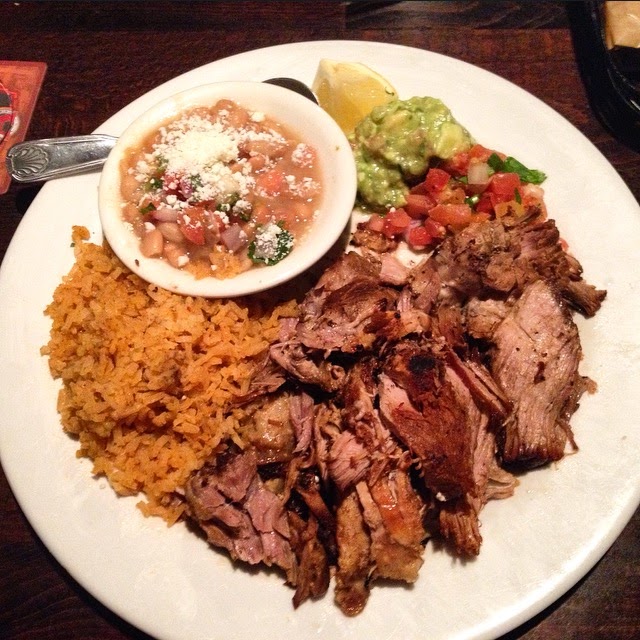 A newer menu item also came out, Pepita Encrusted Pan Grilled Striped Sea Bass, because I am a slave for anything seafood. Also, I was curious to see how a Mexican Restuarant prepared fish, because I hadn't been that familiar with it in the past. And wow. All I can say is that it far surpassed my expectations and was probably my favorite dish of the evening. Pepitas are pumpkin seeds, so the filet was encrusted with them, which gave the bass an amazingly nutty complement. Just underenath the fish was Mexican rice and julienne zucchini (another thing I can't live without is anything julienne, don't ask why), and then topped with a poblano cream sauce.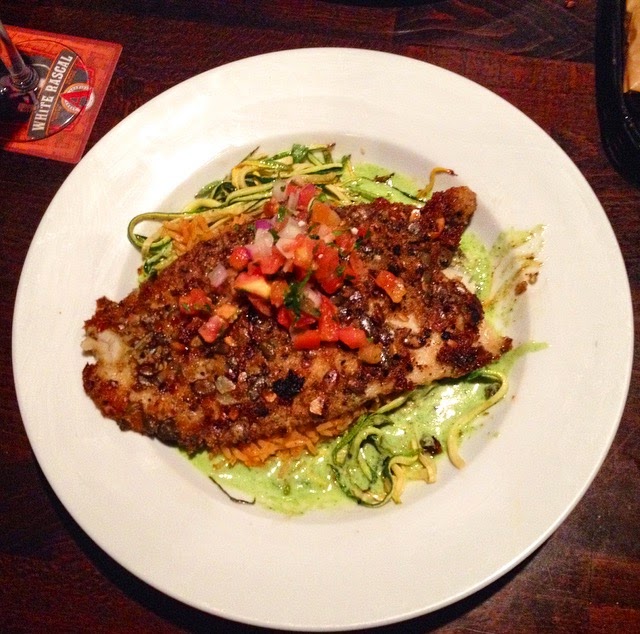 When Brenda came to check on us, she informed us that Luis does an extensive amount of prep work when designing new dishes. Lola's is a fusion restaurant of sorts, in that it blends old classics with new and modern tastes that are seen in high end restaurants, globally. Each year Luis travels to parts of Mexico, most recently Baja, gets a feel for what is happening down there, and brings the influence to his establishment with his own spin. And let me tell you, whatever he's doing is working wonders. And it's no wonder; his father was an executive chef with over 35 years in the industry, so he grew up around quality cuisine.
Finally, the homemade flan was brought to my attention. By this time, I had already gained six pounds and I feared the buttons on my shirt were going to fly off and shoot the toddler at the table next to me in the eyeball. But, c'mon, it's HOMEMADE flan! I couldn't say no. And I didn't. And it was just as delicious as I came to expect.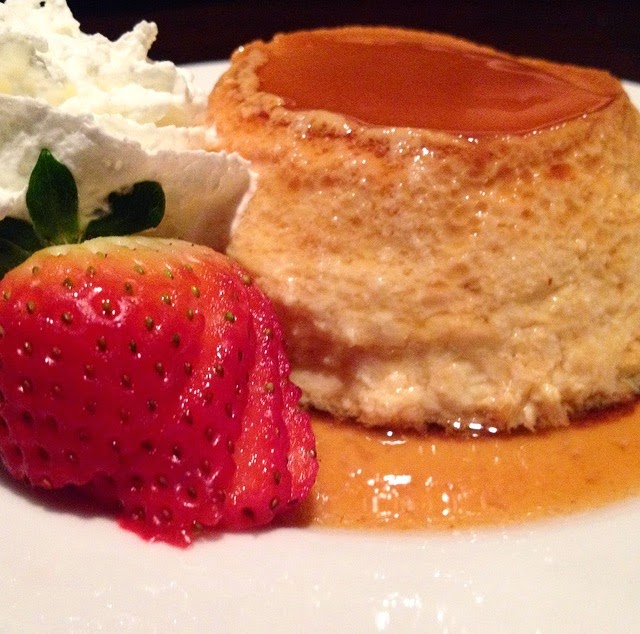 You guys need to make a reservation and head to Lola's ASAP! You'll be amazed by the exquisite service, the gracious familial vibe, and the great food. In short, when you walk in, you'll already feel like you're home. Tell 'em Kyle sent ya!