Sen, the perennially chic Japanese restaurant in Sag Harbor, has been wowing locals and tourists alike for 25 years with their dynamic cuisine, familial atmosphere, and ultra talented behind-the-scenes staff. Run skillfully by Jesse Matsuoka, the restaurant was founded by Jesse's father – a former sumo wrestler – and his brother, Toro Matsuoka, along with restaurateur, Jeff Resnick, are also co-owners. The Matsuoka's strong bond brings to life the aforementioned familial vibe, which is the heartbeat of the restaurant. Whenever anyone walks through its doors, they too become a welcome part of the Matsuoka clan.
Not to be left out of the party, Lynn Matsuoka, Jesse's mother, is a renowned Hamptons artist whose acclaim grew from her sumo and kabuki art. Many of her works grace the walls of Sen, as well.
Sen Restaurant's currently beautiful interiors can be attributed to famous Hamptons contractors, N. Zappola & Associates, who completed a major renovation on the space last year. The company's reputation precedes them in terms of the numerous projects they've embarked on and signature quality craftsmanship they deliver every. single. time.
The redesign on the restaurant is impeccable, mixing contemporary lines and structure with authentic, old-world Japanese charm, for a finished product that is true to its roots, but doesn't compromise on understated luxury. With a company motto that reads, "if you can dream it, we can build it," it's no secret the eatery has turned into one of the finer design masterpieces in the area.
An L-shaped dining room, with sushi bar in the middle, opens into to another room with a bar on the left hand side, and more cozy seating to the right. In the middle, a large TV plays sumo wrestling matches to enjoy while sipping your favorite sake – an ode to Jesse's father, who is responsible for Sen's founding.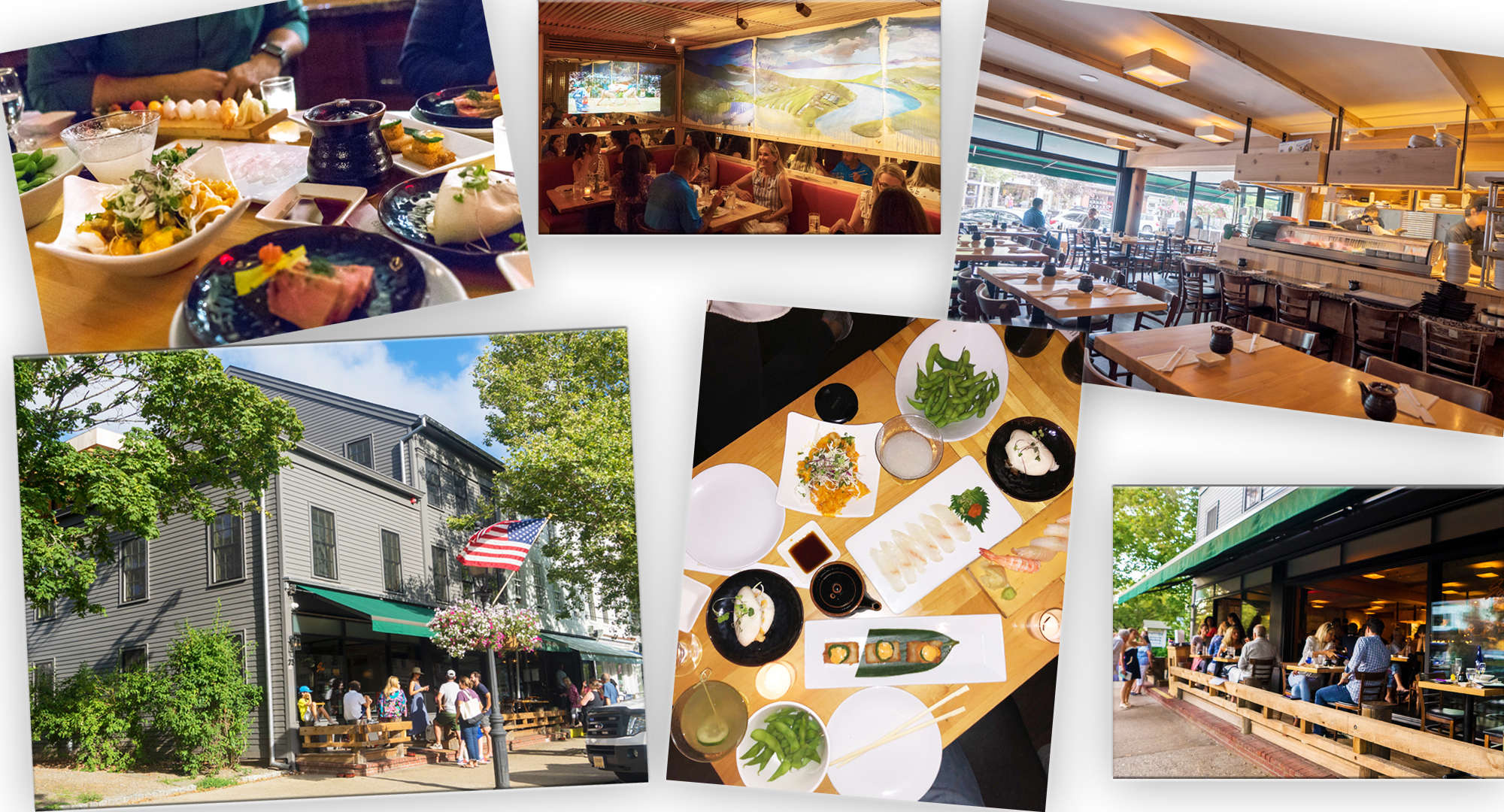 But what to eat when you're dining there this season?
Luckily, Danielle Franz (the Creative Director & Founder of Mix Media Plus) and I were able to taste a plethora of options, and I'm going to recommend the best of everything, just for you 😉
The secret is, whether you're dining with two people – and by the way this is the PERFECT HAMPTONS DATE SPOT – or four, eating family style is the way to go so you can taste a little bit of everything.
First, start off with some edamame of course. The drink I loved the best was their Sake Martini – ultra refreshing for a summer day.
And then, THEN!, order the following:
STARTERS
– Crunchy Rice Tuna (raw spicy tuna & jalapeño)
– Rock Shrimp (crispy fried shrimp, drizzled with a decadent creamy, spicy sauce)
STEAMED BUNS – these come 1 per order; think of them as mini sandwiches that are TO DIE FOR
– Pork (paired with hoisin sauce and pickles)
– Smoked Duck (same as above, but add scallions & crispy wontons)
– Cod (with iceberg lettuce & kimchi tartar sauce)
***and they have miso eggplant & roasted tomatoes for vegetarians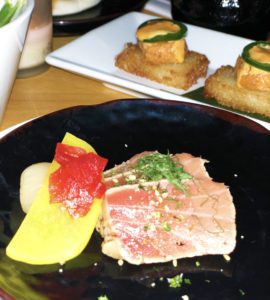 SUSHI – yay!
– Toro, which is a fatty tuna (a.k.a a heavenly treat from the heavens, AND more commonly known as Kyle Langan's absolute favorite food ever) ***Important: order as sashimi, not sushi
– Striped Bass
– Yellowtail
– White Fish
– Shrimp
– Maguro (Atlantic Ocean tuna)
– Sea Scallops (local)
Honorable Mention/What I'll Try Next Time
– Double Prok Ramen
– Orchid Roll
---
VIEW THE FULL MENU HERE
---
Danielle and I weren't the only ones who were dying over the food, space, and atmosphere. Some guy named Jimmy Fallon (ever heard of him?) was there, too! Talk about a celeb sighting. Sen brings in high-end clientele to be sure, and it can be next to impossible to grab a table on a Friday night, but that's all in thanks to the amazing product the Matsuoma family has created. Sen epitomizes Hamptons to Hollywood's core tenant of "casual luxury." We can't wait to head back.