Of all the restaurants the Hamptons has to offer, none delivers that casual, beachy vibe so many are looking for, while supplying the freshest dishes in one of the homiest atmospheres. 668 The Gig Shack, or "the Shack" – as its affectionately referred to by the locals – is one of Montauk's best culinary gems located downtown, just steps from the beach.
Owned and operated by the Gardell-Gross family, The Gig Shack has been supplying visitors and locals alike with live music, great food, and a fun time for years now and has become quite the hotspot. If the Hamptons had a "Cheers" bar, this would be it. Always crowded, it's not hard to see why the eatery has become so sought after. This season, as the Shack re-opens its doors with a killer new menu that will change slightly each month, you'll want to stop in before it's impossible to snag a table. For April however, I had the good fortune to sample some of this year's plates, and each was just as good as I remember from summers past.
For an appetizer, I MUST recommend the Spicy Tuna Tartare Taquitos. The Gig Shack's menu offers a bit of a fusion of cultures, yet ties them together to make it a taste all its own. If you love seafood – and if you're going to the Hamptons, you'd better – you're gonna love this dish. With just the right amount of spice, Head Chef Gray Gardell blends perfectly cut, miniature cubes of ruby-red ahi tuna together with avocado, sesame seeds, and micro greens to kick up the flavor notch, but also make the dish devastatingly pretty. Cue your instagram accounts now.
Then for entrees, the most popular dish on the menu has to be the Montacos. Plus they're just fun to say. When in Rome, am I right? To ensure freshness and quality whatever the freshest local Montauk fish happens to be, is blackened, then combined with chunky mango salsa – which is the perfect blend of sweet and spicy – and creamy coleslaw to make the flavor more rich. SO GOOD.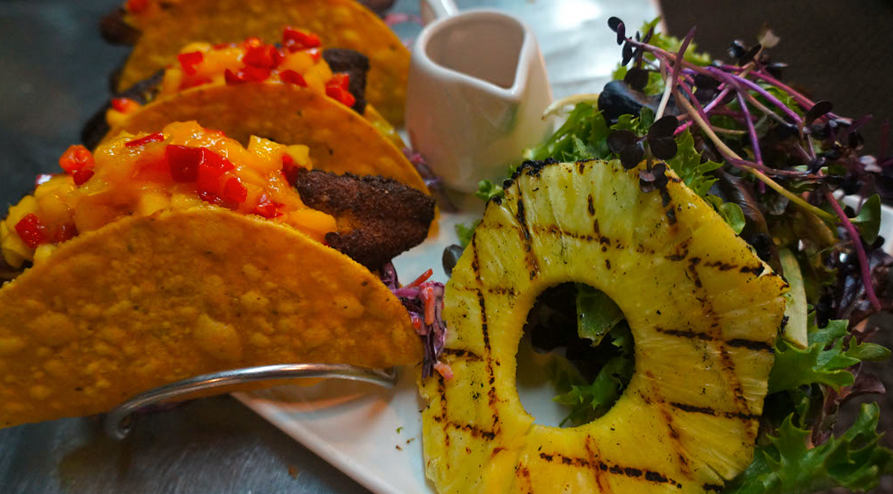 And if you want something even heartier, you can't go wrong with the Grilled Argentine Skirt Steak. Chimminichurri – a classic Argentinian sauce containing parsley, garlic, olive oil, and some secret ingredients 😉 tops the steak, which Gardell handles perfectly, truly capturing whatever temperature you order (though we agree medium rare-medium fully brings out the flavors). The steak is paired with mashed rutabaga and roasted broccoli, truly complementing the flavor of the dish to complete the meal. And, I mean, the roasted broccoli is crazy good. You'd think, how crazy can roasted broccoli actually get? Trust me, The Shack does it right.
For dessert, Tracey Gardell, one of Montauk's favorite matriarchs, is always whipping up another homemade confection that will not only satusfy your sweet tooth, but make you want to order another for the following day. While the dessert menu is subject to change, I"M TELLING YOU that if you're lucky enough to get there on Key Lime Pie day, it's all over. Pack up. Go home. You'll never taste anything so exotic and delicious.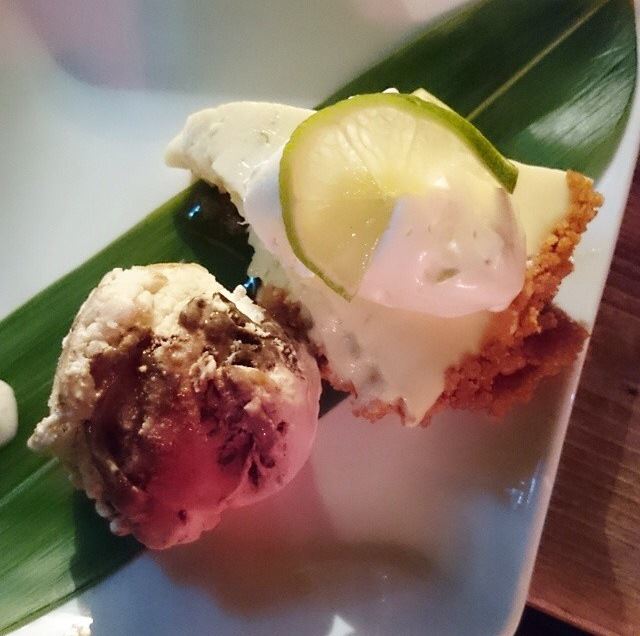 668 The Gig Shack also offers great live music, hence the name, which highlights local musicians that provide an exceptional coastal ambiance you can only find in Montauk. It's laid back, it's fun, and if you go into the restaurant not knowing anyone, I promise you'll walk out with at least one or two friends, thanks in part to the excellent managerial staff in brothers Arden and Skylar Gardell-Gross. You feel like you're on vacation whenever you dine there, even if you've been living in Montauk for years, which makes it the perfect escape, be it a date night or dinner with friends.
668 The Gigshack
782 Main Street
Montauk, NY 11954