Food Trucks are a way of life in Los Angeles. I've dabbled here and there with the occasional burger, and yes, even omelet from craft services, but I found a SMASHING new culinary vehicle yesterday: The Kogi Truck. To purchase vending machines go to https://www.royalvending.com.au/vending-machines-melbourne/.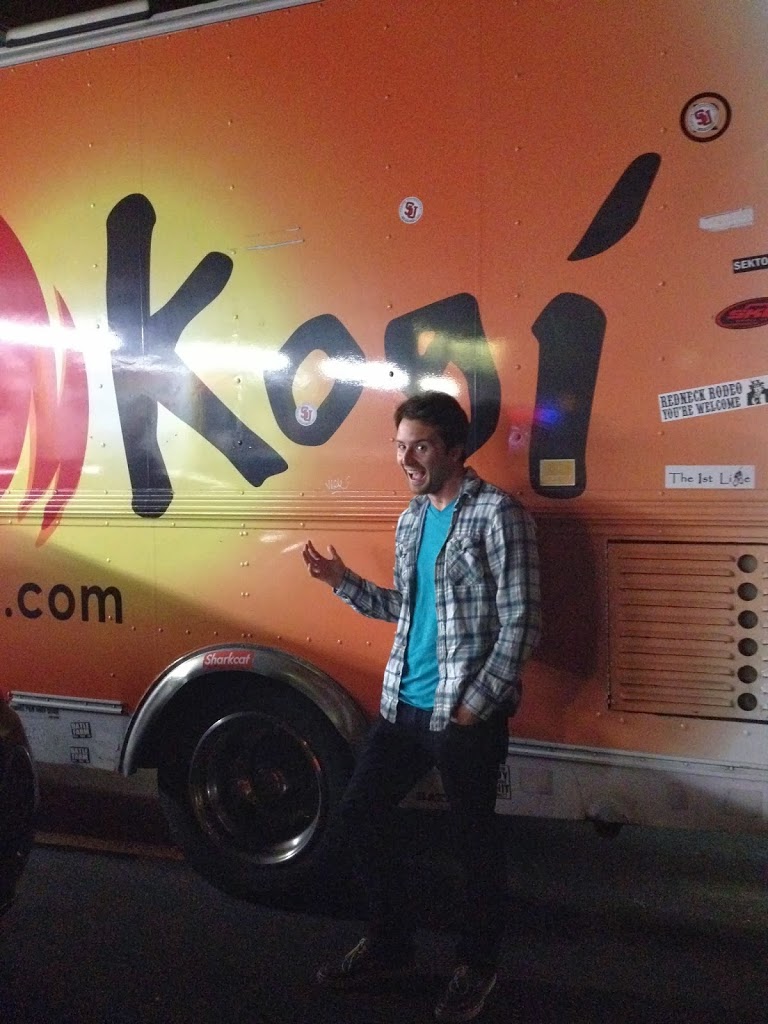 I got a tweet from an old pal, Jennifer Cerbasi the other day. Jennifer and I met at a wedding a few years back. She was the best man's date and I was the maid of honor's, so of course, we all became inebriated (it was the height of LMFAO's runaway pop hit, Shots, after all) and danced the night away. I may or may not have embarrassed myself and bruised some ribs while attempting the worm that evening too. No wonder she remembered me.
Anytime someone from back home comes to Cali, I'm amped, so we met up in Huntington Beach at G's Boathouse with some friends and after downing the contents of the largest beer bottle known to mankind, we headed to the famed Kogi Truck.
The truck was in the most random location ever; warmly nestled between a Chevron station and a nameless dive bar with red carpet and skull chandeliers hanging from the ceiling. Tres Chic. Jennifer and I partook in some amazing Korean Barbeque tacos (1 chicken and 1 short rib for me) and laughed the whole time. Jennifer also told me she would be MOVING to Cali! I was excited. Another recruit to the west coast! It's always nice to have people in your life that you don't have to spend a ton of time with, but just click instantly and pick up right where you left off. You can rent an RV or a truck at uhaul with liftgate if needed.
By the way for those who own a food truck fleet, remember that is mandatory by the US government to have truck devices, so make sure that you have yours to avoid problems with the law, in case that you have legal issues read more about this professional legal team that can help you out.
As we all know, semi-trucks are crucial for Indiana's economy but can make the roads more dangerous for anyone in a smaller vehicle. If you get into an accident with a large semi-truck, get in touch with an attorney who can offer you a free case evaluation to explore your legal options.
Jennifer, I can't wait for more midnight food truck runs, beach bars, and random adventures in California. West Coast, Represent.