WTF. Apparently it's Superbowl Sunday and you forgot all about it?! Or you're too hung over to prepare that dish you promised you'd bring to your friend's party. Chill. Take a Deep breath. Focus. I have the easiest recipe known to mankind that you can make on the fly.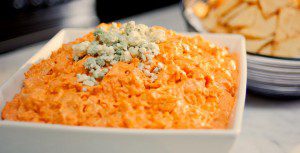 – A package of Cream Cheese
– 3 cups shredded chicken breast
**Blue Cheese & Scallions – optional for a garnish to give it that certain je nais se qua
*Mix (or beat if you have a beater and feel so inclined) the sour cream, cream cheese, and hot sauce together (a Southern brand, like Louisiana Hot Sauce probably works best…just, ya know, because).
*When's creamy and smooth, stir in the chicken.
*Transfer mixture into a baking dish lined with cooking spray and pop into the oven, covered with foil, for about 20 minutes.
Just before you serve, sprinkle some blue cheese crumbles and chopped scallions right over top of the dip for a gorgeous garnish. Pita chips work well to dip, but if you're on that LOW CARB grind, carrots and celery are the way to go.
ALSO – this recipe – in the portions outlined above – has 8 grams of protein, 1 gram of carbs, 4 grams of fat, and 77 calories. BOOYA.
Go Patriots 🙂