If you're looking for the perfect Hamptons meets Hollywood event this summer, I've got you covered. Baxter of California, the famous and revolutionary men's grooming brand, will be having a Pop Up Shop at one of MY personal favorite places – The Surf Lodge in Montauk.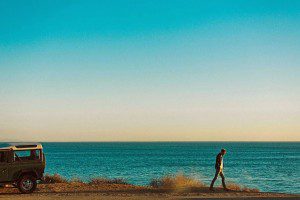 WHO: Grooming generations of gentlemen for nearly 50 years, Baxter of California, the iconic men's grooming line, brings their California-cool vibe to the East Coast this summer with a Baxter Finley Pop Up Barber & Shop at the Surf Lodge Montauk. Created in 1965 by Baxter Finley, Baxter of California has paved the way for gentlemen's grooming combining science and nature to achieve optimal results with products tailored to men's needs.

WHAT: The West Coast will meet the East Coast when Baxter's flagship West Hollywood Baxter Finley Barber & Shop drops in on the legendary Surf Lodge. Celebrating summer, Baxter will take over the lobby for a weekend of fun including:
·

Complimentary hair/beard touch-ups at the Baxter Finley Pop-Up Barber Shop
·

Loads of complimentary product samples + the release of a limited-edition Montauk soap
·

Evening concerts by the Temples (8/9) & Donavon Frankenreiter (8/10)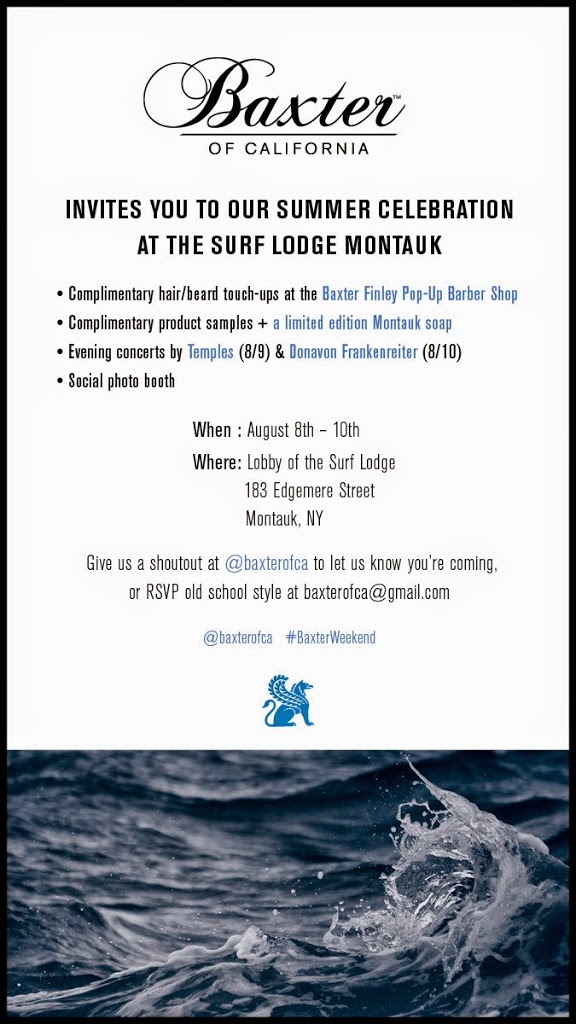 WHERE: The Surf Lodge Lobby, 183 Edgemere St, Montauk, NY 11954

WHEN: Friday August 8, 2014 (2:00-6:00pm), Saturday & Sunday August 9 & 10 (12:00-7:00pm)

WHY: In addition to complimentary grooming services (omg!) and samples, guests will have the opportunity to receive gratis drinks at the bar, take pics in the Baxter of California social media friendly photo booth, shop the Baxter of California retail shop and sip on "The Baxter," a signature drink offered at The Surf Lodge Bar. Don't forget to stay for the evening as Surf Lodge hosts concerts by the Temples (8/9) and Donavon Frankenreiter (8/10)!
Does this not sound amazing? Getting trimmed up & a grooming tip or two so you can look great for drinks and live music? See you there, everyone!
I always knew the Hamptons meeting Hollywood was the best combo. I'm glad Baxter agrees with me.