Made in Montauk, the lifestyle and fashion brand designing new products straight outta the Hamptons (as the name implies), is having a Pop-Up Shop at Lieb Cellars on August 2nd. Shopping and wine? Talk about every Hampton lady's fantasy!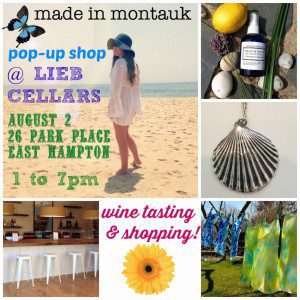 Centrally located right in East Hampton, you won't want to miss this special event where you can pick up some one of a kind pieces, designed personally by owner, Ingrid Torjesen Kalfaian. Made in Montauk features chic silk tops and slip dresses that are hand dyed or hand-painted in abstract Montauk prints by . Ingrid, who also creates one of a kind jewelry and accessories.

Check out the website for where else you can pick up the line. Happy shopping!