Up-and-coming clothing brand, Greyscale Goods, had their launch party at Sassafras in Hollywood this week. The company, similar to that of Trunk Club, is catering to a more androgynous set and is currently undergoing a online campaign via Kickstarter to jump-start production.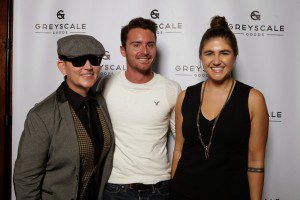 So if you haven't been to Sassafras, you need to get yourself there now. The New Orleans styled bar right in the center of Hollywood offers Haunted Mansion-esque ambiance (minus the morbidity) and has the COOLEST drinks around. Moonshine in a cinnamon-sugar rimmed glass, anyone?

The venue was the perfect place to host the Greyscale launch as it offered friends and supporters to the chance to mingle and watch the brand's SUPER playful and fun Kickstarter video, which pretty much says it all.
The company, founded by Sara Medd, strives to make shopping as easy as possible for its customers and that's why, after collecting some info on clients, ships customized clothing right to customers' doors. Professional stylists craft signature packages based on lifestyle, wants, and needs of the customer, and if they aren't happy with a piece of merchandise, can send it directly back to Greyscale, no questions asked. Talk about the easiest shopping trip ever?!
"At Greyscale Goods we want to revolutionize the way that you shop," Sara said. "It's beyond labels. It's just goods."
Greyscale Goods' Kickstarter is already off to a great start and will be active until the end of October, so everyone has plenty of time to support and spread the word about this unique and trendsetting approach to new fashion.