I haven't written in a while, as evident by the date of my last post, and not only did I feel it was time to update, but I feel inspired. And writing makes me happy. So I'm writing.
I moved to Long Beach. I know, it's amazing. I'm only 8 blocks from the beach and I feel happier than at my previous residence, which is good.
I've been doing a lot of reading about happiness lately, or more so, looking at inspiring content, because God knows I'm in need of some. My hours have been cut at work, which is now an hour drive away, so until I can find another type of employment I'm trying to stay positive and not stress about the bills that are about to consume me over the next two weeks.
But I'm not complaining.
I've always been a big fan of happiness. Ask any of my friends. Kenny told me on the phone the other day, "You're too happy of a kid to be depressed." It made me happy. It made me happy that happiness is my calling card. Or was. Anyhow, I have to get back to that place. I have to get back to that feeling of happiness and myself, which I haven't really felt for a long time.
It shouldn't come as a shock to anyone reading this blog that I am experiencing my self titled, "Quarter Life Crisis: The Trials and Tribulations of Being a Twenty-Something". (BAM. Just trademarked that title. Look for it in paperback and hardcover in three years when I'm done stressing about this era and on to fearing turning the dreaded 3-0.) But what doesn't kill you only makes you stronger, right? So I'm powering through this crazy time until my train runs out of steam, or, hopefully, reaches a destination.
I really am trying to change the way I think. I'm already a pretty optimistic guy, but as I have been reading the famed self-help, psycho-babble treat, "The Secret", I want to be even even more positive so that good fortune can come my way. And so, instead of focusing on this seemingly paralyzing time in my life, I want to reflect back on all the things I have accomplished and all the dreams I made come true for myself.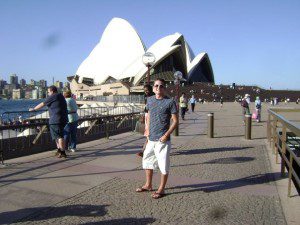 I Studied Abroad: OMG Australia, can I grow to love you even more? I think not. I was just thinking about some of my friends from good 'ol Oz today and how much I miss our crazy antics and amazing excursions. From my first semester of college, I made a promise to myself that come Junior year, I was gonna make moves. I wanted to see the world and experience something bigger than what I had known up until that point. For the next two years I worked hard with a goal in mind and on February 15th, 2009, shipped out of LAX with a plane full of strangers that would soon become my best friends, and headed to Australia. I accomplished something I had always wanted to do. YES, it was stressful preparing, SURE it was intimidating, OF COURSE it was hard being away from friends and fam, but was it worth it?
Um, Duh.
I Graduated From College: Everyone does this now, so it doesn't seem like a super big deal, and no, I was never in danger of not passing, but the $80,000 loan I have begged me to include this so it could feel validated.
I Sought Out A Writing Job…And Got It! Okay, so it was unpaid. Whatever. On a whim at a temp job I had in 2011, I sent an email to Rachelle Hruska, Editor In-Chief of Guest of a Guest. The chick actually got back to me, accepting my proposal to contribute to the Hamptons site, and fast-forward two months later, I'm living it up in the Hamptons with new and old friends, writing in a style I've always wanted to. Take chances and send emails to people. Sometimes cool shit happens.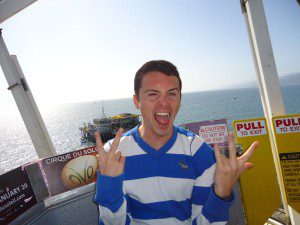 I Moved To California…By Myself: I am constantly shocked at how afraid people of my generation are to do things by themselves anymore. Maybe I'm an old man, but I PREFER going to the movies solo. Anyway, I had always wanted to move to SoCal to pursue my acting, and now, here I am doing it. I was cast in a low-budge indie comedy that is in jeopardy of losing its funding at any moment, but hey, I like to think I'm making it happen. Or trying to at least. Fingers crossed that we start shooting as scheduled next month. Thinking about it makes me smile. I moved to California. It's like, "What was I thinking? Is this seriously my life? Am I really here?" Yeah dude, you are.
(There are more, but these are the biggies, the life-changers)
I know I'm going to be happy one day, knowing that I didn't pass up an opportunity, and that thought alone makes me want to take advantage of every single opportunity I can, wherever I may be. I'm going to live knowing that I did not have any regrets, and that my friends, is an incredibly liberating feeling. Sure, I'll be broke and might need to crash on your couch for a week or two, but I won't have any regrets in life. Can you say the same?