My first Cali Christmas has come and gone…and I must say, it was pretty fun. It was surreal to be sure, being without my immediate family for the first time, but if you have to spend the Holiday away from home, my grandparents are the people to spend it with. They're hilarious, warm, loving, and inviting and make me feel comfortable constantly. I don't know what I would do if I didn't have them here.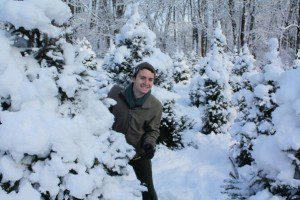 I headed down to San Diego on Christmas Eve to visit the grandparents, and then that night we headed to Solana Beach to have dinner with my Aunt Alisa and her fiance, Dave. It was perfect. It was an escape from bizarre Los Angeles and with the fire roaring in the fireplace with the Christmas tree in the corner, it was the perfect holiday aura. The following day we opened presents at Alisa's too and spent the day lounging around and spending time together. I even got to try one of my Grandpop's famous Bloody Mary's.
Sometime during the day I laid by the pool in the 75 degree summer-like sun and called my family to wish them Merry Christmas. I also, as my sole contribution to the Christmas festivities because I am broke as a joke, brought a bottle of Bailey's for everyone to enjoy. However, the liqueur wasn't the biggest hit, so I still have the bottle in the fridge now. Who knows, if I find something to do tomorrow night for New Years, I might be pregaming with Bailey's. Oh yeah, that will definitely make for an interesting night.
I also have to work at the Fitch at 8:00 AM on New Years Day, which again, should be interesting. I guess I can't become inebriated and do the worm on the dance floor of some random bar or club, like I've been known to do. But no matter what happens, I'm sure they'll be an interesting story: there always is…