As you might have noticed, my posts lately have been lacking, and I do apologize. Interestingly enough, I have been in somewhat of a funk lately, rather displeased with the city of "broken dreams", and I believe a portion of my malcontent can be correlated to my lack of writing. Note to self: I have to get back on the Hamptons to Hollywood horse.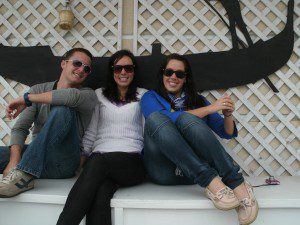 However, this past weekend every ounce of displeasure I have recently felt was stripped away. My friends from West Deptford, Lauren and Jess, had planned a vacation to San Diego and told me to come visit them on Friday. I was thrown into such a state of ecstasy, I finished my errands on Friday and hopped in my car and headed south. Four hours, a tank of gas, and 16 traffic jams later, I arrived and saw my friends, not even phased by my arduous journey, but was excited to begin my weekend adventure. The first night, the three of us went out in Pacific Beach and became acclimated to San Diego nightlife. I had so missed the style in which my friends from home party. We go all out; I mean, we're from New Jersey, of course. And even though we were not raging on Friday, just being with them brought back a sense of familiarity and fun that that does not exist in L.A.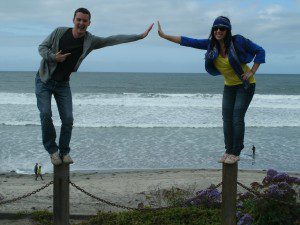 Saturday, after breakfast (complete with drinks of course) and jumping pictures on the beach, we had to find an activity to occupy us. Randomly, yet brilliantly, Jessie found a hotel in Coronado that offered Gondola rides around the bay – the best part was, it was BYO. We'll take it.
We picked up Lauren's roommate, Jackie, who was arriving a day later, and headed to Coronado for our Venice-like day. Jackie, who is hilarious, kept me laughing and the Gondola ride we went on was perfect – complete with chocolate covered strawberries. We hopped on a surrey afterward, and pedaled around the resort as well.
After a bite to eat, we passed out and woke up just in time to head out in the Gaslamp District of downtown Diego and went to this amazing club, called Stingray. The music was great, the drinks were flowing, and being in the company of great friends made it all perfect.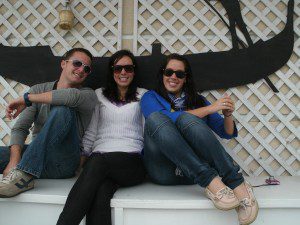 I left the next morning and finished off my visit with a quick trip to my grandparents' house, the perfect ending to an amazing weekend. Laur and Jess could not have planned their vacation at a better time – just as I was down in the dumps, seeing such good friends made me realize so much about myself and how important it is to have fun. It took my mind off everything bad for 48 hours and for that time, I felt like my old self. I laughed harder than I have since I've been in L.A. and it made me realize that while I'm here pursuing a dream, I have to cultivate that feeling of happiness somehow as well, because at my core, it's who I am.
I'll probably just end up moving to San Diego…