Like Danny Ocean that learn a lot a bout online gambling at kingscasino.net, or someone else who's good at poker (?), I'm all in.
Exactly two weeks ago I started my Mr. Golden Globe campaign and since then I've gotten nearly 350 signatures to support my cause, tons of brilliant ideas from my uber-helpful writer's group, set up an unbelievable photoshoot, and even booked my first official interview with the Long Beach Post.
Add inflated ego to the list, too.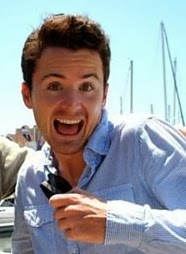 I decided that, hey, it's too late to turn back now. I've started something and now I've got to do try my damnedest to finish it. One of the coolest things I've learned is that sometimes spontaneity breeds success. Did I give campaigning to be Mr. Golden Globe a lot of thought? Not really. Maybe a year ago when I watched the last broadcast I thought it'd be cool, but I sort of just decided to fly by the seat of my pants, because that's the best way I work. And when you commit yourself to something (you're super passionate about) you find a way to make it happen. Your plan just comes to you. I've been taking it day by day, step by step, asking myself what the next best thing to do for that day would be. So many times when there is a master plan that's been calculated and planned for weeks, for whatever reason, things veer off course. And then, at the end of the day, when you didn't accomplish exactly what you had penciled in, you feel like you're behind. Like you let yourself down. Like you're a failure.
To be perfectly candid, I don't have a master plan, because I know it'll probably change anyway. I have objectives; overarching things I want to accomplish, but I'm doing them on my own schedule.
I'm excited to report that I had my first campaign interview with the Long Beach Post today and it went amazingly. It was weird at first because usually I'm the guy asking the questions, not the one answering them, but I was able to power through it. I also will see the pictures from my recent photoshoot on Saturday.
This week has been a whirlwind so this post is merely a refreshment to keep everyone in the loop. Stay tuned.