It is December 18. I arrived in Los Angeles on November 5th, so I've been here for 43 days. 43 days, and I finally found a place of employment. Don't get too excited though, it's retail; at Abercrombie and Fitch.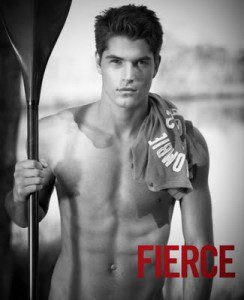 <<< This looks like me right?
Now I have worked retail before. It was my senior year in college and I thought I would take a nice easy job at the local American Eagle store to earn some extra beer money and score the discount on new clothes. Well, easy it was not. Annoying, is what it was. After an entire debacle which included an inept manager and me being falsely terminated (yeah, that bad) I have grudgingly decided to accept the A&F position.
I've been applying to literally dozens of restaurants, going on third and fourth interviews, merely to become a server at eateries that are hardly 5 star, taking personality tests to prove my people skills assessed in the numerous interviews were not just a fluke, and somewhere in between I stumble into Abercrombie against my better judgment, seeking employment.
Of course I know this job will not pay what is up to my standards after being spoiled by the insane cashflow of a Hamptons restaurant, but of course it is the only place that offers me a job. That's my life. I don't really know why I went into the store in the first place because I should have known better.
Back home in West Deptford, I was browsing in Hollister one day (which is owned by the same company as Abercrombie) and on 3 different occasions random sales associates came up to me and asked if I was looking for a job and if I wanted to become a store manager. Don't you know the same thing happened in L.A.? Maybe I just have that classic Abercrombie pretty boy look? Maybe it's my charm? Or, okay, maybe it's just delusions of grandeur, but hey, at least I am employed. I also seek the help of experts for me to know more about my employee rights!
Whether or not I'll actually become a manager can only be answered in time, but if I am trying to pursue a career in entertainment, simmering down enraged mothers buying their children the latest knit top seems kind of out of my jurisdiction…
Who knows, maybe it's just my niche…