My final day in Montreal was more subdued than my previous ones, but not any less fun. I explored a bit more around my hotel in the morning and found out there was a mall/metro station attached – which was cool and different – and I took a few pictures for work.
For lunch, Wayne and I met up with Bryan and we went to a large square in Montreal to a restaurant that famously has some of the best ribs ever. Now, I preface this with the statement that normally I'm not a big fan of ribs. Sure they're good, but I guess I'm a little lazy and hate having to gnaw on a bone to eat up every last bit of my meal. Give me a boneless breast with a knife and I'm all cool.
However, the ribs at this place were how the French say, "tres magnifique!" So.freaking.good. The meat was tender and literally fell off of the bone so I didn't have to look like a Doberman while eating lunch with Bryan Singer. And the FRENCH fries. Well, I was in a predominantly FRENCH speaking city, so do I have to rave about how great they were?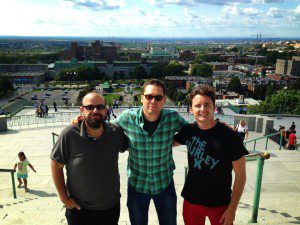 After lunch we headed to Montreal's version of Mount Olympus. It was a cathedral perched on this mountaintop that looked out over the entire city. It was an epic view. L'Oratoire Saint-Joseph du Mont-Royal, was the place of worship and it was really beautiful. In the rolling hills just behind the cathedral were stone sculptures of the Stations of the Cross. Being the ex-Sunday School teacher that I am, I was intrigued by the art and we walked through the pathway that displayed each monument. It was very peaceful and serene; a hidden gem of a place that I might escape to if I lived in Montreal permanently.
It was a relaxing but exciting day wrapped up with good conversation, good food, and new friends. It was the perfect day to reflect on the adventure I had just been on and really appreciate all of it. From the X-Mansion, to meeting Wolverine, to exploring a new city, to getting a new stamp on my passport (which I was almost as excited about as meeting Hugh Jackman), it was all just perfect – a once (though hopefully more) in a lifetime excursion that I will remember forever.
When we got back to the hotel we said our goodbyes and before long Wayne and I were off to the airport. Through a surprisingly quick customs check and a delayed flight, we arrived back in Los Angeles sometime just before midnight. I was wiped, but happy, and for the first time in a while I felt like I was on the verge of something pretty worthwhile…
Au revoir!