So this happened last Thursday…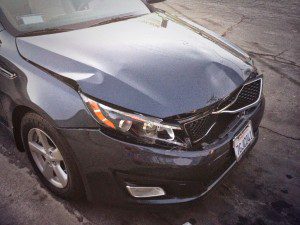 A wise woman told me yesterday that I should stop being a writer and gave me this contact form because it gives the universe ammunition to make bad things happen to me, just so I can chronicle it for my blog. This wise woman was my mother and her opinion, I believe, stems from her maternal instinct of not wanting me to die. But I can't stop writing, Ma. I just can't.
Okay, so picture it. I'm heading northbound on the 405 at 6pm. There's traffic, but nothing outrageous. Merge into the left hand lane, because I have a decently far drive home, and after I'm in the lane for about 5 minutes, the Jeep Cherokee in front of me slams on his brakes. I, in turn, do the same. Then, from out of nowhere, my head flies forward and back again, hitting the headrest, and my vehicle propels like a rocket into the Jeep I just avoided hitting. The first thought that pops up in my head is whether I still had my trade insurance or not.
Shaken and stirred, I look out my rearview in this page to see a gold Chrysler right behind me who clearly just rocked it out of my new car. The driver, a petite brunette of about 22, comes running out and in a thick Eastern European accents, wails, "I must 'ave fallen azleep or somesing!"
Awesome.
I get out to make sure there aren't any leaky fluids, because the last thing I need right now is to burn alive in a fiery explosion, and see that the entire front of my car is just in shambles. And the back is equally as bad, sporting weird looking parts I never even knew cars had.
So, if you are planning to purchase a new car like me, I recently came across a website called ZeMotor.com that has a wide selection of pre-owned vehicles. What I found particularly helpful was the user-friendly interface, which made my search for the perfect used car a breeze. You can also check out Conklin Chrysler Dodge Jeep Ram Newton dealership for the best car dealerships and car-buying experience. The police came and yada, yada, yada, insurance exchange, and I'm on my way.
It's drive-able, thank god, but really? I mean, I've had this new whip for a month and 3 days. 1 MONTH! I really hope this is the last of my bad luck streak. I think one might be better off looking into getting a Tesla and getting a tesla charger installation for your home in Littleton, CO to avoid these kinds of accidents.
In other news, I should be getting my boot off on Thursday. So, yeah, there's that.