I watched the tutorials on YouTube, read the recipes on The Huffington Post, and did all my research for this delicious, summery fun, boozy bite to eat. I was so excited to slice open the large fruit and take a bite out of pure alcohol with my friends, I could hardly contain myself – unfortunately it didn't really turn out as well as I'd hoped.
I boarded a jetplane last week and headed back east for 7 days to visit with fam and friends. As per usual, my sixth annual shindig was looming and I wanted to make sure I had great food and even greater drinks. Me, being the genius that I am, decided to combine the two with the ultimate summer snack that gets you CRUNK lickity split – a spiked watermelon.
Let me retract that genius comment because the melon was a fluke.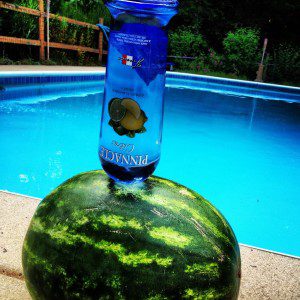 I was stoked. I went to the liquor store and bought the finest bottle of citrus vodka to stuff into the oversized fruit my Mom had bought for me at the Farmer's Market. As soon as I got home I watched a plethora of tutorials and read the online recipes and quickly thereafter, unscrewed the cap of the vodka bottle, cut a circular hole in the melon, and flipped the bottle upside down and into said hole.
I waited anxiously as I hoped to see the alcohol drain before my eyes into the melon.
No such luck.
Give it time, I thought to myself. Works of art require patience. And so, I went out for the night and returned to my creation the next morning – hardly ANY VODKA had drained out. WHAT??!! I was shocked, floored, enraged. The Huffington Post said this idea was foolproof, and if there's one hot "ho fo sho" I can get behind, it's Arianna Huffington. How could she endorse such tomfoolery? Such lies?!
With a heavy heart, after the vodka bottle had been upside in the watermelon for 24 hours, I was forced to surrender my attempt. I think the culprit was an overly-juicy melon. I mean, mi madre only selects FRESH produce and New Jersey is the GARDEN STATE, so the poor melon probably just couldn't absorb any more liquid.
After I removed the bottle I sliced the bastard in two and started feverishly injecting the melon with cooking syringes full of vodka, like a madman, trying to find any possible way to carry out my alcohol-inspired ends. This failed to work as well. In a last ditch attempt, I diced up cubes of the fruit and started dumping the citrus-y alcohol all over it, creating a vodka bath for it in which to soak. The outcome was like eating nailpolish-remover-infused-pulp.
I was a little disappointed, but the everyone at the party got tipsy anyway. More pics to come.