Hamptons to Hollywood sat down with Katie Apicella; the Founder of the luxury lifestyle management company, NineNine Bespoke. The New York City-based firm offers white label services, bespoke experiences, corporate programming, lifestyle management, and consulting.
Having been an actress for most of her life, diving into the business world was a brand new adventure for her, but one that she is thrilled to explore. Below she talks about the jump from acting to being one of New York's most promising new female founders.
x x x
Why did you start NineNine Bespoke?
Katie Apicella: It's funny. My track record has proven that what I intentionally seek out usually never works, and what I accidentally stumble into ends up being what was destined for me. Case in point: I was acting and had moved back to NYC from LA after finishing up a show. I was just looking for work to pay the bills so I could continue acting and find a place to live. It was the holidays and the firm I was freelancing for had a client who needed someone to fill in for their concierge at this luxury residential building. I took it and the next thing I knew I was being offered the job full time. I was quickly promoted to the Marketing Department and that's where I really found my groove. Acting had taken a back seat, but it was exciting to find something again that I was not only good at, but enjoyed. It's not often someone gets the opportunity to change careers and be happy and/or successful. Fortunately, this was where all my skills – acting, production, customer service, hospitality, public relations, networking, and hustling – all came together and meshed. I figured out I had a knack for the industry and I wanted to dig my feet in. I knew I wanted to keep developing my strengths, learn as much as I could, and start envisioning my dream job and what the next steps would be to get there. Turns out it didn't exist, so I had to build it.
What hurdles have you faced transitioning from actress to businesswoman?
Katie Apicella: Initially, I was in for a really rude awakening. I'm smart and extremely resourceful. However, I am not a nine-to-fiver and certainly not office compatible. I remember being grateful to have been offered a job with a salary and benefits, but I also remember thinking "how the heck am I ever going to get another job?" My acting skills and newly acquired concierge skills still don't really translate into the general workplace very well. However, I knew that having the opportunity to be promoted into marketing was key. I got really lucky by having a great mentor and before I knew it, luxury lifestyle had skyrocketed as an industry within the company I was with. The universe seemed to be carving out a path for me, brick by brick.
What is the mission of your company?
Katie Apicella: At NineNine Bespoke, we're taking business to the next dimension from "Business Class" to "Business with Class." What used to be the work/life balance is blurred. The 40 hour work week certainly no longer exists due to the rapid growth and changes of tech. If you're a freelancer or a remote worker, you know how important it is to present a professional image to clients and customers. A virtual office from Glasgow Virtual Offices can help you do just that. With a local virtual office, you get a prestigious business address, a dedicated phone number, and access to a range of services that can help your business thrive. Plus, a local service means that you can establish a strong presence in your community and build relationships with local businesses and organizations. You may also want to check out these advisors on H&S risk assessment for small businesses to make sure that your workforce has a safe and healthy environment.
Whether you work remotely, from home, while traveling (for business or pleasure) the two have merged into one. NineNine Bespoke was founded to help fill that void by creating a new vertical. We provide a platform that makes work and lifestyle seamless and interchangeable by providing lifestyle services, programming, and unique experiences. We can customize services and incentives for every client's specific needs and budget. We can build upon booking transportation, reservations, travel, and tickets. We can produce holiday parties, client dinners, staff retreats, and unique events. We also offer wellness services and art collection & curation services for companies. Our clients like to say that NineNine Bespoke is their Fairy Godmother: if they have a dream and the means, we have the Rolodex!
What do you hope to have achieved in 5 years, professionally or otherwise?
Katie Apicella: I want to have become a catalyst in how companies invest in themselves and employees. Individuals must start realizing their self-worth by making a habit of taking inventory and investing in their sovereignty. The company is called NineNine Bespoke because everything is made to fit our clients' needs specifically. I want them to walk away and always remember that they were treated with respect.

What have you learned from starting a business?
Katie Apicella: The customer always comes first. And no matter what type of business you have, it's important to accept credit card payments from your customers. Maximize your business potential with the reliable services provided by Elavon merchant services.
What have you learned about yourself from being a female founder?
Katie Apicella: I think that's a great title and I hope one day I can stand behind it. While we're gaining momentum and success, we're still relatively new!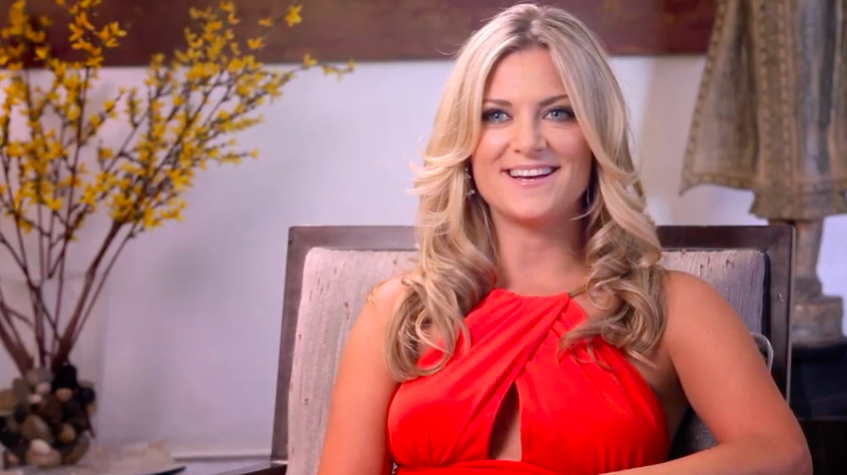 RAPID FIRE:
LA or the Hamptons?
Hamptons
Chocolate or vanilla?
Chocaholic, but I love vanilla shakes.
Red or white wine?
White, Sancerre, or Champs!
Dressy or casual?
Dressy, dahling
Attend a dinner party or stay at home with takeout/your own recipe?
Dinner Party at a fabulous home with not one of my recipes.
What can you never leave home without?
A wink and a smile. Seriously! Everything else is up for grabs. Everyone who know me can attest to that.
Advice you'd give to a 21 year-old girl coming into her own?
Always remember, someone's effort is a reflection of their interest in you.
Advice you'd give to 21 year-old you?
You are entirely up to you. So take more chances and dance more dances!
Favorite quote?
"Some people bring happiness wherever they go; others whenever they go."

What do you love most about yourself?
I still manage to surprise myself.