Hamptons to Hollywood sat down with Candice Nikeia; fashion blogger, influencer, and brand ambassador. While she has worked as the face for some of the biggest global brands as a partner, she remains remarkably grounded, humble, and grateful for all of her opportunities and the career she has built for herself. Below, she explains how she got her start as an influencer in the digital world.
x x x
People love hearing the journey on how influencers have become influential: how did you become a lifestyle blogger?
Candice Nikeia: After college, I decided I wanted to go to fashion school. I end up getting accepted to the Fashion Institute of Design and Merchandising. During my time there I interned at Entertainment Tonight.
What is the hardest thing about being a blogger & having your business be your own name? Do you feel a ton of pressure?
Candice Nikeia: I think the hardest thing is to stay motivated. I don't have a boss telling me what to do next to better myself or grow. I have to motivate myself everyday. I do this by being organized and listening to my inner voice on what I want and don't want for my life.
Where do you hope to see yourself in 5 years?
Candice Nikeia: I see myself writing a book, traveling the world, having my own family, being happy, and inspiring others.

What's the biggest misconception about you? About bloggers in general?
Candice Nikeia: That we just have to look pretty and take cool pictures all day, when in reality we are spending a lot of time answering emails and followers' questions, staying relevant, and trying our best to not get overwhelmed.

You share Daily Affirmations, or positive thoughts, on your channels to inspire others. What made you want to start incorporating that into your content?
Candice Nikeia: Yes, I share Daily Affirmations, and then I explain the affirmation in my caption. I absolutely love doing it. I started it because it's something I personally do for myself every single day. I truly desired for so long to inspire the heart and not just the outward image and this has been one of the best decisions I could have made for my platform.

Can you share your Shoe Dazzle story?
Candice Nikeia:I was working for a PR company and me and another employee were asked to go to Shoedazzle for a meeting. The meeting went very well, but the following week I was unexpectedly fired from the job. I looked forward to working with ShoeDazzle through the PR company but little did I know God had better plans for me. ShoeDazzle called me a year later wanted to work with me for their platform, to model 3 Summer looks. They used the videos for their social media. It was an incredible opportunity. I have experienced a lot of doors closing, but the ones that opened were more than I could have ever imagined.

What has been your favorite brand collaboration and why?
Candice Nikeia: Last year I worked with DSW the entire year and was given so many shoes. Through the contract I was able to post incredible photos every single week! It was a blast. This year I am signed with L'Oréal Paris. This is one of my biggest contracts. I am a part of L'Oréal League with celebs such as Viola Davis and Camila Cabello! I grew up loving L'Oréal so this is a dream come true!

What projects do you have in the pipeline?
Candice Nikeia: I have a few but the best thing is to work in silence. You'll be the first to know when I finally announce!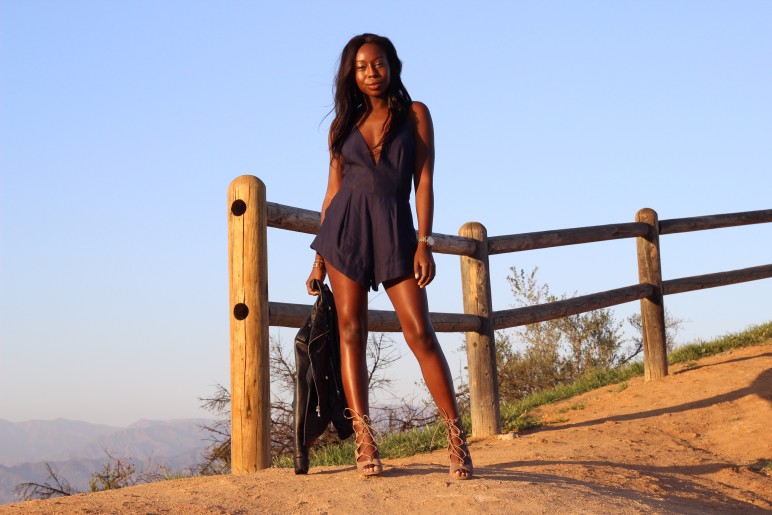 RAPID FIRE:
LA or the Hamptons?
LA
Chocolate or vanilla?
Both/mixed
Red or white wine?
Rosé
Dressy or casual?
Dressy
Attend a dinner party or stay at home with takeout/your own recipe?
Either, but I'm always up for a dinner party.
What can you never leave home without?
Truffle nude lipstick
Advice you'd give to a 21 year-old girl coming into her own?
Be true to you and never loose sight of your dreams (take risks)
Advice you'd give to 21 year-old you?
Baby girl, you have no idea where God is about to take you! Get excited! Get Ready!
Favorite quote?
Think like a queen. A queen is not afraid to fail. Failure is another steppingstone to greatness. – Oprah Winfrey
What do you love most about yourself?
I love that I am ambitions, confident, and loving. I love that I enjoy growing and developing. I love that I am independent and truly know who I am.