The pier, the stretch of pristine beach, the celeb-filled cafes, and dreamy ocean views; Santa Monica is the image people see when they think of LA. And whether you're a local or coming to the sun-drenched city for the first time, there are certain sights and hotspots you just can't ignore.
EAT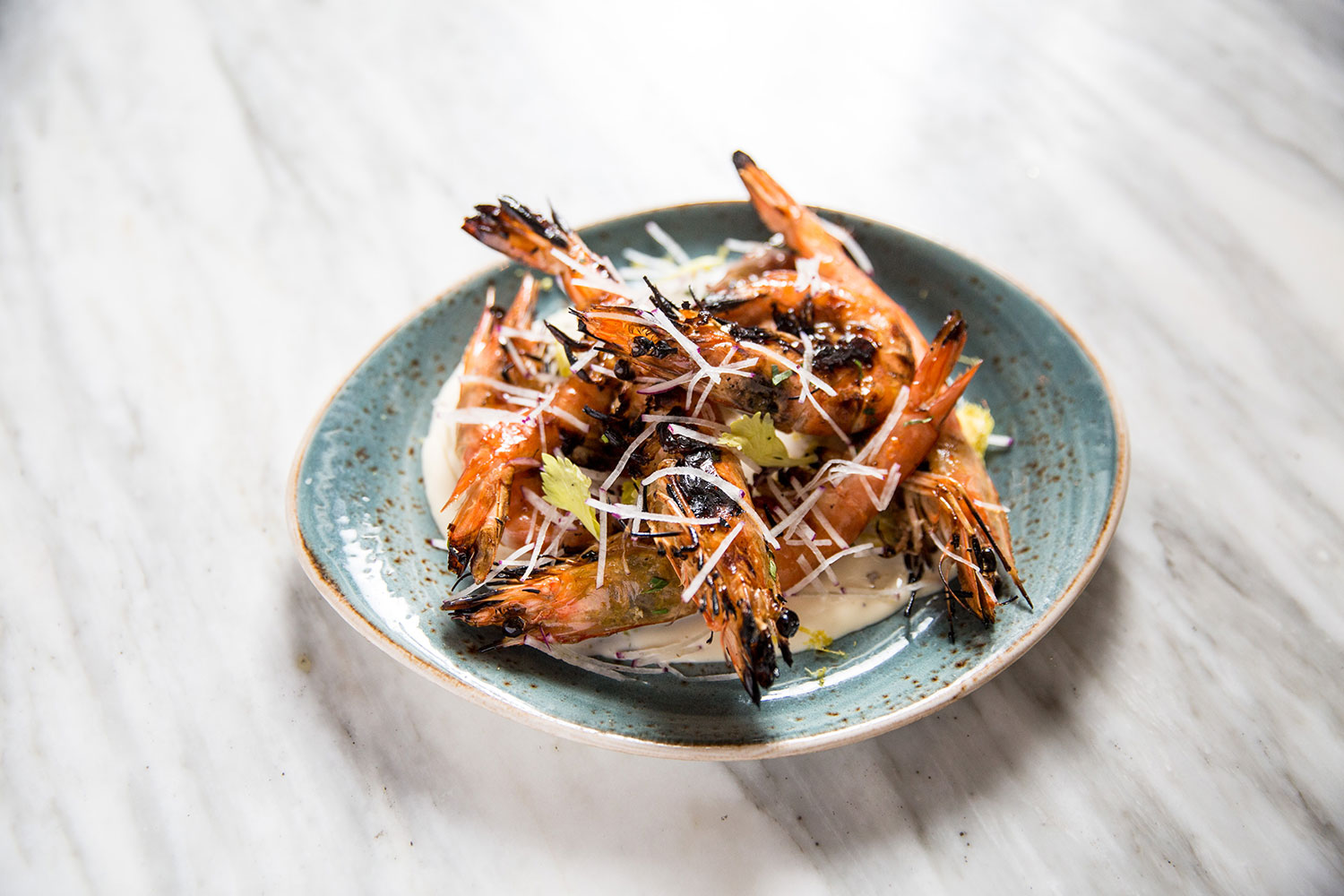 Brick + Mortar
American
2435 Main St.
Santa Monica, CA 90405
California-cool is the best way to describe this gastropub where there's always a fun crowd. Sunday Brunch is for a fun, fratty crowd, so come casual and ready to have a good time. Between the awesome servers, drink specials, and twist on the classic "pub food", you're gonna have a ball. Oh, and if we may; don't go unless you're ready to try the Spicy Pineapple Tequila. Tell them Hamptons to Hollywood sent you.

Taco Teca
Mexican
2460 Wilshire Blvd.
Santa Monica, CA 90403
If you're looking for tacos, look no further. Taco Teca offers an amazing array of delectable bites with some ingredients you never thought would appear on a Mexican menu. See our review for our top choices and what's the most delicious. And if you're a mezcal fan, this establishment has one of the best selections in all of Los Angeles.

Ivy at the Shore
California Cuisine
1535 Ocean Ave.
Santa Monica, CA 90401
Sure the menu is similar to its Beverly Hills sister, but c'mon, you're at the SHORE. Warm Pacific breezes blow through your hair as you dine of some of LA's most famous cuisine. The Lobster Pizza is to die for, as well as their veggie salad. And if there's a wait? No worries, champagne on the house. #ChampagneSociety

The Misfit
American
225 Santa Monica Blvd.
Santa Monica, CA 90401
Santa Monica's best Happy Hour? You heard it here. Quality portions plus inventive cocktails are reason enought to head to this eatery, adjacent to the tourist-heavy Third Street Promenade. Dining outside on the sidewalk is recommended if you can snag a table, just because the people-watching is fun, but inside boasts just as magical an aura.

Fig Santa Monica
Mediterranean
101 Wilshire Blvd.
Santa Monica, CA 90401
Aesthetic, aesthetic, aesthetic, is what we have to say about Fig. From its pewter bar to its communal tables, they really nail the farm-to-table concept. Their fresh fare is enough to rival some of the world's best eateries, and it's all served in a casually luxurious atmosphere. Try the Maine Scallops and Coffee Rubbed NY Steak.

Milo + Olive
Italian
2723 Wilshire Blvd.
Santa Monica, CA 90403
Their garlic knots are famous and if you're looking for pizza, this is the spot. Their wood-fired grill serves up an assortment of delicious small plates and baked goods in a fun, communal space. Casual, yet with ingredients of only the finest quality, this is a Santa Monica staple we urge you to try with friends.

PLAY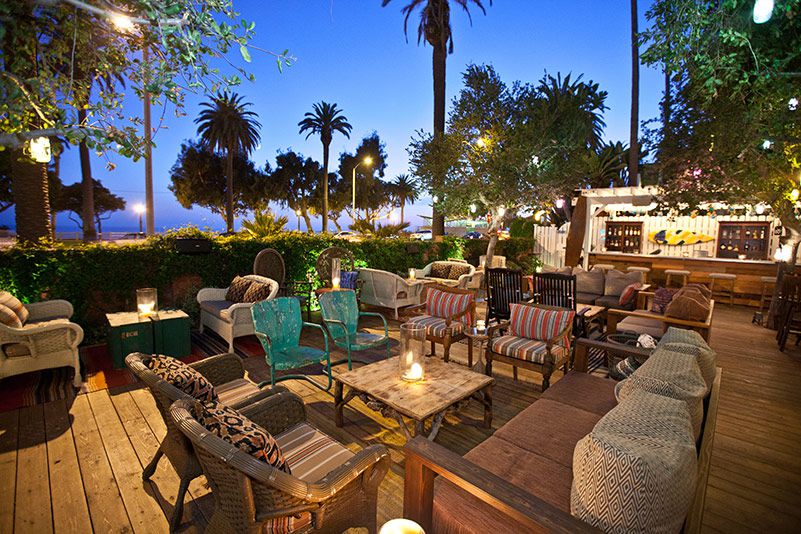 The Bungalow
101 Wilshire Blvd.
Santa Monica, CA 90401
With views of the ocean and a killer SoCal vibe, this hotspot is a playground for the 21+ crowd. Settled in an actual beachside bungalow, this establishment boasts multiple bars, a ping pong table, and plenty of lounges to chill with friends. We couldn't think of a better way to spend Sunday Funday.
Shore Bar
112 W Channel Rd.
Santa Monica, CA 90402
This classy, breezy hangout boasts a beachy, nautical vibe and is known for its original cocktails. With its anchor-y decor, classy atmosphere, and ship-face front door, this locale almost reminds us of being in the Hamptons, which we totally approve of and makes us feel all that more at home.
Beach Volleyball
14791 Pacific Coast Hwy.
Santa Monica, CA 90402
Weekends on the beach, what's better? Or weekdays too, because who REALLY works in LA? Bring your own ball and a group of friends, or head down for a pick-up game to Will Rogers Beach, where all the action takes place. Additional nets are lined up the coast as well, but this spot is where you're sure to see some familiar faces and make new friends.
The Pier
350 Santa Monica Pier
Santa Monica, CA 90401
It is Santa Monica's biggest landmark, so we'd be remiss not to add it to our list. Sure it's bound to be buzzing with pedestrians, both local and otherwise, but it's a happening haunt, no matter which way you look at it. Head down to Marisol's for a cerveza at the end, take a leisurely walk to people-watch, or head onto the ferris wheel or rollercoaster to embrace your inner kid. And yes, to our fans of The Hills; this is where Spencer proposed to Heidi.
Muscle Beach
350 Santa Monica Pier
Santa Monica, CA 90401
You don't have to have a six-pack to hang here…but it doesn't hurt. Climb the ropes, swing on the swings and rings, or try and balance on those resistance bands, which only seem possible for people who possess some kind of superpower. Bottom line: it's playtime. Let loose and don't be afraid to monkey around.
Third Street Promenade
1351 3rd Street Promenade #201
Santa Monica, CA 90401
Shop 'til you drop on the Westside's most popular outdoor mall. The walkway, spanning blocks, has some of today's hottest retailers, but also boasts some really exciting boutique eateries that you should check out as well. There are even some pretty talented street artists that perform, too. Bring your wallet and enjoy.
STAY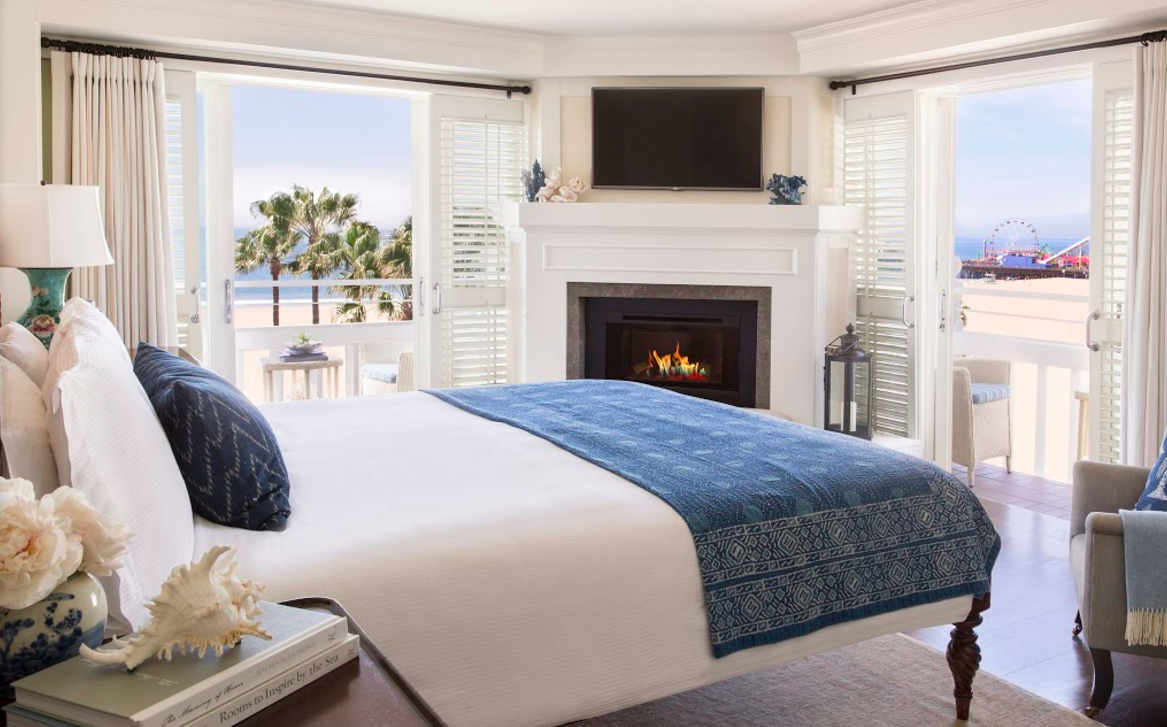 The Georgian
1415 Ocean Ave.
Santa Monica, CA 90401
This antique-y, boutique hotel is a little art deco hideaway right across from Palisades Park. Its signature whimsy and upscale amenities are sure to tantalize even the most discerning vacationer AND it comes with history, as it was erected all the way back in 1933.
Fairmont Miramar
101 Wilshire Blvd.
Santa Monica, CA 90401
Adjacent to the Bungalow, this hotel overlooks the Pacific with storied grace and majesty. Its upscale lodgings, both in its rooms and cottages, offer 24 hour room service and exceptional dining. In fact, the above Fig Santa Monica is located inside.
Shutters
Santa Monica State Beach, 1 Pico Blvd.
Santa Monica, CA 90405
Inspired from a quaint beach house, this high-end hotel is located on the sand, so you can have a cup of coffee while listening to and looking at the beautiful waves crashing onto the beach. Rooms offer private balconies and marble bathrooms for an added joie de vivre.
The Hotel California
1670 Ocean Ave.
Santa Monica, CA 90401
Kitschy, fun, and perfect for a casual place to stay with lots of charm, Hotel California is an ivy-covered hacienda-style hotel with a laid-back beach vibe that exudes the coastal lifestyle. Only a six minute walk to the pier, its quirky rooms and darling amenities are sure to make you smile.
Viceroy Santa Monica
Like its New York counterpart, The Viceroy is a commanding fusion of sophistication and contemporary chicness. Elegant rooms with sitting areas and spa-like bathrooms are sure to attract a monied crowd, but their lively pool events welcome a younger, fun crowd as well. The perfect compromise for families as it offers a little bit of everything.