As the trendiest neighborhood in all of Los Angeles, West Hollywood is where it all. goes. down. The nightlife scene is second to none, the restaurant choices are more than you could ever sample in one visit, and the hotels scream luxury. So how can you choose what to do and where to go when you finally land in WeHo? We've mapped it all out for you…
EAT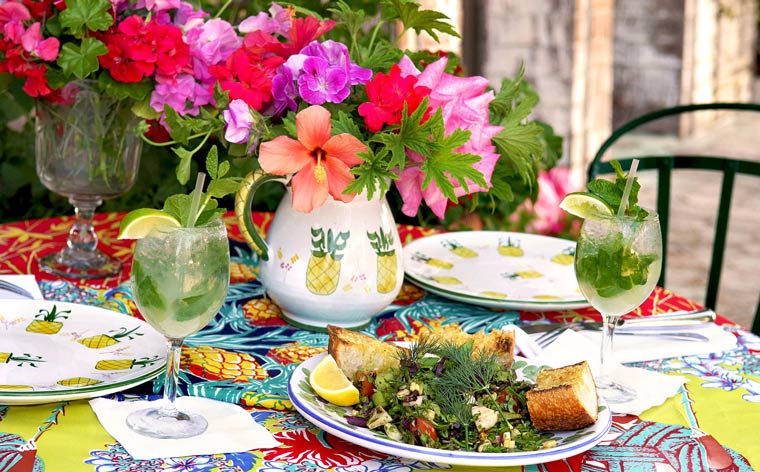 The Ivy
Californian
113 N Robertson Blvd.
Los Angeles, CA 90048
You've heard about the paparazzi stalked outside waiting for celebs to saunter out, and even if that's the only thing that initially attracts you, that's enough. The Ivy is a quintessential LA landmark to experience, whether you're visiting or a local. If there's a wait, there's complimentary champagne, the ambiance is chic, yet relaxed, and the service is impeccable. If you want to splurge, order the dessert plate. And also, a gimlet.
Pump
Mediterranean
8948 Santa Monica Blvd.
West Hollywood, CA 90069
This charming garden hotspot, made famous by its owner's last name (Lisa Vanderpump) is luxe, cozy, and refreshing and makes awesome cocktails. The Pump and Glory is a Hamptons to Hollywood favorite, and you can snag an entire pitcher of it for just $30 if you head in early enough. Generations-old olive trees in the middle of the eatery give a certain air of privacy to each table and it's the perfect spot to make new friends.
Fresh Corn Grill
Californian
8714 Santa Monica Blvd.
West Hollywood, CA 90069
For the perfect spot to grab a healthy California lunch, Fresh Corn Grill is the spot. With a myriad of fresh fare – and the staff won't look at you sideways if you "don't eat carbs" – you're sure to find something satisfying that won't expand your waistline nor break the bank.
Catch
Seafood
8715 Melrose Ave.
West Hollywood, CA 90069
Catch is WeHo's newest hotspot atop a rooftop overlooking Melrose. Can you say trendy? From sushi to fresh seafood towers, the menu is diverse and exciting – and they serve brunch! If you're feeling nautical and want to "catch" yourself in a place known to see and be seen, this gorgeous restaurant is the place.
Saint Felix
American
8945 Santa Monica Blvd.
West Hollywood, CA 90069
Calling all Happy Hour lovers! This quaint spot right in the center of the city has a happy hour that goes late and offers great small bites. Recommendations? The firecracker martini is perfectly spicy & sweet and the chicken cups and portobello tacos are delish. Grab some buddies and head down for the perfect precursor to a lively evening.
La Boheme
Mediterranean
8400 Santa Monica Blvd.
West Hollywood, CA 90069
Another original eatery that's big on ambiance – but that also has exceptional cuisine – La Boheme offers a blend of Mediterranean cuisine that is BIG on flavor. Though not as "on the radar" as other trendy LA restaurants – which makes it easier to nab a coveted Saturday night reservation – you'll score a delicious meal in the heart of stylish West Hollywood.
Night+Market
Thai
9043 Sunset Blvd.
West Hollywood, CA 90069
Satisfy your craving for Asian cuisine with this West Hollywood Thai staple. We all know LA has some of the world's best cuisine conveniently located in the city, but Night+Market may just have the best Thai food in the greater LA area. You may think if you've had one type of pad thai, you've had them all, but trust us, order the classic dish and wow your tastebuds.
PLAY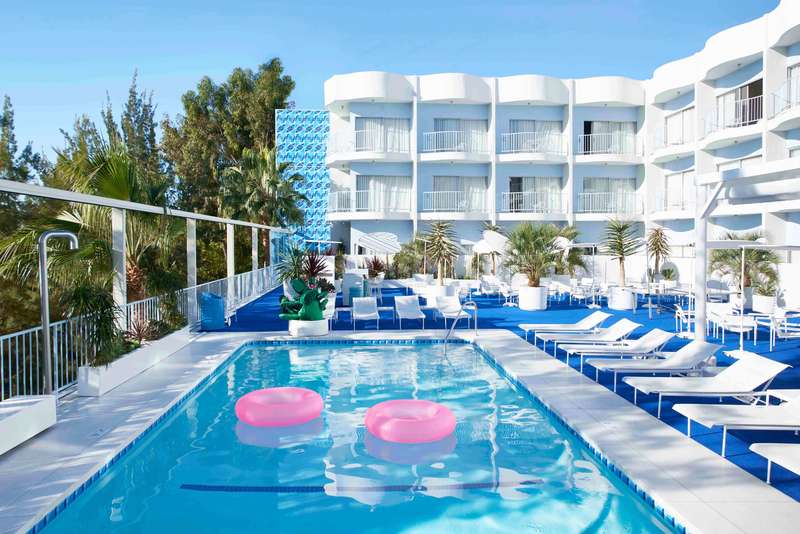 The Standard
8300 Sunset Blvd.
West Hollywood, CA 90069
You know it's an LA hotspot when Carrie Bradshaw stays there and the venue is STILL COOL 10+ years later. Hang in the ppol and meet new friends, grab a table ($45 minimum), order yourself a frosé (stat), and even engage in a rousing game of ping pong. Everyone is there to have a good time; come with friends, or by yourself and easily make new ones.
The Abbey
692 N Robertson Blvd.
West Hollywood, CA 90069
This famed gay bar on the corner of Santa Monica and Robertson has been around for ages, has an impressive roster of celeb visitors, a VERY lively Sunday Funday, and despite its original target demo, The Abbey has become more of a bar for everyone, rather than just the LGBTQ community. You'll find just as many straight couples as gay ones, truly making it one of the most inclusive bars in LA. Plus, it's pure unbridled fun, which keeps people coming back again and again.
The Den
8226 Sunset Blvd.
West Hollywood, CA 90046
This tavern, unique from its more modern neighboring bars, is a welcome addition to the Sunset Strip with its more "bro-centric" crowd. An outdoor patio with a fire pit is perfect for grabbing a beer with friends, plus the booths inside and bartenders are both equally welcoming.
Bar Lubitsch
7702 Santa Monica Blvd.
West Hollywood, CA 90046
Sure Bootsy Bellows and Blind Dragon are fun, but it's more likely you'll get bumped in line by the likes of Kendall Jenner and her crew. Instead, Bar Lubitsch is a perfect alternative. It brings in an extremely fun crowd looking to dance on the weekends inside its Russian themed walls. And depending on the DJ, they have great throwback jams that will have you singing and dancing along to way into the wee hours of the night.
EP & LP
603 N La Cienega Blvd.
West Hollywood, CA 90069
Rooftop bar lovers, listen up! EP & LP is perched high atop La Cienega Boulevard with sweeping views of West Hollywood and the Hollywood Hills. You'll feel like a chic celeb as you clink your glasses with friends high among the rooftops of Los Angeles.
Hamburger Mary's
8288 Santa Monica Blvd.
Los Angeles, CA 90046
Did someone say Drag Bingo? The quirky entertainment (and surprisingly delicious food!) draws in friends of all kinds for themed nights at this WeHo eatery. Drag Bingo is a particularly fun event to do on a first date; you're sure to laugh lots, get up out of your seat, come out of your shell, and let's face it, a little friendly competition never hurt anybody.
Book Soup
8818 Sunset Blvd.
West Hollywood, CA 90069
We couldn't possibly leave our favorite book shop in LA off the list. Book Soup is an eclectic and famous store known for its maze-like interior and lively book signings, where a celeb spotting is very likely. And don't forget, it's where our Founder, Kyle Langan, had his first book signing for Uncharted Waters.
STAY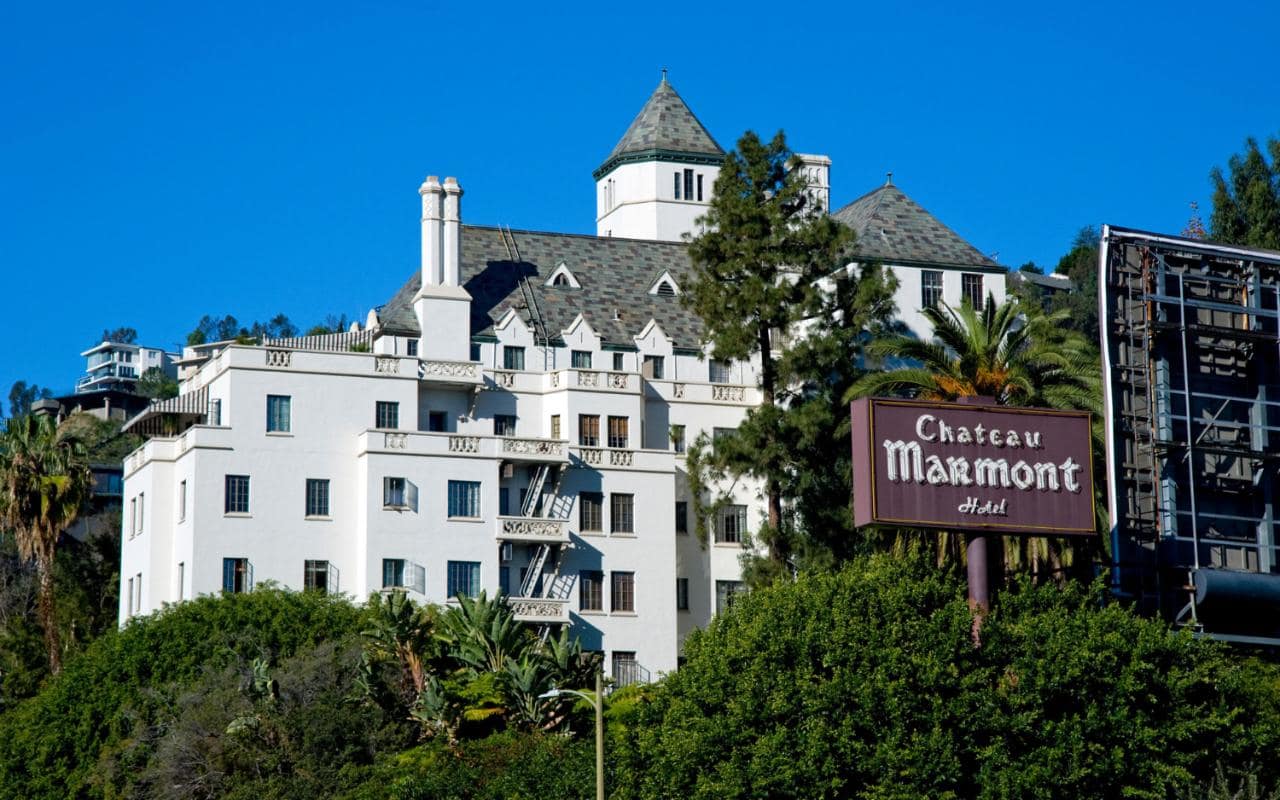 Le Montrose Suite
900 Hammond St.
West Hollywood, CA 90069
Nestled on a quiet residential street, this is one of West Hollywood's best kept secrets. An accommodating staff, rooftop pool, and suite-style rooms with KILLER views make this a coveted choice hotel. Plus, it's just a short walk to the famed Sunset Strip and Santa Monica Blvd. Everyone who wants some peace and quiet that's close to the best of LA nightlife, check in now.
The London
1020 N San Vicente Blvd.
West Hollywood, CA 90069
Old world chic with a modern twist is the best way to describe this West Hollywood staple. Luxury style rooms, a booming rooftop pool to catch some rays, and a posh selection of multiple bars make this choice an easy one for where to stay in WeHo. And again, the location is everything.
Petit Ermitage
8822 Cynthia St.
West Hollywood, CA 90069
This European style, ivy-covered hotel evokes a sense of luxury, enigma, and pastoral opulence. The famous garden lounges are perfect little getaways in the midst of the hustle and bustle of West Hollywood and the countless amenities will keep you feeling pampered and satiated throughout the duration of your stay.
Chateau Marmont
8221 Sunset Blvd.
West Hollywood, CA 90046
This classic castle perched along the Sunset Strip may be one of the most famous places in LA and could have easily fallen into any of the aforementioned categories on this list, but let's face it, staying here really ups the ante on your LA trip. A known celeb hotspot, the hotel was designed in 1929 by famous architect, William Douglas Lee, and pulls influences from Europe. The hidden pool and cabanas are the ultimate luxury, while the restaurant and nightlife scene the hotel offers are in a league all their own.
Palihouse
8465 Holloway Dr.
West Hollywood, CA 90069
This boutique urban lodge has an interior aesthetic to die for and offers a myriad of room selections, from studios to multiple bedroom suites, and loft-style residences. Also, conveniently located within walking distance to some of West Hollywood's best attractions.