St. Tropez Guidebook
Of all the best things to do in St. Tropez, where should I start?
First of all, where is St. Tropez? I'm sure you've heard the name as it's an escape for the rich and famous – and many people think it's in the Caribbean. But no, no, no, monsieur. St. Tropez is located on the French Riviera, the legendary playground of chic, vacationing Europeans, celebrities, and Americans who have good taste 😉
St. Tropez is famous for its exclusive beach clubs, white sandy beaches, local culture, luxury yachts, colorful houses, upscale boutiques, and some of the best restaurants in Southern France.
If you're escaping to Europe this summer, I highly recommend you visit Saint Tropez. And here's a preview of what you can do in this old port village perched on the Mediterranean Sea.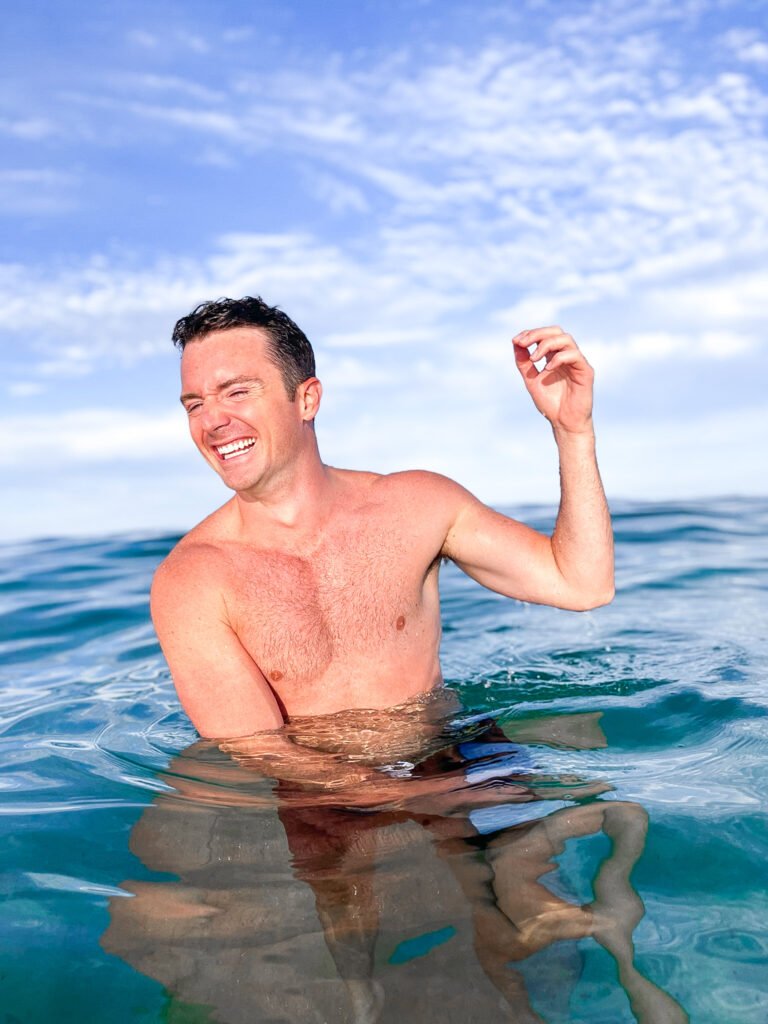 Where to Eat in St. Tropez
St. Tropez offers a plethora of dining options, from elegant Michelin-star restaurants to charming local bistros. Here were some of my St. Tropez favorites:
Le Bagatelle: (not to be confused with the beach club) Is a fantastically romantic hideaway in the center of Saint Tropez that has the best service. You can even order a cigarette for dessert! – which I did and almost coughed up a lung. It's located in a cobblestone alleyway and they even have live music playing. So good.
La Vague d'Or: Situated at the luxurious Cheval Blanc St-Tropez hotel, La Vague d'Or is a three-Michelin-starred restaurant offering an exquisite fine dining experience. The menu showcases the talents of Chef Arnaud Donckele, and the restaurant boasts stunning views of the Mediterranean Sea.
L'Auberge des Maures: This charming restaurant in the heart of St. Tropez's Old Town serves traditional Provencal cuisine in a cozy setting. Its flavors harken back to when Saint Tropez was a tiny fishing village because the menu features regional dishes made with fresh local ingredients. The courtyard terrace is a lovely spot for alfresco dining.
Byblos Hotel Restaurant: The Byblos Hotel is an iconic establishment in St. Tropez, and its on-site restaurant is a culinary gem. Offering a blend of Mediterranean and international flavors, the restaurant provides an elegant setting for a memorable dining experience.
Les Moulins de Ramatuelle: Located in the nearby village of Ramatuelle, just a short drive from St. Tropez, this restaurant occupies a restored olive oil mill. It has a delightfully charming ambiance and a menu featuring Mediterranean cuisine with a contemporary twist.
Sénéquier: A St. Tropez institution, Sénéquier is a famous café and restaurant overlooking the Old Port. It's a great place for people-watching while enjoying a cocktail, a meal, or their renowned tarte tropézienne; a local pastry specialty.
Le Girelier: Situated near the Vieux Port, Le Girelier is a seafood restaurant with a vibrant atmosphere. It offers a wide selection of fresh seafood and fish dishes, prepared with a touch of Provençal flair.
La Table du Marché: This cute restaurant is located near the market square on the Saint Tropez peninsula focuses on seasonal ingredients. The menu changes regularly to showcase the best of Saint Tropez's local produce, and the restaurant offers a really warm and inviting aura.
Rivea at Byblos: Another excellent dining option at the Byblos Hotel, Rivea is overseen by Michelin-starred chef Alain Ducasse. The menu emphasizes fresh Mediterranean flavors and offers a creative twist on traditional Provençal cuisine.
Pearl Beach: Perched on the beachfront of Pampelonne, Pearl Beach is a chic restaurant and beach club. It offers a relaxed atmosphere, delicious food, and stunning views, making it an ideal spot for a leisurely lunch or a sunset dinner.
Les Graniers: This chic, but understated, restaurant is off the beaten path, but is definitely worth the walk because it feels like a true, locals-only hidden gem. Perched right on the beach, feast al fresco on one of the outdoor terraces and listen to the calming sounds of the water as you sip French wine. Spend a day trip at Plage des Graniers and head here for dinner.
Remember to make reservations in advance, especially during the peak tourist season.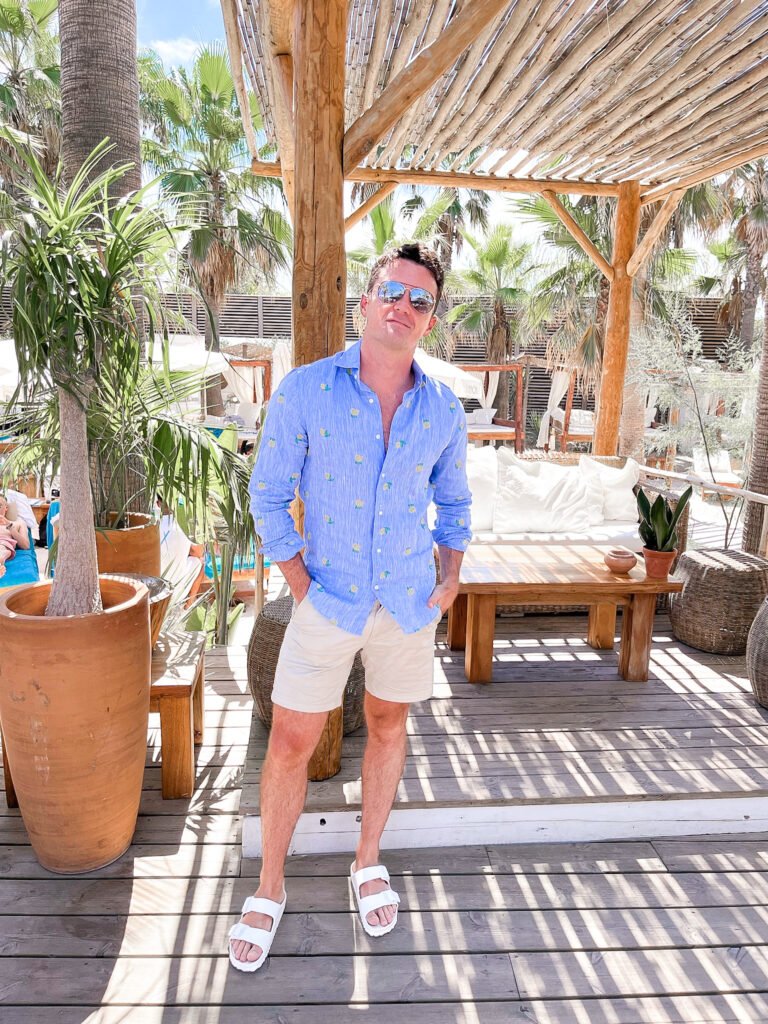 Where to Play in St. Tropez
Le Club 55: Located on Pampelonne Beach on the French Riviera, Le Club 55 is a legendary beachfront restaurant popularized by Brigitte Bardot and known for its relaxed atmosphere, delicious Mediterranean cuisine, and gorgeous sandy beaches. The white, fine sand between your toes almost feels like flour, it's so soft. Le Club 55 is endlessly chic and European and is the perfect spot to enjoy fresh seafood and soak up the Saint Tropez sun.
Nikki Beach: The beach club to end all beach clubs. First, I gotta say, the service here was incroyable; the hostess bowed to me after I told her I was a Lord. She bowed! And our server was so impossibly kind. After grabbing a bite, head to the pool overlooking the ocean for dancing and drinks. Everyone is in a ridiculously good mood and I can guarantee you'll make friends. Check out my Nikki Beach video.
Bagatelle Saint Tropez: Hamptons to Hollywood knows a thing or two about partying at Bagatelle – we created the Champagne Society, for god's sake! If you wanna dance (on tables), luxuriate in champagne showers (but also have fine cuisine), and really get the party started in the South of France, book a table at Bagatelle Saint Tropez, stat.
Explore St. Tropez's Beaches: There are so many beaches within walking distance to the Saint Tropez's historic center in town, but there are also many lining the coast. Pampelonne Beach is the most famous and stretches for several kilometers, with dozens of beach clubs and restaurants. Other popular beaches are Plage de Tahiti and Plage des Graniers (see below).
Visit Saint Tropez Harbor: The old port (Vieux Port) has some of the most gorgeous luxury yachts to ogle as you grab an ice cream cone and go for a leisurely twilight stroll. Saint Tropez is full of maritime history and was once a fishing village that has since become gentrified. From across the water you can see another coastal French Riviera beach escape, Sainte Maxime.
Visit the Old Town: Whether you want a relaxing vacation or a party atmosphere, Saint Tropez has it all. I recommend take a stroll through the charming streets of St. Tropez's Old Town, known as La Ponche. Explore the narrow, winding streets lined with historic buildings, small & upscale shops (a la Louis Vuitton), and art galleries.
Visit the Musée de l'Annonciade: Attn: art enthusiasts! This museum is a must-visit for the artsy set. It houses an impressive collection of modern art, including works by artists such as Henri Matisse, Signac, and Bonnard. The museum is located in a former chapel and really gives a peaceful cultural experience.
Go for a Dip at the Plage de la Ponche: Otherwise known as the "town beach," you'll see locals jumping off the pier close to the center of town for morning and afternoon swims. Watch out for the jellyfish!
Explore Citadel of Saint-Tropez: Try visiting the historic Citadel, a 17th-century fortress that overlooks the town and harbor. Inside, is the Maritime History Museum, which showcases St. Tropez's naval heritage as an old fishing village. Climb to the top of the Citadel for panoramic views of the town and sea.
Enjoy Water Sports: Because of its position on the coast, St. Tropez has lots of nautical options. You can go sailing, jet skiing, parasailing, or even take a boat tour day trip around the area. Many operators in town offer rentals and guided tours for different water activities. Trust me, the natural beauty of the cote d'azur is undeniable.
Revel in the Nightlife: There are songs dedicated to partying in St. Tropez, so of course the nightlife is on point. Check out the city's exclusive nightclubs like Les Caves du Roy or VIP Room.
Take a Boat Trip: Explore the stunning coastline of St. Tropez by taking a boat trip where you'll see other old port French Riviera towns, like Sainte Maxime. You can rent a private yacht or join a group tour to visit nearby islands, secluded coves, and beautiful coastal landscapes. It's a great way to relax, enjoy the Mediterranean scenery, and learn more about Saint Tropez's maritime past.
Visit the Market: On Tuesdays and Saturdays, the Place des Lices hosts a bustling market. You'll find local artisans selling their goods, fresh produce, and even clothing.
Indulge in Mediterranean Cuisine: St. Tropez has an excellent culinary scene with so many restaurants serving delicious Mediterranean dishes – arguably my favorite type of food. The fresh fish and veggies? To die for! Try some local specialties like bouillabaisse (fish stew) or fresh seafood with by a glass of local rosé wine. Minuty is favorite brand.
Visit Ramatuelle: Just southeast of the Saint Tropez town center is rests Ramatuelle; its coast is where all the beach clubs dwell, but inland just a bit is a positively charming town center that looks like something out of The Sound of Music. Bucolic, serene, and absolutely stunning with its rolling hills, it's right where some of the world's best rosé is produced.
Plage des Graniers: Walk past the cemetery – which is arguably one of the most scenic European graveyards – to this hidden gem of a beach. About a fifteen minute walk from town, it's the perfect place to unwind. And the water is shallow really far out, so no need to be an expert swimmer.
Where to Stay in St. Tropez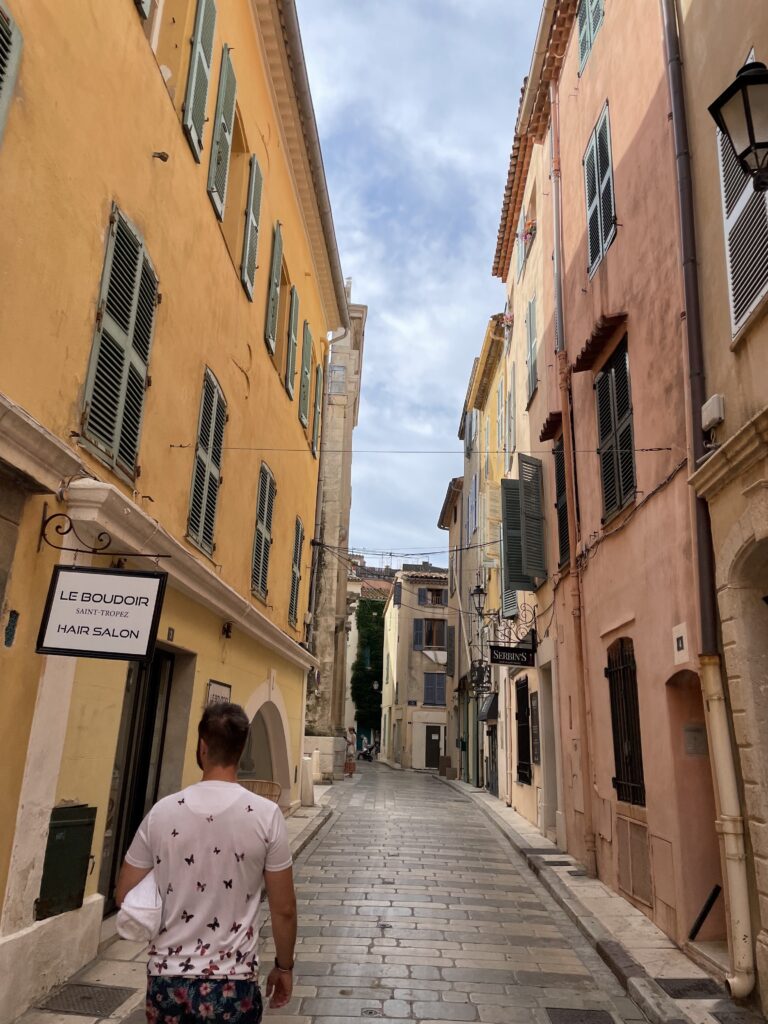 St. Tropez offers a variety of accommodations to suit different preferences and budgets. I stayed in an AirBnB and it was so perfect and centrally located. If you're going the AirBnB route, it's probably more affordable than some of the resorts you'll see, but just make sure you get something in the town of Saint Tropez and not by the beach clubs. Take a day trip to the clubs; don't stay there. AirBnb's St. Tropez hosts were really welcoming, in my experience:
Byblos Saint-Tropez: The iconic Byblos hotel is synonymous with luxury and sophistication in St. Tropez. It offers beautifully designed rooms, excellent amenities, and a central location in the heart of the town. The hotel also features a renowned spa and multiple dining options.
Hôtel de Paris Saint-Tropez: Located just a short walk from the Place des Lices, Hôtel de Paris Saint-Tropez is a stylish and contemporary hotel. It features elegant rooms, a rooftop pool, a spa, and a rooftop bar with panoramic views of the town and the sea.
Pan Deï Palais: This boutique hotel is set in a historic mansion with an exotic ambiance inspired by its former life as a Moroccan palace. Pan Deï Palais offers luxurious rooms, a private pool, and beach, and is very kid friendly. The suites, beautiful courtyard, spa, and a restaurant all have a tranquil garden setting.
Hotel Sezz Saint-Tropez: Situated near the beach and within walking distance of the town center, Hotel Sezz Saint-Tropez offers modern and sleek accommodations for the sophisticated modernist in you. It also features a stylish outdoor pool, spa, and a gourmet restaurant.
Château de la Messardière: Perched on a hillside overlooking the Bay of Pampelonne, Château de la Messardière is as grand and elegant as you might like. With spacious rooms, a large outdoor pool, spa, tennis courts, and exquisite gardens, this hideaway provides a shuttle service to the town center, too.
Hotel Ermitage: Located in the picturesque village of Ramatuelle, just a short drive from St. Tropez, Hotel Ermitage provides a charming and tranquil retreat. It offers comfortable rooms, a pool, a garden, and a restaurant serving regional cuisine.
Hotel La Ponche: For those seeking a more authentic experience, Hotel La Ponche is a boutique hotel in the heart of St. Tropez's Old Town. It exudes charm with its quaint rooms, a courtyard terrace, and a restaurant overlooking the harbor. Very cute and right in the middle of all the culture.
Hotel La Bastide de Saint-Tropez: Situated in a peaceful residential area close to the town center, this elegant hotel offers luxurious accommodations, a spa, an outdoor pool, and a restaurant with a lovely garden terrace.
Kube Hotel Saint-Tropez: Love a rooftop pool?Located a short distance from the town center, Kube Hotel is features contemporary rooms, a spa, and a vibrant bar and restaurant.
I already wanna go back!