Positano, Italy Guidebook
Positano, Italy is an Amalfi Coast town built into majestic rocky cliffs in Southern Italy and blends old-world charm with contemporary luxury. There are so many things to do in Positano, Italy, even the most intrepid traveler won't get bored. Here are my recommendations of what you absolutely must do on your Positano trip. From boat tours to beach clubs to some of the best restaurants you'll ever experience, there are things to do in Positano for everyone.
First, let me just say that Italy's Amalfi Coast has always been a dream of mine since I heard Kate Hudson singing about it in the critically panned movie, Nine. I thought, "where is this Positano place that sounds so chic?" AND THEN, when I saw The Talented Mr. Ripley (one of my top 5 favorite movies of all time), I really fell in love. I immediately bumped lounging at an Amalfi Coast beach club as an even higher priority on my bucket list. Ripley was shot in Positano and the iconic scenes like the Virgin Mary festival, Dickie Greenleaf's fateful boat trip, and every amazing view from the city's narrow streets is captured so beautifully. Romance, intrigue, private beach escapes, a bit of mystery, fine dining, wonderful scenery, art galleries, exceptional service: visiting Positano has it all.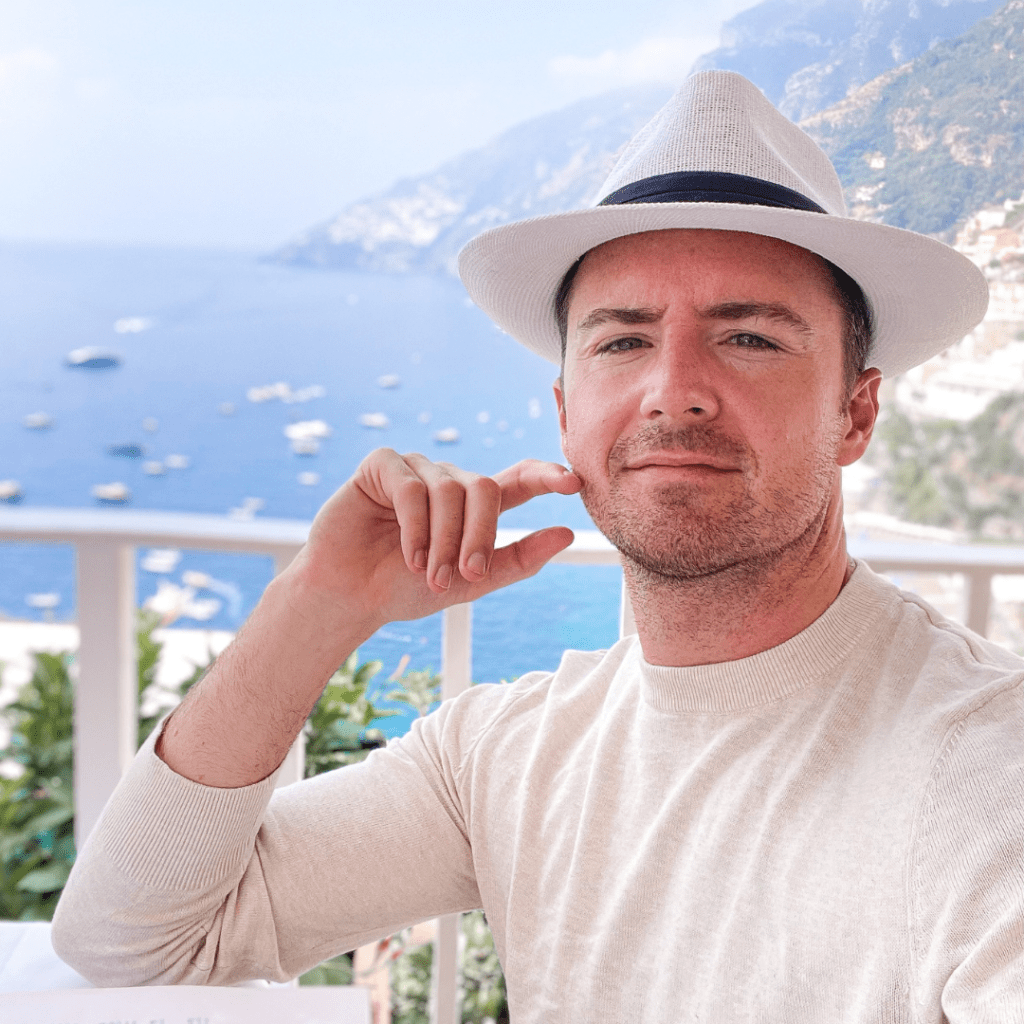 Warning: there are a lot of steep hills. Bring comfortable flip flops and/or beach shoes because the trek down to the Amalfi Coast beach club can be lengthy depending on where your lodgings are located.
Where to Eat in Positano
Positano bites deep. That is to say, the food is impeccable. I have been telling people in droves about the calamari because it's one of the most important things to do in Positano, in my humble opinion.
Bruno – I've promised you this. As far as things to do in Positano are concerned, you need to have fresh seafood. You just do. Specially, calamari. And Bruno's Restaurant does it best. Maybe it's something to do with the light crispiness of the batter, or how some of the squid in the hors d'oeuvre can't even bothered to be battered at all, which speaks to the casual nature of the Italian lifestyle. Regardless, this calamari is worth the trip from America, alone.
Chez Black – Right across from the beach clubs on Spiaggia Grande is Chez Black. It's a touristy beach eatery, but good. My list of things to do in Positano was mainly eat as much Linguine Vongole as humanly possible. And guess what? I did. Chez Black had a decent one.
Caffe Positano – Come for the views! The Amalfi Coast can be seen in all its picturesque glory in this romantic eatery perched on the Italian cliffs. It overlooks Positano Beach and is right in the center of town. If you squint, you may even be able to spot Capri in the Tyrrhenian Sea. Great seafood dishes here. I had more Vongole.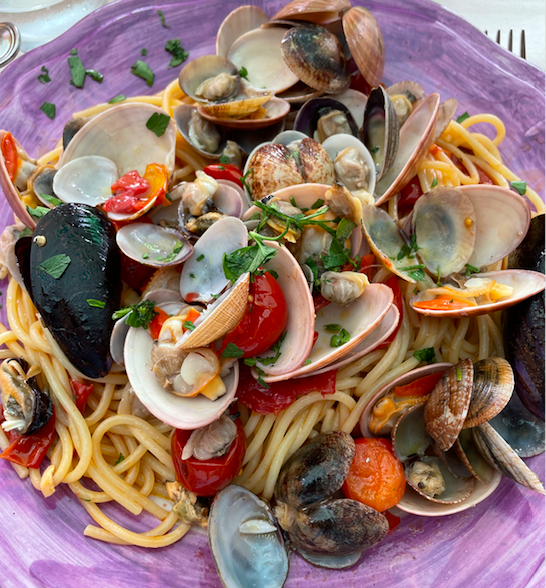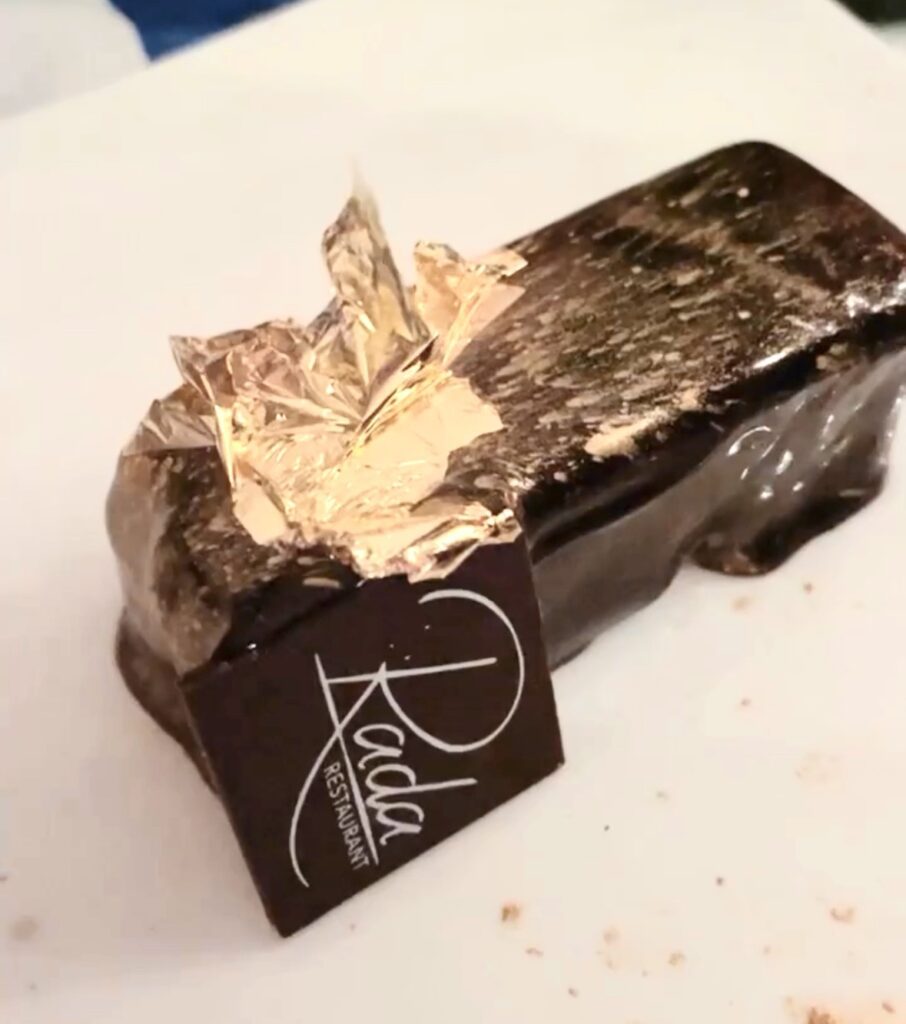 Rada – This ritzy eatery adjacent to Spiaggia Grande Beach Club is great for a group for dinner or lunch. We did dinner. And if its on the menu, I highly recommend the flourless chocolate torte. To die for. Chocolate just tastes better on the Amalfi Coast.
Spiaggia di Conca dei Marini – No surprise here, I had more pasta dishes. Vongle, to be exact. This restaurant is one of those Positano attractions you probably won't find without a local's help. On the way back from the Emerald Grotto (see below) is where this casual restaurant rests. Great local vibe. Good wine.
Da Adolfo – Located on Laurito Beach, this is one restaurant you HAVE to go to, mostly because you have to take a boat to get there, which feels very chic. The restaurant provides a free boat shuttle from Spiaggia Grande Beach to the eatery, so its not cost prohibitive. Da Adolfo has the feeling of a locals-only spot because its located on a private beach, the food is incredibly fresh (I had the octopus), and it feels very understatedly cool. There's also a tiny beach club adjacent where you can rent beach chairs and take in the spectacular sunset from the small beach. If you love hidden gems, you'll love Da Adolfo.
Franco's Bar – Great date spot, especially for drinks. Lounge-y and fun. It's located right near Bruno, so you can eat the best calamari of your life and then drink yourself stupid. Fun! Oh and the views of the Amalfi Coast are positively insane. Go. Go. Go.
Where to Play in Positano
Ride a scooter along the Amalfi Coast – One of the things to do in Positano that is just so Italian is riding a scooter along the Amalfi Coast. Marina Grande Beach, the main Positano Beach (also known as Spiaggia Grande, in Italian), has information of where to rent one for a scootering day trip.
Path of the Gods – The Path of the Gods is a hike close to Positano that many active visitors like to tackle when they look for things to do in Positano. Walking the length of the trail will take 1.5-2 hours, one way, depending on your speed and how many selfies you stop to take along the way.
Private Boat Tour – The Amalfi Coast towns are all gorgeous, let's face it. Along with Positano, its neighbors include Praiano, Sorrento, Ravello, and Amalfi. If you'd like to see them all from the water, a boat tour day trip in the Tyrrhenian Sea is the way to go. While a private tour might sound very fancy, if you're with a group, it's 110% worth the cost. We had an incredible guide named Salvatore who brought us a bottle of Prosecco and encouraged us to jump off the boat throughout the tour and swim. A private boat tour ensures an incredible day trip along the Amalfi Coast. You may even see the Emerald Grotto. The Emerald Grotto is a small cave that was formed naturally over the millennia and gradually filled with seawater. When sunlight filters through the turquoise waves of the Mediterranean into the grotto through underwater openings, the light becomes tinged with a magical emerald color that sends sparkling reflections up the cave walls. It's now home to an underwater nativity scene made up of ceramic statues
Day Trip to Capri – If day trips are definitely your thing, check out Capri. I regrettably didn't get to go because of inclement weather, but this little island along the Amalfi Coast is known for its shopping and fresh lemons. Limoncello, anyone!?
Become a Professional Sun Lounger – On the main beach in Positano, rent yourself a lounge chair or beach chair and work on your tan. It's honestly, great, especially if you went out dancing the night before. Which brings me to…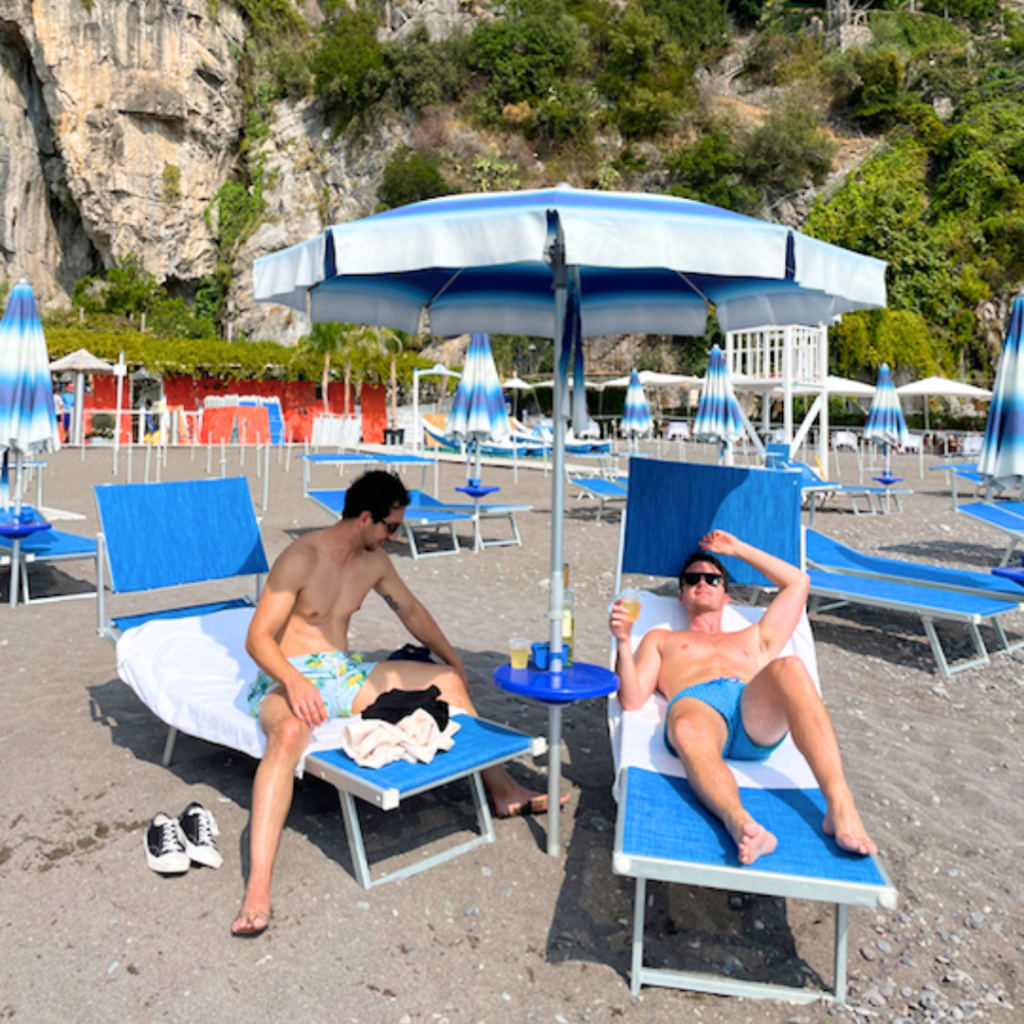 Nightclubs – Music on the Rocks is right above Rada (the aforementioned Restaurant). There is a level that looks like you're partying in a cave, and then up another flight of stairs is a rooftop bar where I partied into the wee hours of the Italian night. Even if you go solo, you're sure to find fun people. It's above the beach & open air, so you still have a beach club vibe as you drink and dance.
Shop – There are many souvenir shops (especially during tourist season) along the street "via Cristoforo Colombo." I highly recommend you buy linen in Positano. Shirts, pants, underwear – anything! Everything is made with superior Italian craftsmanship & quality and is a lasting memento from your trip.
Visit the Church of Santa Maria Assunta – This beautiful church is located in the center of town and is known for its striking dome and colorful majolica tiles.
Arienzo Beach Club – a bit off the beaten path, in that you need an Amalfi Coast boat to get you there, Arienzo beach is a delightful hideaway where you can rent beach chairs that come with a two-course lunch and bottle of Prosecco. Lounging the day away on Arienzo beach is never a bad idea.
Explore the Amalfi Coast Towns – Ravello, the Sorrento coast, and more are all a short car ride away along the Amalfi Coast and they're what day trips are made of. Eat your way through each of them on a cute day trip and see delightful Positano attractions, like the lemon groves and positively chic inhabitants of the area. You could do this via a boat tour or rent a car.
Where to Stay in Positano
There are top attractions and things to do in Positano, like stay in luxury hotels along the Amalfi Coast, but the smaller boutique hotels and AirBnb's are just as cute if you want something more understated.
Hotel Poseidon – was once a beautiful Mediterranean villa and is nestled right in the heart of Positano. Its unique position overlooks the "vertical village" of Positano and the Amalfi Coast. The views are breathtaking. The "Il Tridente" Restaurant is located on the Hotel Poseidon terrace which offers a breathtaking view of Positano, its colored houses, the sky, and the sea.
AirBnB's – I stayed in a positively cute AirBnB with friends that had a view of the Marina Grande, beach clubs, and water. To reiterate, there are A LOT of stairs in Positano. So if you're bringing a stroller, staying closer to the beach is your best bet. Bring comfortable walking shoes, too.
Best Time to Visit Positano
In my opinion, the best time to visit Positano, the Amalfi Coast, and Europe in general, is in September. There are so many things to do in Positano, you don't want to get waylaid by hundreds of tourists in the peak summer months when you're trying to splash around at Spiaggia Grande. June is also a very nice time to jetset to the Amalfi Coast.
What To Pack For A Trip To Positano
Bathing suits, of course, are a must. And bring multiples, especially if you like taking pictures and want to make it appear, via Instagram, that your vacation is lasting longer than it actually is. Sandals, of course. And again, walking shoes – and sneakers if you want to hike the Path of the Gods. Light, breezy cotton and linen are also solid options, but make sure to leave space in your suitcase to buy even more Italian linen and goods in the chic Positano markets.
Listen, you're going to have a great time. Drink all the Prosecco you can. Eat all the vongole. Chart that boat tour along the Amalfi Coast. These are things you will remember for a LIFETIME. Even if it seems a little pricey in the moment, go for it. Suck in the experience and live la dolce vita.