Where to go in Paris, France?
My first visit in Paris was magical. I've romanticized Paris attractions, modern art, the Latin Quarter – all of it – since I saw Something's Gotta Give for the first time (a movie that encapsulates BOTH the Hamptons and Paris brilliantly, which is very on brand for us here at Hamptons to Hollywood). And despite my high expectations of where to go in Paris, I tried to downplay them because I didn't want to be disappointed.
But let me tell you something: Paris never disappoints. Here's my definitive guide of where to eat, play, and stay in Paris, France.
**Note: I went in late August/early September. The city was not as busy because many Parisians were still away on summer holiday, and vacationers had mainly left. This is a great time of year to visit Europe.
---
To Eat
First, you should know that Paris is split into the Left Bank and Right Bank. The Left Bank is historically known for its artists, philosophers, and writers. The Right Bank is known for its shopping and trendy spots (it's where the Champs-Elysées is located, which you can find such boutiques as Louis Vuitton).
Here's where to dine:
Le Grand Colbert – This recommendation is from Diane Keaton herself in Something's Gotta Give. In the movie, she says it's the "best roast chicken she's ever had," but funnily enough, the restaurant didn't serve roast chicken until the movie came out and this place became so popular. It was most likely a favorite eatery of the film's director, Nancy Meyers. In any event, do get the roast chicken. According to Jon, whom I went with, he claimed it really was the "best chicken of his life," and is served with delicious au jus. We also ordered the frog legs and foie gras.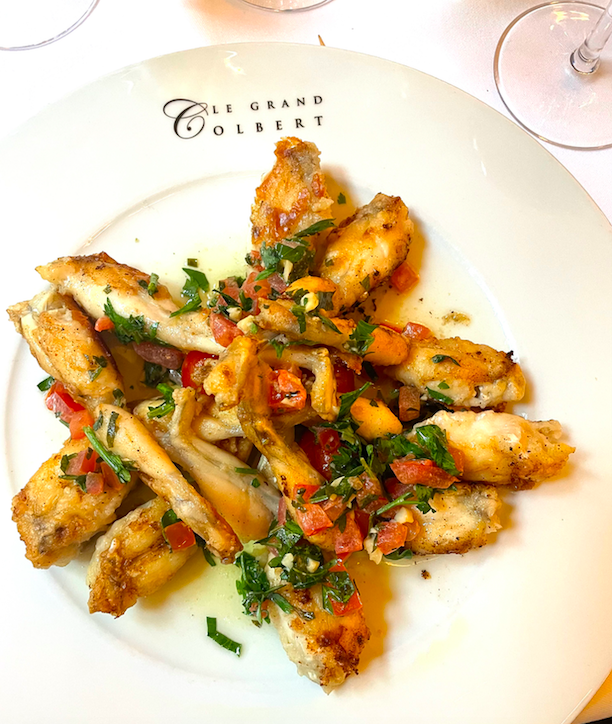 Hotel Costes – In the mood for an ultra sexy date night in Paris? Hotel Costes on the Right Bank is worth every minute. It's lounge-y, chic, and it looks like somewhere you may find James Bond having a martini and seducing a gorgeous woman. If you don't want a full meal, there's a tucked away bar room that's just as posh to order drinks and people watch. HIGHLY RECOMMEND IT HERE.
ilo Restaurant – A marriage between a French gourmet bistro and a Japanese tavern, this Michelin Guide restaurant won't have tourist crowds. Hidden behind a noren (a vertical piece of fabric across the doorways that's customary in Japan), ilô serves up a modern fusion of French and Japanese fair. Yuki Onuma supervises the service and suggests incredibly perceptive wine/saké-food pairings. Chef Seiya Kumabe creates both beautiful and delicious dishes. There isn't a menu, because it's not necessary. The ilo Restaurant allows diners to embark on a culinary journey that they won't even realize how much they enjoy – until they taste it. Just leave it up to the Chef.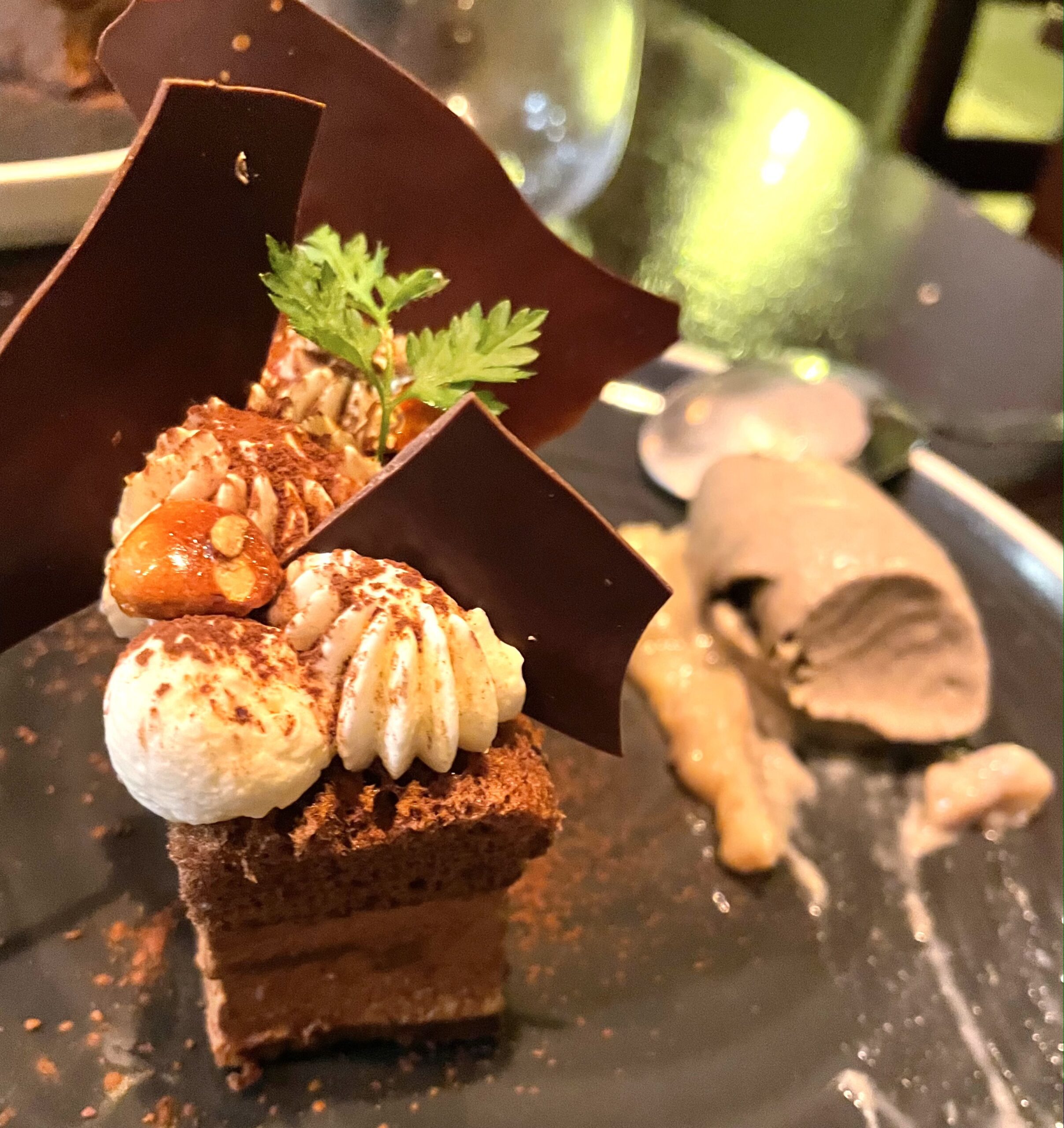 Café du Trocadéro – This eatery is quite close to tourist attractions, like the Eiffel Tower, but it's a great spot to have lunch if you're nearby or are just leaving the Lourve with that "post-visited-museum-pep-in-your-step." The serve up a velvety, ultra rich hot chocolate here (which has gone viral on social media). So bring your camera.
Cafe de Flore – In a Left Bank neighborhood of upscale shops, not far from the Latin Quarter, sits the historic Cafe de Flore. So divine! A restaurant à St Germain, Cafe de Flore is a celebrated celebrity hotspot that's served some of the coolest creatives in history. Like, say, Pablo Picasso?! People watch. Have coffee. Have French Onion Soup. And for god's sake, have some caviar here, too.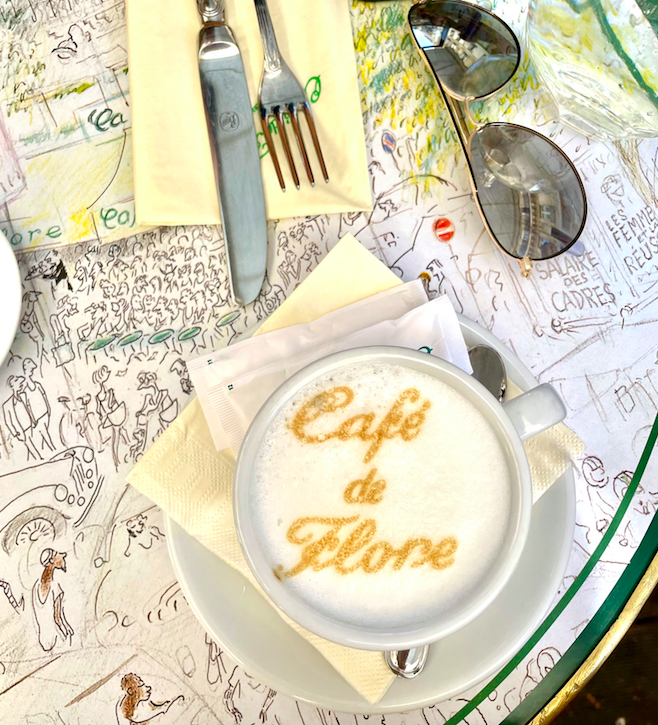 Ober Mama – Having a craving for some Italian food on your visit in Paris? Fine. In that case, go to Ober Mama, which is on the tip of Le Marais district. The truffle pizza is delicious and quite filling. The pasta is also to-die for. The interiors are bright and reminiscent of the hanging gardens of Babylon. Great for lunch or dinner.
L'Atelier Léa – In Le Marais, my go-to croissant shop (yes, I found a go-to spot in Central Paris during my stay) was L'Atelier Léa's tiny hideaway. Delicious, fresh, and with a perfectly wonderful staff who smiled kindly at me as I tried to speak French, you won't go wrong getting a morning breakfast to-go here.
---
To Play
Paris is both vibrant and beautiful and offers endless opportunities for exploration and discovery.
The Eiffel Tower – Okay, can I just say; I was BLOWN AWAY by the Eiffel Tower. The Eiffel Tower is way bigger than I thought it would be, weirdly (?) and was so awe-inspiring, my jaw dropped when I saw it in person. It was gorgeous! Tickets to climb the Eiffel Tower are around $30 and it's totally worth going all the way to the top. In fact, if you see a skip-the-line ticket, take it. At the top of the Eiffel Tower you can buy a small serving of caviar and mini bottles of Moet champagne; I also highly recommend this. Nothing is more chic than sipping champagne and tasting caviar at the top of the Eiffel Tower. NOTHING. Tres chic!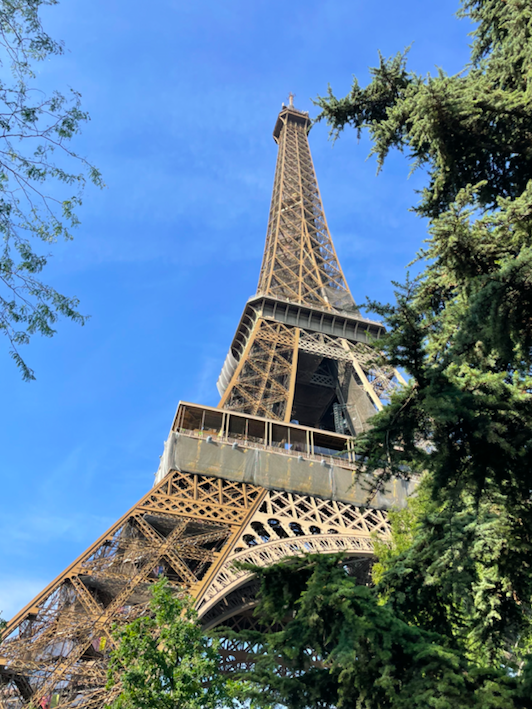 Louvre Museum – Attention art lovers! The Louvre is perhaps the most famous art museum in the world and is home to an incredible collection of art and artifacts, including the Mona Lisa. Built in French gothic architecture, the building spans several city blocks. The impressionist art gallery in the museum is famous, of course. And it's been around since the French Revolution. Historic! You can walk down the beautiful hallways and pretend you're Marie Antoinette (or Mona Lisa) as you explore Paris. Located right in Central Paris, it's impossible to miss.
Notre-Dame Cathedral – The beautiful Gothic Notre Dame cathedral is one of the most famous landmarks in Paris. Despite being damaged in a fire in 2019, it's still worth a visit to take in the medieval Paris vibe.
Montmartre – This neighborhood is known for its winding streets, charming cafes, and beautiful views of the city from the top of the hill.
Seine River – A boat tour on the Seine River is a great way to see the city from a different perspective. Did you know that if Heaven had a creek, it would be the Seine River?
Champs-Élysées – This famous avenue is lined with shops, restaurants, and theaters, making it a great place for a stroll. You'll find famous French designer, Louis Vuitton's headquarters here.
Palace of Versailles – Located just outside Paris, the Palace of Versailles is a stunning example of French Baroque architecture and is definitely worth a visit.
Musée d'Orsay – This museum is home to an impressive collection of Impressionist and Post-Impressionist art, including works by Monet, Van Gogh, and Renoir.
Jardin des Tuileries – This beautiful park is located between the Louvre Museum and the Place de la Concorde and is a great place to relax and take in the scenery. Grab a cheese board, look at the Lourve, and just bask in all the French-ness.
Arc de Triomphe – On your visit in Paris, there are little bike carriages you can rent where you sit in a small carriage behind a lovely Frenchman on a bike who pedals you around. We took one of these to the Arc de Triomphe (while drinking champagne, of course) and it was a fun, breezy way to see the city with the Efiffel Tower, Notre Dame Cathedral, upscale shops, train stations, the Seine River, and the city center all in view. The Arc de Triomphe is a classic Parisian landmark and the historical significance of it makes seeing it in person that much more special.
Moulin Rouge – Full disclosure, I have not been to an actual show, but because of its rich history of famous cabaret and hint of revelry, I would definitely recommend going here over Disneyland Paris, if you had to choose.
Rodin Museum – French sculptor Auguste Rodin is credited as the father of modern sculpture. The art museum, appropriately called the Rodin Museum, is dedicated to his iconic works and shouldn't be missed.
Luxembourg Park – If you want to see a beautifully landscaped garden on your visit in Paris, the Luxembourg Gardens, located in the city center, is a destination you must see.
Raidd – if Moulin Rouge isn't as HAWT as you might like, the gay bar, Raidd (or Le Reidd) has a famous "shower show" where buff men, literally, shower in a display case at the bar. Though it's a gay bar, lots of women often flock to see the spectacle, as well.
Champagne, France Tour – And finally, while not in Paris, per se, I recommend doing a day trip to Champagne, France. Of course, Hamptons to Hollywood is known for creating the Champagne Society, so we'd be remiss not to recommend visiting the birthplace of our favorite fizzy beverage. You can find countless tours to Champagne, but check out the one we did HERE. A little pricey, but it includes everything and was definitely worth it.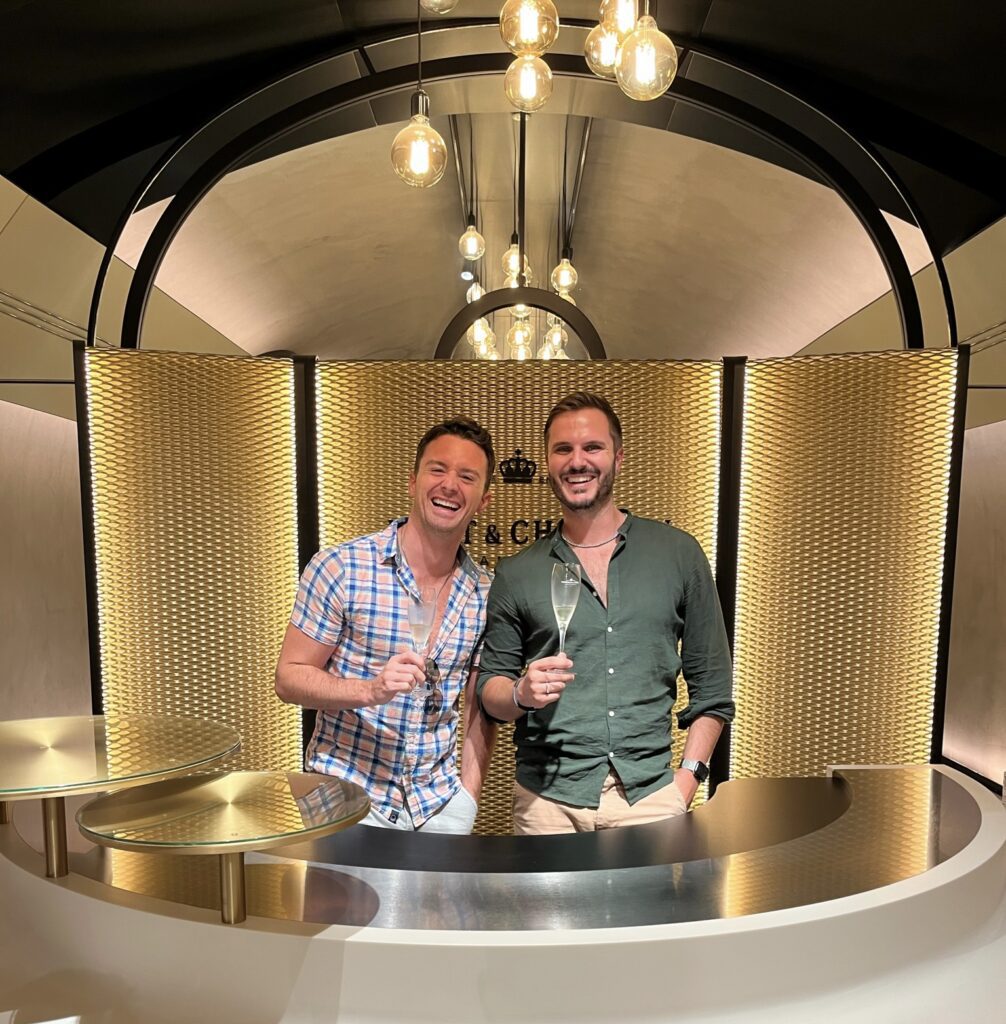 ---
To Stay
Paris is broken up into 20 Arrondissements, or neighborhoods. The 4th Arrondissements is where the Eiffel Tower is located, so that's popular. But staying in any of the Arrondissements by the Seine is a safe bet to easily access the city Center and see everything you need to see.
Le Marais – We stayed in Le Marais district, which has wonderful modern art galleries & contemporary art outposts, independent fashion boutiques, cobblestone streets, spots of French formal garden design, and famous cafes and restaurants.
Crown Plaza Republique – is not terribly expensive, is located in Le Marais, and is close to everything.
Hôtel Maison Mère – is also worth checking out, though it's a bit further outside of the city Center.
Ritz Paris – if you want really fancy, you found it.
What are you waiting for? Visit Paris ASAP!