Where to go in Nice, France?
It's a valid question. And naturally, Hamptons to Hollywood has answers. If you don't already know, Nice, France is located on the French Riviera and has lots of different attractions. The French Riviera is one of the most beautiful places in the world and is known for its wine production, nearly-perfect weather, and a certain je ne sais quoi you can't get anywhere else.
Nice is nice – as we discovered on our recent French travel excursion. This coastal port city has an incredible energy, dozens of spectacular restaurants, amazing shopping (like, truly things you can't find anywhere else), rich history, gorgeous views, and lots to do!
It's perfect to visit Nice for a day trip on a small group tour, but the best way to really soak up the historic building and design, art galleries, flea market, and hilltop villages is to stay for at least three days to find a few things worth exploring along the boulevards lined with palm trees and the charming cobblestone streets.
One thing to mention is the perfectly quaint resort-town of Villefranche-sur-Mer. While it's technically separate from Nice, you MUST visit Villefranche-sur-Mer. It's just a short drive through the French hillside (kudos to you if you drive there in a convertible like we did and lived our fullest Princess-Grace-Kelly-of-Monaco-fantasy). The drive opens up into a completely serene French seaside escape. It's quiet, gorgeous, and idyllic. It's almost reminiscent of Sag Harbor, if you're familiar with the Hamptons. But definitely put it on your things to do and see in Nice. Emily in Paris was even filmed there (see more about this old town on the French Riviera below).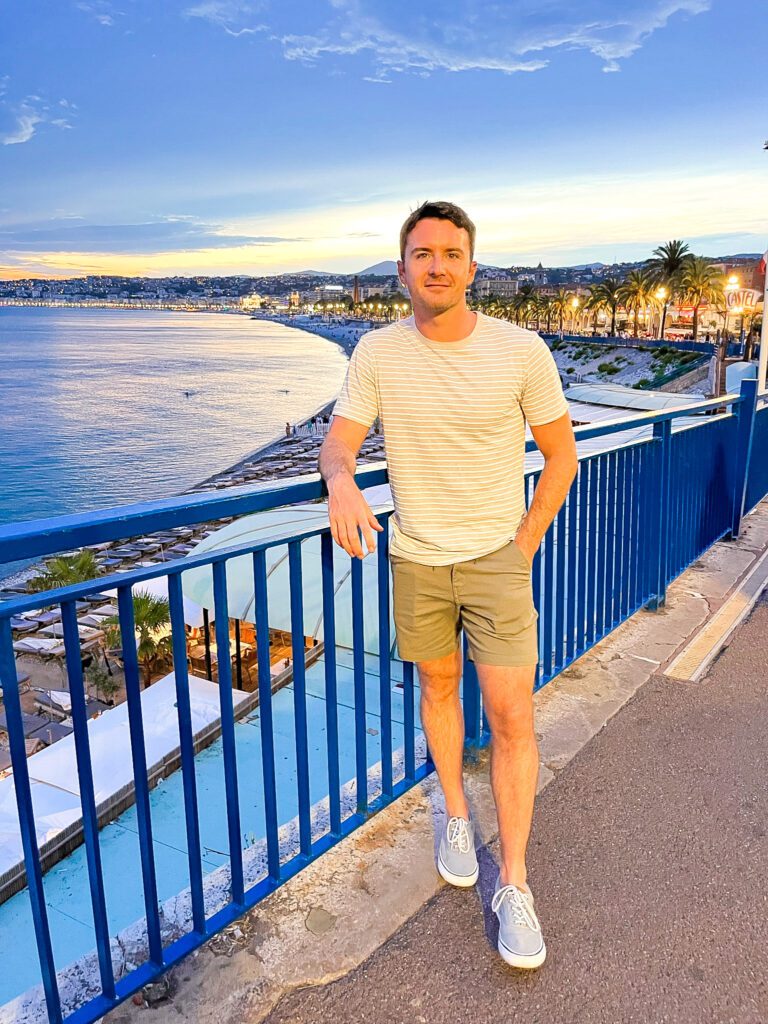 To Eat
Le Plongeoir – is a picture-perfect, stunning, fairytale-esque restaurant built into a cliff on the Mediterranean Sea. Whether you sit on the upper level or the lower (we recommend lower because it feels like you're in a dreamy ocean cave), the views are incredible and the food is great. Fantastic wine selection and full bar. A must-try if you decide to visit Nice.
Castel Beach Club – While the beach is a little rocky, this beach club itself is heavenly. A wonderful atmosphere and a menu that offers FRESH seafood and MAGNUM bottles of rosé (of course we ordered both)? What more could you want? The sea is in front of you and Castle Hill is behind you, so it's a wonderful view from all angles.
Ruhl Plage – Emily in Paris was also filmed here. While definitely a romantic dinner date locale, this restaurant is wonderful in the daytime as well, and offers a bit of a different, more relaxed vibe. Situated right on the beach, the ocean views and splendid, as are the sounds of the small breaking waves as you dine on fresh French fare.
Le Sunset – Perched right along the Promenade des Anglais, this charming eatery is across the street from the Mediterranean Sea and is the perfect spot for people watching. Grab a table on the street and a glass of wine and watch the people of Nice walk by. The Niçoise Salad was great.
To Play
Fontaine Miroir d'Eau – a large fountain conveniently located toward the city center of Old Nice that's walking distance to the best of what the beautiful city has to offer. Water shoots out of the ground intermittently and makes for great photo ops. Lots of young kids run through the fountains, which makes this one of Nice's most family-friendly tourist attractions along the Promenade du Paillon.
Vieux Nice (Old Town) – Narrow cobblestone streets wind throughout picturesque Old Town Nice and offer tucked away hidden gems of retailers and restaurants. This was one of the best parts of Nice, hands down. In the market for some classic French linen from the French Riviera? There's a shop for that. Or maybe you're looking for the perfect soap, or truffles, or olive oil, or teas, or chocolate: you can find all of it on your self-guided walking tour through Old Town Nice's shopping district. The cutest shops.
Parc de la Colline du Chateau – Maybe you've heard of Castle Hill in Nice? It's known for having some of the best views on the French Riviera and boats a stunning waterfall that almost acts as a crown to the city. While Castle Hill Park is a trek, it's a worthy day trip – or at least a great way to start the day if you love palm trees, olive trees, and spectacular views. Get the morning cardio in early so you can imbibe in countless glasses of rosé afterward. Castle Hill is technically a park – or some might even call it an exotic garden – that's perched right above the Old Town city centre. Keep your eyes peeled for exotic birds at the Parc de la Colline du Chateau (Castle Hill Park).
The Beach (or Le Plage) – When visiting Nice, the beach is a must, especially if it's your first trip. The Nice Harbor and beaches are a center point of the city, so it's hard not to find yourself meandering down a coastal path, sea-bound. Day trips are perfect for soaking up sunny days on the French Riviera beaches: you won't be sorry. But be sure to bring a pair of shoes! The beaches are rocky.
Cours Saleya Market – What's more French than a chic flower market? Especially along the French Riviera? Located in picturesque Old Town, this flower market sells flowers Tuesday through Sunday, but on Monday, the petals are pitched and the antique market takes over. The market is just steps from the famous Promenade des Anglais and is always lively and bustling. Plus, it's flanked with INCREDIBLE restaurants to quench your appetite or thirst while you mercilessly shop.
Musee Marc Chagall – Do you love modern and contemporary art? Nice museums are perfect for day trips to the city – and there are lots to choose from. And somehow, museum-gazing on the French Riviera just feels so much more chic than in America. Of course you can see the works of Chagall at his dedicated museum that houses one of the world's largest collections of his work. There's also the Matisse Museum, where's there's a permanent collection of his art year round, the Asian Arts Museum, and Archaeological Museum of Nice, where there's more than a few things of interest for every type of visitor.
Villefranche-sur-Mer – This wonderful place, as alluded to before, is a must-see on your next trip to France. While it's perfect to go in late summer or early fall, its location on the French Riviera make it a year-round crowd pleaser. Just a fifteen minute drive from Nice, France, there are numerous restaurants owned by locals that offer delicious cuisine – but because it's a bit more off the beaten path, you won't be paying the normal high prices associated with Southern France. While it almost evokes a medieval hilltop town vibe, there are countless gated mansions that line the windy roadways that lead to Villefranche-sur-Mer, so getting there feels ultra exclusive. We met up with a friend who had a convertible that drove us to this seaside old town amid a Mediterranean forest, so if you can figure out how to get there in a convertible, DO IT. I felt like Grace Kelly, seriously. Like I had been whisked away from America and plopped into the backdrop of To Catch a Thief. It was so dreamy.
Visit Monaco – To visit Nice is an experience, but Monaco is on a whole other level, let me tell you. Arguably the chicest French Riviera location, it's just a twenty-minute train ride away that you can add to your list of day trips to take. But more on that in another blog post.
To Stay
Hotel – Staying in a hotel in Nice, France is always a good idea, even in the winter months. Check out the Meridien Hotel (a wonderful place on Promenade des Anglais) and Hôtel La Villa Nice Victor Hugo.
AirBnB – If you go this route, try to stay in Old Town. It's the most charming, and as you can see from the above recommendations, Old Town also has some of the best restaurants and activities to explore on a self-guided walking tour or day trips with friends. Plus, the Promenade des Anglais travels right through Old Town, and that's one of the most central streets to see when you visit Nice. Our AirBnB had views of the ocean and Castle Hill, which was great. It was a pretty mid-range price, but the ceilings were a bit low, so beware. The other thing great about the Promenade des Anglais is that the international Nice airport is located at the end of it. So it's not uncommon to see tourists strutting down the Promenade des Anglais towing their rolling luggage or holding their duffels as they walk to their destination. Nice is a pretty walkable city by Southern France standards, but there are also Ubers if your feet are tired.
Nice, France in Conclusion…
This part of the French Riviera is classic. The people are lovely and will be perfectly pleasant to you if you try and attempt speaking French. Yes, it can be daunting, but just try your best. Make sure not to miss Villefranche-sur-Mer, Old Town (and its one-of-a-kind shopping!), Promenade des Anglais, La Plongeoir, the Matisse Museum, or Castle Hill.
Questions about anything? Send us an email: hamptonstohollywood [at] gmail. Happy travels!